---
"How about you let me take her off your hands?!"
---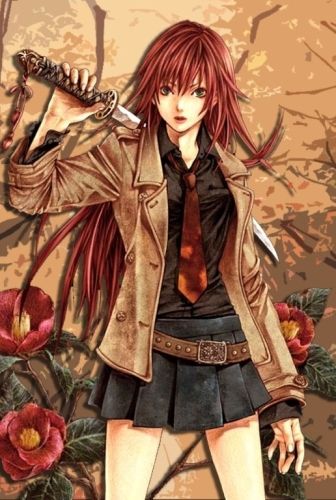 Age:
27
Gender:
Female
Birthday:
December 8th
Height:
5'5
Weight:
126
Blood Type:
AB
Village:
Konohagakure
Rank:
Jounin
Classification:
"Water Maiden Of The Leaf"
Academy Grad. Age:
9
Chuunin Prom. Age:
13
Jounin Prom. Age:
16
Personality
Akira is known among Konoha to be quite aggressive and violent. Although overall she has good intentions. It is often hidden by the her attitude and way of doing things. She is often strict, blunt and straight to the point upon things. It will be seen that her training methods are quite aggressive yet at the same time incredibly extremely sufficient and reliable. Akira enjoys fighting yet is knowledgeable when it comes to fights she may not be able to win. Other then this side when alone or not threatened she can be quite laid back and care free yet when it comes to her comrades and team she tends to tone down and get serious even if its at a minimal.
---
Age 1-6(Academy Entry)
Akira was born twenty seven years before the present time of our settings. Due to being born as a Morishima, Akira had learned the way of her people and the kenjutsu style to wield the katana. In addition to such ideals at the age of five was when her family due to being water affinity was taught water manipulation. Akira had a enjoyably fun time learning this which when it came to playing with friends she often played pranks on them with this. As her skills progressed, it came at the age of six with these two family styles mastered she would finally join the academy. Entry was simple for her but little did she know she would meet so many people whom she couldn't stand. Mainly her classmates, just due to the fact that she found them all to be "whiny". This thought and perception rather changed as time went on.
Age 7-9 (Academy Graduation)
Akira found herself to be one of the top students in the academy even though she was young. Yet this was when her personality began developing further towards who she was today. She found herself to at some points be surrounded by rivals who she got into fights with time to time. Her superior knowledge often gave her a incredible edge and by this point in her life. She didn't just have Bushin... but Mizu Bushin which again was a step up compared to others. Although as enjoyable as the fights were and no matter how she could have felt during it. She never did draw her katana and often held her hand out to assist those who lost to her. Mostly as a tease yet in the bottom of her heart she felt slightly bad for them. Years of this continued to happen yet she never managed to fail the classes she was in due to the extent of her skill. An interesting factor that was seen by most of her teachers was that she only needed and used one hand to preform her Jutsus which is rare to even the Morishima's to be so talented. It was seen that once again a younger shinobi rose as graduation hit.
Age 10-13 (Chunin Promotion)
Akira was assigned to team 3 when she graduated and finally was accepted on a team. It was shown even further that her personality continued to grow towards what it was by the fact that she became a little tired towards the life style but enjoyed battles regardless of what it was against. By this point her Morishima Kenjutsu and Water Style expanded even further. Interestingly though she didn't know any wind jutsu's she did develop her own mixing her wind with her blade strikes. In addition she became honed to a familiar attack that we all know from the original series. It wasn't that she met Temari yet she did happen to get a bit of knowledge upon using her element with her weaponry. When it finally came the time, after doing a bit of missions regardless if they were hard or soft, they finally reached the time for the Forest of Death. She and her team easily got what they needed yet her lust for blood did take over to where she did not hold back even when pulling her blade out to cut down a few of her class mates. She only stated that she did what she had to do and there was nothing else to it. When it came to the actual preliminary rounds for the chunin exam. She was put up against her rival which ended up being a decent fight yet it was obviously shown that Akira had the advantage. After finally wrecking the poor rival she was able to enter the chunin exams. This however was of no interest to her which suddenly came to be three years later. Her team in fact were able to go ahead yet she remained training herself as well as with her father who decided it was time to develop even further. She actually came to overpower him and shortly after came home one day a chunin ready for action.
Age 14-16 (Jounin Promotion)
After becoming the rank of chunin, Akira title began to rise as she began to prove herself above even her own clan members with water techniques. In addition it was no secret that her katana kenjutsu were nearly seen as A rank at this point. Although her taijutsu was only B ranked it was rare that she would ever be seen without using her blade which comes down to a notification that in battle everyone came to know the phrase "There will be blood" when it came to even a moderate fight. Training on the other hand was slightly loosened to where she wouldn't actually collide or impact when using her sword. As time went on she was used to do many missions and preform many task for her ranks yet the fated day came upon Naruto's death... Her favored hokage said to catch ill but secretly she did find a little information upon this. Murder... after seeking out the killer away from her team and village yet not too far the before she could catch the killer's face. There had been an explosion in front of her having her collide against a tree knocked out... It was shown before she fell unconcious the Kurama was released. Upon waking up, the assassin was away and by the looks of it became successful as Kurama was going rampant. Akira went back to the village just on time to save her team and... to notice Yuhi doing sealing arts upon their child, Kairi. This in general made her quite curious of the child, a Yuhi out of all clans.. She didn't bring it up but held it in her own mind. Upon the next day and her birthday, Akira was given Jounin rank for her bravery yet curiously a week later the parents of the Yuhi child were murdered which was foreseen by the village itself. Akira went by herself and saved the girl yet didn't show herself afterwords. It was unknown who did this yet the results left answers to be made...
Age 17-27 (Present)
Akira herself watched the girl when she was preforming any duties or missions in curiosity and often wondered why the village treated her so wrong yet... words are said that the Yuhi clan planned this to make themselves the new vessel in attempt to become the stronger clan which wasn't true. At least what Akira knew. Her idea was to protect and do what she could for Kairi even when she noticed. This also meant to find out who the assassin's were and their purpose. Upon these plans many times did Akira visit Kurenai alone yet few information was given and even more so when it came to their intentions which would seem to the public as if they're hiding something yet it probably wasn't the case. Upon the years she noticed later on while just strolling through the village, Kurenai was given a great katana, similar to her own which made her smile yet she herself could do nothing for her at the time. As time went on Akira was finally ready to get a team of her own yet the problem was... She didn't have Kairi! It all comes down to what happens now...
---
Clan:
Morishima
Weapons/Tools:
Katana and a Kunai
Chakra Type:
Water (Affinity), Wind
---
Signature Techniques

Mizu Bunshin no Jutsu (Water Clone Technique):
The Water Clone Technique is similar to the Shadow Clone Technique except it creates clones out of water that have one-tenth of the original person's power. Like other solid clone techniques, the clones can be used to perform tasks the user is unable or unwilling to do for themselves. The range of the clone is limited however, as it can not travel very far from the original body without losing control. Like other clone techniques, if the water clones are injured enough they will revert back to normal water.
Sensatsu Suishō (Water Release: Thousand Flying Water Needles of Death):
Akira gathers some water from the air and surrounding environment into one thousand long needles. She then directs them to a specific target at high speed, leaping backwards before impact so she doesn't get caught in the crossfire. While the needles do surround a target from all sides, they don't appear above the target, creating an escape route. Notably this attack was used by Haku if you need a visual.
Mizu Tatsumaki (Water Tornado)
: This is a technique that utilises water to create a spinning water vortex around the user. The water vortex acts both as a barrier and an attack mechanism. The power of the vortex is enough to knock an opponent unconscious.
Suirō no Jutsu (Water Prison Technique):
This technique is used to trap a victim inside a virtually inescapable sphere of water. The only downside to this technique is that the user must keep at least one arm inside the sphere at all times in order for the victim to remain imprisoned. This technique requires a sufficient amount of water, which can be provided by expelling it from one's mouth. Once trapped the target is unable to move while within it due to the heaviness of the water. Because of the density of the water it can be used, to a limited extent, for defensive purposes if performed on oneself. It can also be stored in scrolls as traps. Water clones can be used in preparation for the technique, which block an opponent's attack and trap the attacker in the prison using the clone's own water.
Water Manipulation:
With her affinity being water Akira is able to manipulate her movements by using water often sliding and dodging attacks faster then her feet gripping the ground. She can also use it to surf high areas but this requires a lot of chakra and should only be used when necessary.
Wind Release: Slash
: Combining her wind chakra, Akira is able to add some extra power with her sword attacks, Often it adds a strong wind current towards the opponent depending on how much chakra is used may knock the opponent back. If she does use this ability, the blade will never hit the opponent as a slash or pierce as it said yet it will feel more like a blunt hit due to the wind around it.
Wind Release: Sickle Weasel Tornado:
: Unlike Temari who uses a fan, Akira uses her sword to create a devastating attack, releasing heavy air currents that collide together to create many vacuum pockets to slash her targets. The problem with using a sword is that it is more of a Line attack unlike Temari's who had a lot of aerial range with her fan.