Victoriously Beautiful; Vortex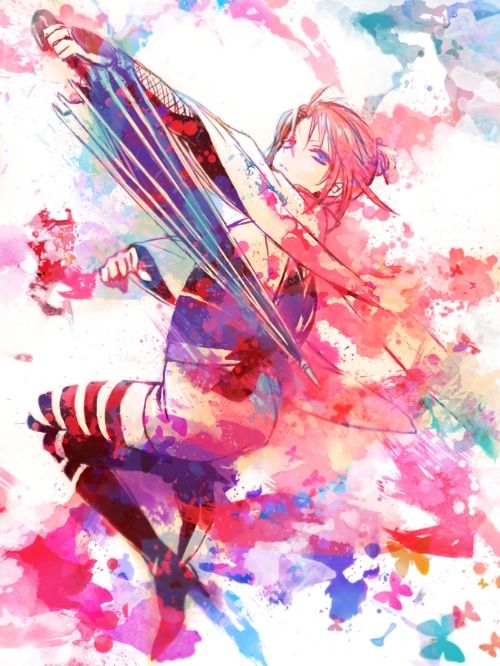 ---
"I'm the Kumo, one of the many predators. Yours to be exact"
---


Age: 27
Gender: Female "...Seriously?"
Birthday: February 15
Height: 5'5
Weight: 101
Blood Type: O

Village: Kumogakure
Rank: Jonin
Classification: The Kumo [spider] of Kumogakure

Academy Grad. Age: 9
Chuunin Prom. Age: 16
Jounin Prom. Age: 21



Personality

[Loyal||Intelligent||Mature||Quiet||Strong]



Katsumi is known to be rather anti-social to those she barely knows. Reason being is, because as a child she had no real relation with children her age, nor any adult at the time, just because of her fascination with spiders and wierd actions. She didnt really care, but nevertheless it caused her to not easily trust those who welcomed her in their lifes. It was a bit strange for her, so of course she'll take precaution.

Though naturally, Katsumi is actually a kind,smart and hard working child whom is good hearted. She likes to fool around a bit but still takes responsibility as an adult. She knew her limits of trouble. She is also rather quiet, for she dislikes unwanted attention and its just her way of training to be silent in battle for its necessary for her Arachnid based attacks. As it can be seen, Katsumi is a very mature, responsible and is always thinking ahead. Though she is also holds a tough look and is immensely loyal, which is something that is so similar to her grandma and mother. But then again, her trust is hard to earn since her naturally way is to take precaution before laying her life in any ones hands. Kinda contradictory.

Any who, during battle, she has one philosophy. "Stay alive" And this is something every ninja goes by, though she means it. She will go out and far to kill if it means to protect herself and her trusted ones whom has her loyalty. Her personality will change to a somewhat cold and passive feel as she pulls the strings. Even her eyes change to a strong and deadly look which is said to remind her grandma of someone painful...


---



Katsumi was born in the village of Kumogakure, the village of the cloud and was alive during the reign of the fouth raikage. And despite her family's past, she herself was lucky. Her past was hidden from the village, giving her the freedom and normality of most children her age. Now, she never knew any of this, and maybe it was better if she didn't at the time.
At the age of 6, she was sent to the ninja academy like any child, and learned of the basics. Speed, Knowledge, Justus, etc. But at the same time, she realized a passion of hers, Arachnids. One of the best hunters in nature, and naturalal born killers, which she took fascination with… As a result, she would watch them every day, taking in their habits and ways, but it did have its downsides…it freaked people out. Well a few. It gave many a reason to tease her, but she didn't mind. All she thought of and hoped for was to be a good kunoichi in the future.


Katsumi was now displayed as one of the many "weirdos" in the academy, even a few of the teachers were freaked out. But it was a few of the reason why Katsumi was one of the top of her class. Her movements were silent, her attacks were strong..like a spider. This gave a few impression to her senseis and to her fellow students, forming a few friends of her own. It was a strange change but it was nice to have friends around her, someone to spar with. This gave her a bit more strength, she learned to lay her trust in others, giving her more abilities in battle. Without these people, she may have been an anti social like... someone, her grandma told her. Not long after, she attended graduation.


Finally at the age of 11, Katsumi was placed in a worthy team of 3. Fortunately enough, 1 out of the 2 of the teammates was one of her friends. This made her quiet happy, and it defiantly helped out with the result of her team mates strength. But the remaining one was a stranger, someone who was quiet, mean, cold. It was hard to get through him, even the sensei gave up. But Katsumi didn't. She believed in trust, loyalty and allies, so after lessons she would study him in the shadows, making her look similar to a stalker, but it was merely to help their strength for each other. It, of course, freaked him out but after awhile, they grew close. They sparred together, trained, and shared their knowledge. For example, Katsumi earned the basics of sword handling, and he even helped her with her nature, lightning.
The team's relation tightens as a result of katsumi's determination and they grew stronger in strategy. They were one of the best teams in the village at the time, due to your progress. Which gave them great hope and chances at the exam that was coming up.



After graduating to a chunnin, the team rejoiced. This win fired their spirits and will to go even further. So they all trained with the help of their senseis, and parents. Katsumi even got help from her mother, whom taught her more about her affinitive, lightning and how to perfect it. And with the help of her father, she learned to preserve her large charkra reserve properly. Though anything other then that, she learned by herself, make it by hitting the books or learning by mistakes. It was a painful time of her life but determination pulled her through.
It would be worth it, she tells herself.
So she pushed herself further and further, until finally she found herself perfecting her spider techniques. Even her summoning, the kumo, was complete, as she did a bit of research without the raikage or anyone knowing it... The spider would help her get information, and kills through poision, maybe even a transfer of antidote! She accomplished many things and it would lead to a great outcome..?

IT was then that the meeting was called of jounin promotion. It was surely going to be all of her team mates, right? Well yes, but the only person who was left out was her. Yes, her. Even after she trained her limbs off. "Why?" She wondered, and went through a phase of anger, then a fire of will.
Katsumi continued to train and after years of waiting, wasting. She confronted the man who they called raikage. "Why wont you let me promote!" She asked, almost desperately. And the reply was straightforward and rather cold. It was confusing however. The raikage said he didnt not trust her, but why? She turned to her parents whom said nothing. It frustrated her. So instead, she turned to training once more, and finally at the age of 16, she promoted. It turns out the raikage finally decided to lay his own trust in her [only a bit more], seeing how she trained and worked. Though the wait may have benefited her more then she knew, since she was more stronger then many of the jounins who made it earlier then her.



Her first and last mission with her teammate


A few months after her graduation, Katsumi found herself in a temporary team, which was composed of her cold and quiet friend from her pasy and few other members that she had little to no familiarity with. However, the mission she was given was long term, giving her enough time to get to know her mates. Week later, She soon learned to trust in them, and slowly they found themselves in a great team, always watching each others back. Though it was soon to end as they neared eniemie territory.
-
Everything happened so quickly. An ambush, captures, and killing. Her teammates held strong, watching each other but soon it began to crumble. Desperation got the better of most, leaving backs unprotected, and defenses at a low. However when Katsumi was vulnerable, her teammate jumped in, taking the fall, leading to a horrible injury.. "What." She blinks staring at the man she used to spar with, why wasn't he breathing anymore. "no." She whispered , her voice lacing with rage. Why! If she just- if she just had her wires out, this could have never happened! Slowly, a pulsing pain formed in her eyes and before she knew it, she opened her eyes to a changing view. Movement was easier to detect and well.. It was strange. Though she didnt stop to think, she merely charged, killing those who attacked her teammates, her friend.
Meanwhile, she noticed the frozen and shocked looks she was getting from the opponent. Maybe it was because of her skills? Speed? She'll never know though, since all were killed and she took her team mate back to kumogarkure.. Unfortunately enough, it was too late, too much blood was loss..and he died, leaving her enraged of her lack of skill, and like always she went to relief stress by training.


Katsumi watched her team from the distance and smiled slightly. It was only a month or around since she had this team and it made quiet the impact to her life. She felt more qualified for some reason with these students around... but then again this wasent the only event that had changes in her life. Every since the fourth raikage died, and a new one was assigned 11 years ago, she felt life a bit easier. Maybe it was the fact that the 4th didnt trust her for some odd and unknown reason, or was it because of Megami's nature seems reassures her a bit more? Nevertheless, alot of new events weaved into her life, and it was for the better, yet it was still leaving a feel of shock. Everything seemed to come toward her with a bang, before lingering off ever so slowly..
Leaping down from the shade of her little resting spot up in the branches, she signaled her team to leave. It was about time for a rest and a new annocment has been made, so she would have to look into it.

---


Tailed Beast: None
Clan: The Uzumaki Clan. "Grandma mention something else.. U..something."

Weapons/Tools: "If you can tell, the wires are like a spiders thread, but deadlier."

Katsumi, like many ninjas, were trained in the basics of all ninja weaponry. Kunais, shurikans, tags, etc. Though out of all weapons, she chose the wire also known as Kumoito, "Spider Thread"

This weapon was a gift from her mother when she started the ninja academy.
Its a special string made from strong microfiber, something similar to the material of spiders string, and it can accomplish many amazing feats- if handled correctly. Its entire thickness contains thousands of parts and it was knitted out of a special pattern of a spiders five micrometer's thin thread. While having a sensor that can perceive even the most minuscule of movement, it can also with stand 600 kg as well as up to 1,500 degrees of heat.

Now, Why its a tricky talent to behold is because The weapon seemingly has a mind of its own, when the Kumo pulls the strings incorrectly it causes her own source to wrap around her in a vulnerable trap. Though at the same time, it can do many things to help her in battle.
It can support her weight. She can detect enemies from where her strings are placed by frequencies and vibrations, or cut the body of her opponents. She also has a tomoe shaped blade that can be tied along with the string making somewhat of a kunai.
[more tba]

Chakra Type: Lightning [Main] Fire [Secondary] "If I can, Ill be focusing on..another nature.."
Kekkei Genkai: The Sharingan
Description Of Your KG:She has only awakened level 1... and currently does not know the name of the Kekkei Genkai.. Often through anger the eyes activate. She does experience the sudden change in reactions yet she questions the reasons.

---



Signature Techniques


- Katsumi isn't know to be the spider Just for her wires. No, she observes the Arachnids and learns to be like one in battle. She attacks like one and thinks like one. Though, of course she'll add her jutsu's to the mix. She is also knowledgeable about many things, since she often hits the books for training and curious reasons. Because of that, she knows a few things about poisons and antidotes, but not as much as a medic of course.

Lightning Release Shadow Clone
Name: Raiton: Kangekiha 雷遁・感激波
Type: Defense, Supplementary
This technique allows the user to make a shadow clone infused with lightning. Because it is a shadow clone, it is able to perform techniques and interact with the environment due to it having physical substance; and also evenly distributes the user's chakra to each clone. If the clone is injured, it will revert to its natural lightning-state, at the same time electrocuting whatever it is touching..

Lightning Release: Electromagnetic Murder
Name: Raiton: Jibashi
Type: Short-range Offensive
With her wires, she is capable to change this from a short range to a long range, just by sending the waves of electricity down the threads. It'll shock her enemies and if she is capable of doing so at the time, she will coil her kouchi around the prey and shock him to death or make him faint for capturing.

Fire Release: Dragon Fire Technique
Name: Katon: Ryūka no Jutsu
Type: Offensive Mid-Range
This is similar to her electromagnetic death, and the same style. Her wires, seeing how they were capable of high temperatures of heat, she can send large strings of fire towards her prey. She may even burn her surroundings or attach a tag at the end of the wire just to assure death.

Fire Release: Running Fire
Name: 火遁・火走り Katon: Hibashiri
Type: Mid-range Offensive

Sensory technique
Like her grandmother, she took on a bit of sensory tactics to help with her style of fighting. However her skills arent the best, and is limited in range giving her a few meters or so.

A Summoning - Kumo
Basically she calls on a few spiders, which can all materialize to a large size. But to use less chakra, the sealed animals will form to a small form, but will come in numbers. These are usually used in spying and quick attacks since the spiders can take on poision and transfer it to another. Or an antidote.
The reason that she knows of Fūinjutsu is because of her mother and grandmother. The uzamaki's were known for their sealing techniques, so despite their disconnection with the main clan, she was able to get enough information to accomplish the skill.