---
"Someday I'll be like our Lady Raikage!"
---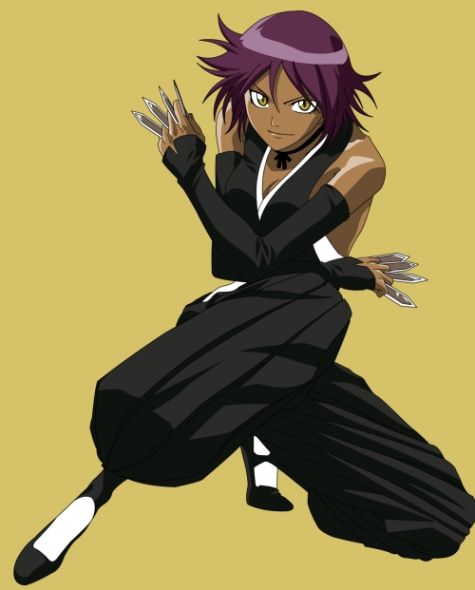 Age:
12
Gender:
Female
Birthday:
April 17th
Height:
4'11
Weight:
132
Blood Type:
AB
Village:
Kumogakure
Rank:
Chunin
Classification:Academy Grad. Age:
11
Chuunin Prom. Age:
12
Jounin Prom. Age:
N/A
Personality
Prishe can be seen as being one with many traits both pros and cons. The pros is that often seen to be cool, controlled, rational, outgoing, emphatic, and critical. The cons are that she tends to give off the impression that she is independent, quick to anger, very impatient, often impulsive and is very violent. The in-between is that she has a very eager and courageous trait that often helps her in the long run.
When it comes to being cool Prishe's pros often help with that showing a controlled personality to where she often has a tendency never to jump in head first, at least at the beginning. Her rationality often prevents her from doing anything to extreme and often leads her to make the right decisions for her team if she wants to include them. Being outgoing allows her to actually speak her mind about things but this doesn't lead her to being blunt. She often keeps to herself in this matter only letting her friends or teammates speak for her. She has her emphatic moments where she can prove to be very impressive and significant to those she is with or against but this is often situational and upon the last part of her pros is that she can be quite critical knowing the situation if she really thinks hard upon it making those around her know that she can be quite witty.
When cons come into play although she can generally be quite useful and a wonderful teammate and friend… she is rather to herself very independent which shows when it comes to doing things. In her ideal Prishe believes she can do what she needs to alone to achieve everything in her life and follows this in believing this is one way she'll grab her ambitions. In addition to this information she can be seen to be quick to anger if bothered or denied her anger can go as far as violence which shows her impulsive side knowing that she is swayed by emotions. At the very least after she has planned out her strategy she gets rather impatient and will hold off as long as she can before going through with a plan.
---
Age 1-7 Academy Entry
Prishe was born twelve years before the present day of our roleplay. It was quite a peaceful time at least for her growing up and for as long as she could remember she has looked up to Lady Raikage "Megami". The first note and step that she had already obtained was being of the Umira clan. Although relatively in history it had been shown before that the Umira clan and the Sanda Clan often had their tangos, Prishe was pretty much the child that showed their differences didn't matter. At a young age Prishe was shown to Megami and ofren when she could it came to a point that she called her "Aunt". The reason behind this was because Megami unlike Prishe who knew nothing about her family history wanted to settle the quarrel among there families and interestingly saw a part of herself among the girl. Prishe only saw an idle but at the same time a rival that she wanted to be and succeed. This was when at the age of six finally registered to attend ninja training. Although it was manditory for her family she had another motivation.
Age 8-11 Academy Graduation
As Prishe went to school her personality developed becoming as much like Megami as she could become. Although some of her personality didn't match it was obvious from her image that she definitely took it up. As Prishe trained hard, it was only natural that her wind techniques also developed rapidly. They only extended when Megami began to personally train Prishe on her spare time off when asked. It all started when Prishe was wondering the village.. everything was peaceful except upon their lady's Kage building. Prishe had been as quiet as she could as she witnessed Megami's Kaminaridama. It only came to be an idea for Prishe that she too would use this technique.. She snuck away only to not realize that the entire time Megami knew she was near. Prishe had gone into the forest before trying to master the technique herself. It wasn't until Megami above her used the ability upon a tree only to make it burst to get her attention. It was after that moment that Megami began training Prishe herself seeing a lot of potential. However training was very minimal seeing Megami was a Kage. The development for the attack was also slow but it was only to be expected. This often left just the academy and self training for herself. After a few years passed Prishe had graduated with good grades and great standing.
Age 11-12 Chunin Promotion
After graduation things were looking up for Prishe, her development of the Kaminaridama was well on her way. She made her own type of Jutsu revolving clones and she was one of the top students once graduated. However... she wasn't all too happy when she finally had to get a team. It wasn't the team mates but specifically having a team wasn't her favored thing although she knew it had to be done. Often with her team she would do her best but at the same time hoped none got in her way. It wasn't until a certain mission that she finally came closer with her team and that was when it came to fighting the Kumo Chunin Exams. She took part in the tournament and won but it wasn't until Prishe had proven herself taking a chunin mission alone. Megami only sent her because she felt as if Prishe was ready... Mind you that Prishe did come back rather hurt and very weakened but she managed to do it only asking for more sarcastically. It's now been two weeeks since then... and her recovery has been great although she still suffers from some of the injuries at the moment.
---
Clan:
Umira
Weapons/Tools:
Senbon, Kunai and throwing blades.
Chakra Type:
Wind (Affinity) and Lightning
---
Signature Techniques

Kawarimi no Jutsu
- With this technique, users replace their own body with some other object, generally with a block of wood, the moment an attack lands.
Henge
- The transformation of a skilled shinobi will be exactly like the genuine article, so it will be impossible to tell the two apart. On the other hand, a transformation performed by an inexperienced person will have obvious discrepancies. It will be impossible to deceive anyone with it. This is one of the most basic ninjutsu, as such most shinobi know how to perform it.
Kaze No Yaiba
- This technique is a pinpoint slashing strike, where the user emits chakra from their fingertips and materialises it into an invisible sword that assaults the enemy in a gust of wind and making a slicing sound. If the Sickle Weasel Technique can be regarded as a swarm of wind kunai, then this technique is an unavoidable longsword which leaves very deep slashes on the target's body. The wind blades can be thrown like projectiles and be made consecutively.
Shou Kaminaridama (Lesser Lightning Sphere)
- Although not near as powerful as Lady Raikage, Megami. She was taught this move by the woman herself. The difference is that Megami had the burst KG as to Prishe who doesn't. The wind conjuring is actually quite strong yet it lacks the shocking impulse that megami has. If anything this ability could be said that it has a nice wind force that can push the user away yet the shock is very poor making the ability less harmful then it actually should be. It could very well be said that this is the first stage.
Kaze Bushin
- A interesting jutsu that required a lot of practice for Prishe. With this she creates wind clones of herself... the clones are basically wind itself taking the form of the user. They can not use jutsus but they can attack... When they attack mostly a force of strong wind will hit the opponent sending them back or knocked back by wind. They can not be harmed physically but Jutsus will disable them. These clones require constant chakra to deplede from the user at minimum, therefore Prishe tends to not keep them up too long. This can be used quite strategically.
Lesser Wind Manipulation
- It's at a very minimal state - She herself with a wave of her hand can send a decent wave of wind towards her enemies. In addition she can also use this to cover her body with wind reducing some damage that goes upon her but she can only hold this for only so long. Prishe, the last ability with this is when she has the wind float her from the ground allowing her at some points to "surf" the wind to drag her where she needs to go (She can only hold this for a small amount of time currently)