---
---
---
---
Nothing, Sunrise
⌈None of this is about who we are, or who we were. It's about who we

could

be, and whether we're brave enough to reach for the truly outlandish possibilities.⌋
---
---
Owl City |
| Shooting Star
Starset |
| Let It Die
Blaqk Audio |
| Deconstructing Gods
Blaqk Audio |
| Faith Healer
Meredith Brooks |
| Bitch
Rob Thomas |
| I Am An Illusion
---
---

---
---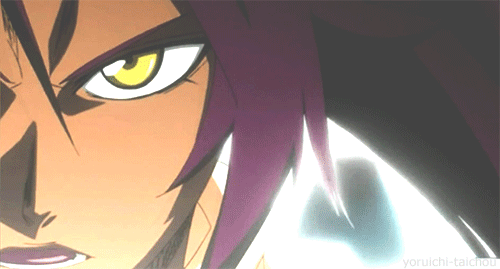 ⌈

One life isn't much in the grand scheme of things. But it's all I have, same as you. Mortality is the great equalizer, for great men die as surely as paltry ones do.

⌋
---
---
⌈Nickname⌋
[ Occasionally she gets Hino, but really, her given name is short enough as-is. ]

⌈Age⌋
[ 23 ]

⌈Gender⌋
[ Female ]

⌈Village⌋
[ Kumogakure ]

⌈Clan⌋
[ Hinode ]

⌈Kekkei Genkai⌋
[ Unmei Saiken ]

⌈Chakra Nature⌋
[ Lightning ]

⌈Ninja Rank⌋
[ Jōnin ]

⌈Role⌋
[ Medic-Nin ]

⌈Face Claim⌋
[ Yoruichi Shihōin | BLEACH ]
---
---

---
---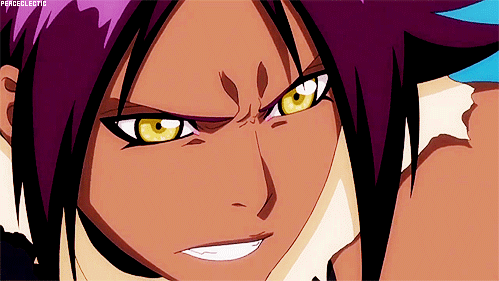 ⌈

My history is written all over my skin, and to you, that might be uncomfortable. But me? I kind of like it. It's better than forgetting.

⌋
---
---
⌈Hair Color⌋
[ Dark Purple ]

⌈Eye Color⌋
[ Gold ]

⌈Skin Tone⌋
[ Swarthy | Dark ]

⌈Height⌋
[ 5'10" ]

⌈Weight⌋
[ 140 ]

⌈Physical Description⌋
[ Rei is of rather obvious Kumogakure stock—it is, after all, the only ninja village known to have in its population a large concentration of people with dark complexions. Whereas many of her comrades could pass in disguise as someone from another region, she will never be seen as anything other than what she is. Generally, one can deal with a circumstance like this one of two ways: either one can be ashamed of it and try to downplay it anyway, or one can embrace it. While the first approach might be wiser considering the mission, Rei has never been anything other than proud of her lineage and her village, and this shows in her bearing. She makes no attempt to conceal or hide where she is from, and carries herself tall, to the full extent of her not-inconsiderable height.

Her physique is a thing of practicality, and this, she believes, also makes it a thing of beauty. Certainly, it would be hard to look at her and see none—her training has done what it does for many ninja, and given her hard, toned muscles with nothing excess about them. Her natural shape is what one might call generous in terms of curvature, and very feminine in that sense. But what sets Rei apart, really, is that even her imperfections, her scars and blemishes, are worn like things of beauty, marks of honor and courage that she makes no attempt to conceal. If a scar on her arm makes her less appealing to someone, then, well… that's just how it's going to be. She will not surround herself with an air of false delicacy. She is strength, she is vibrance, she is life, and there's no point in pretending to be weak and wilting and delicate instead.

Even her natural coloration is saturated, raw, vital. Her hair is the color of ripened, dark plums, or perhaps aubergine in low light. It falls, if unbound, to around her waist or so, but for the most part, she is practical enough to keep it tied up, so that it remains out of the way of what she's doing. There are shorter bits in front of her face, often brushed away in gestures of irritation while she waits for them to grow back out. Almond-shaped eyes, set on either side of an arrow-straight nose, are golden in the iris, like the first glow of dawn. A family trait, if anyone should care to know. Of special note are her hands—Rei has what are often termed a musician's hands—that is, they are slender and the digits long and tapered, elegant, almost. They are also unerringly precise, as they must be for anyone in the business of saving lives that others have tried very hard to take.

Her gait is rolling, almost stalking, like a predatory cat or the first hint of an incoming thunderstorm. It's almost ironic, all things considered. She seems to possess a higher-than-average number of scars on her person, highly noticeable for being either white or pink against the darkness of her skin. There are none on her face, but several visible on her arms, and, should she have cause to bare them, her legs as well. ]
---
---

---
---
⌈

I've watched love destroy life, and life destroy love. I'm not sure which one's more worth having, in the end.

⌋
---
---
⌈Potential Interest⌋
Uhh...: Despite a certain amount of… forwardness in her demeanor, Rei is not usually one for liaisons with others, male or female. Arguably, this stems from the complex web of circumstances surrounding her parents and her Kekkei both, but whatever the case, she is infamously single, and quite practiced at varieties of declination and rejection running from polite ease-down to face-punching. It probably qualifies as an art form.

⌈

Skills
⌋
★ Herbalism || Somewhat lost amongst the flashier ninja arts is knowledge and application (poisonous or medicinal) of various natural plants and herbs. It is not an art that Rei neglected to learn, largely because her path to becoming a kunoichi was not exactly a conventional one. Whatever the case, she can supplement more direct healing with herbal knowledge, and is an expert in poisons and antidotes.
★ Poisons/Immunity || It is an arduous process, but the human body can be trained to withstand the effect of toxins of all kinds, from snake venom to nightshade and other deadly concoctions. By ingesting small doses of such substances and riding out the uncomfortable consequences, Rei has gradually developed a tolerance to them, and gained what acts as an effective immunity to being poisoned. The very personal experiences have also given her intimate knowledge of which poisons produce which symptoms, and how to treat them if necessary, meaning that her knowledge does not only benefit herself.
★ Intuition || It is nothing so complex as being able to read someone's mind or pick up consciously on the finest of motor tremors, but historically, Rei's intuition has been almost uncannily accurate. She seems to be able to get a sense of a person's character from just observing them, though of course she cannot divine the past or anything so specific as what might have led to a person's nature. She cannot learn anyone's secrets through her observations, but she can learn that someone has secrets, and is quite good at knowing whose intentions are hostile.
⌈
Medical Ninjutsu
⌋
⌈
Ninjutsu
⌋
⌈
Nintaijutsu
⌋
⌈
Kekkei Genkai
⌋
✠ Unmei Saiken || [Destiny Bond]: Technically a medical ninjutsu technique, Unmei Saiken uses Rei's exceptional chakra control to interweave her chakra pathways with those of another person. The result is that that person's life becomes temporarily bound to hers--as long as she is alive, they are alive, and if she dies, so will they. It is primarily used to keep dying patients from succumbing to their injuries while she works on healing them, for the technique in itself does not heal, only keeps a person bound to life. If they are suffering, then, it could arguably be a fate worse than death. Offensively, it can be used to induce a stalemate condition, in which it is impossible for either Rei or the person she is bonded to to hurt one another, at risk of doing themselves that same damage. It requires no chakra to maintain, only to form.
✠ Unmei Saiken: Eizoku || [Destiny Bond: Permanence]: The average instance of Unmei Saiken lasts only as long as Rei is conscious and actively maintaining it, and it is a significant drain on her focus. The next level of the technique, however, allows for bonds of any sort of duration, assuming the other party is willing or at the very least, not actively resisting her. Weaving chakras together is a delicate process, after all, and if she encounters resistance, doing it in a long-term manner is impossible. There are some side effects to such a bond--it is, for example, difficult for herself and the subject to be a great distance apart. She has only ever used this for healing that is still in critical stages when she needs to sleep. She breaks the bonds thereafter.
✠ Unmei Saiken: Eien || [Destiny Bond: Eternity]: Theoretically possible but never actually used, the highest level of the Unmei Saiken is a lifelong binding of two chakras. Still theoretically, it would allow the people involved to utilize one another's chakra elements (though not jutsu, obviously), and bind their lives such that they would both live out the lifespan of the source (in Rei's case, Rei herself), and both die when she died. Apparently, her father and mother were bonded in this way, and were able to sense disturbances in one another's emotions and chakra from great distances. Rei herself can't imagine ever using the technique, but she knows how.
---
---
---
---
⌈I suppose I'm what you call a

specialist

. I do what I do very well, but I don't even pretend to be able to do

everything

.⌋
---
---
⌈Other⌋
N/A

⌈

Habits
⌋
☁ Snacking || Eh, what can she say? She likes to eat. She doesn't especially have to worry about negative consequences for her fitness considering how active she is. She doesn't even pack away an especially large amount at mealtimes; it's just that she's usually munching on something, usually dango or takoyaki or something of that nature, though she is also fond of hard candies. Rei's general policy is to do everything in life with gusto and relish—why should eating be any exception?
☁ Napping || What's not to like? Luxuriant snoozes in the sun, stolen z's in trees, hell, she could fall asleep in a pile of snow for all she cares. Rei doesn't sleep very much or very well at night, and so she tends to have a catnap sleep schedule. This can work in her favor—it means she doesn't have to get eight hours at once like a lot of people do, and can more easily adjust her patterns for missions.
☁ Walks || Or runs. Really, she likes to get out and see things—people, places, whatever. It's nice to be able to remind yourself that you are not the only thing in the world that matters, nor the only person that struggles. She's learned to take the long view on things, but looking back out every now and again doesn't hurt her chances of keeping it that way.
---
---
⌈

Likes
⌋
ღ Children || Rei loves kids, kids love Rei. She's not sure if there's something about her that secretly screams "big sister" or "maternal instincts" or what, but there you have it. She gravitates towards the cheeky little bastards, and they to her. It's a mutually rewarding experience, usually, because she'll share her hidden hoards of candy with them, and there's something about seeing a child smile that's just… nice and uncomplicated.
ღ Plants || An apothecary's daughter probably should like them, and she has the green thumb to match. Flowers, vegetables, trees, herbs… she likes them all, and can grow just about anything the climate will permit.
ღ Snow || There's not a lot of it on Kumo, so it's something of a novelty for her. Rei likes rain, too, but snow is her favorite. There's something… enchanting about it, and she's not above appreciating the little things in life.
⌈
Dislikes
⌋
✘ Boredom || If you have the time and energy to be complaining about how bored you are, you have the time and energy to find something to do. This is something Rei's father was fond of saying, and it seems to have stuck. She is rarely idle, and even when she is, she's still doing something, because she hates the feeling of being unable to do anything at all. Part of that's just her nature, and the other part… well, it comes from something a little… darker. But she doesn't really like to think about it.
✘ Violence || In all honesty, Rei is done with wars. The first one took away more comrades and good people (on both sides, she is sure) than she really likes to contemplate, and she herself has never been especially fond of doing harm to another. Strong she may be, but sometimes the greater strength is in laying aside the easy answers, the ones with sharp things and death. She of all people has great reason to bear grudge against the shinobi of the Leaf, but she chooses to set it aside.
✘ Dreaming || Her dreams are rarely pleasant. It's why she has so much trouble sleeping at night—the nightmares inevitably wake her, and her rest is never especially restful when taken as other people take theirs. Perhaps that's why she has gravitated to a catnap schedule.
---
---
⌈

Strengths
⌋
♦ Chakra Control || Her chakra pool is only above average, not at all incredible or extraordinary, but it's something she's working on, and has been since she started training. Considering she started with a level well below average, she's not doing so bad. But the true strength of someone like Rei is in her fine-tuned control. Use of her Kekkei-Genkai demands it, else she risks crippling or killing both herself and the subject of the jutsu as well.
♦ Intelligence || Technically, Rei was an apothecary before she was a ninja, and that requires quite a lot of intelligence to pull off. Working with potentially-hazardous plants and materials is not for the stupid, unless perhaps they are also suicidal. More than that, she is sharp in the sense of diplomacy and people skills as well, though she does not always come off as such.
♦ Flexibilty || People... should probably not be able to bend like that.
⌈
Weaknesses
⌋
☯ Compassion || Ninja are supposed to be hard, solitary, tough. And sometimes, occasionally, Rei can mimic being those things well enough to get by. But the truth of the matter is, the violence and the death bothers her. She's a healer, by training and by nature, and she knows what it feels like to be so bound up in another person (literally) that it's hard to tell yourself apart from them. It makes it very difficult for her to choose to end a life, regardless of the circumstances. She won't spout gooey shit about peace and love to you, she just... doesn't like war and hate. That's all. Even that's enough to be a liability sometimes, though.
☯ Breadth || Not by any means a Jack-of-all-trades. Rei is very much a specialist, and her specialties are healing first and lightning second. She's only barely passable with weaponry. Hand-to-hand? Fine. Shuriken and kunai? Well, good enough to make jōnin, but no better. Swords? No freaking way.
☯ Scars || The physical ones, numerous though they may be, are fine. Her medical skills ensured that they didn't reach deep tissue. The mental ones, on the other hand? They still give her nightmares, and she sleeps only fitfully a best because of that.
---
---

---
---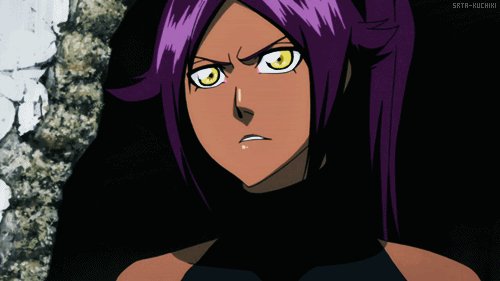 ⌈

I've got nothing to hide. Hell, if I tried to keep everything a secret like some of these people, it'd just weigh me down too much, you know?

⌋
---
---
⌈Personality⌋


Willful

|

Sultry

|

Good-Hearted

|

Open

|

Protective



On the surface of things, Rei Hinode is a very simple person. Quite straightforward, blunt, if a little snarky, and mostly open with her displays of emotion—certainly more so than the average ninja, who is taught to be more reticent for his or her own good. She seems willfully ignorant or oblivious to convention in regards to the ways a kunoichi "should" behave, and flies in the face of most of them by being so noticeable she could never just blend. It isn't so much her physical features, though the uniqueness of her appearance does help, as it is something about her bearing. She isn't just living, she's alive, and seems almost to trails all the colors and music in the world with her when she goes. Against a backdrop of black and white and grey, she's a bright fucking red, and she's not going to apologize for that.

One might think her obnoxious or unintelligent to be described in such a way, but in truth, neither adjective applies. She is forthright and without deception, this is true, but she does not flaunt anything about herself. Rather, vibrancy is just her natural mode of existing. Some people want attention—Rei just wants to be herself, the way she really is, and if that means people happen to take notice, well… so be it. She's actually pretty good at noticing things herself, with an observant aspect that fits her intuitive nature very well. She feels just as much as she thinks, and where some might consider this a shortcoming, she sees it as a strength. There's no point in trying to reject her feelings—because they aren't really under her control. So she accepts them as they are, and then if she needs to, she moves on. She doesn't keep anything bottled up, and though she may not always volunteer her thoughts, she will be very honest if asked for them.

There is, perhaps, a certain charm to that, and it has won her friends in the past, as well as some enemies. She does not tell people what they desire to hear, and that kind of honesty can sometimes fly in the face of established norms of politeness, causing offense. Even so, though, she's not bad with diplomacy, in the sense that her lack of deception means that most people know they can trust her. Many also believe they can use her, and sometimes, she allows them to believe that. The occasional omission is not beyond her repertoire of skills, after all.

Deep down, she is the kind of person who cares perhaps a little too much, even about people she has never met before. This is not to say she has never killed anyone, only that she generally refrains from doing so. It was a war, she was a ninja, and sometimes, she had to kill the enemy to save a comrade. That much is true, and she will not deny it. She also will not deny that it hurt her, perhaps more than it should have, to do so, and she carries the weights of those deaths even now on her shoulders. Rei may appear to be lighthearted and carefree, but if one looks closely enough, one can see differently.
---
---
---
---
⌈

No one here is blameless, and I at least don't intend to cast any more blame. That was what got us into this mess in the first place. I'm willing to lay aside my grudges, even if nobody else is.

⌋
---
---
⌈History⌋

Rei Hinode was not born a ninja. Actually, her father was an apothecary, and her mother a seamstress. Both lived and worked as tradespeople in Kumogakure, and it was expected that eventually, Rei would probably do the same. They'd been shinobi once, maybe a few generations back, but the old line of warriors was dying out, and in truth, most of the members of the clan seemed to share a temperament somewhat too gentle for the work of killing others. They made much better doctors and healers than anything, and Rei grew up with her father's medical books and the herbs he grew in the small garden in front of their home. It was neither a grand nor especially hardscrabble existence, and they were moderately successful at what they did. Her mother made and repaired equipment for the ninja, and her father acted to heal them of poison and take care of their relatives when someone caught a disease. That was basically all there was to it.

Rei was training in the same, and was about fourteen when it happened. Her father suffered and accident, trying to give triage care to a ninja he found injured outside of the village, clearly trying to make his way back to the hospital. Unfortunately, the man had been poisoned, and with little natural resistance, Rei's father was unintentionally infected. His death was quick, but, due to the family's latent Kekkei Genkai, his death took Rei's mother along with him, something Rei witnessed. Eventually, the cause of the incident was discovered, and Rei began ritually ingesting poisons thereafter, instructing herself in how to dose them from what was actually a very old ninja technique scroll.

Her apothecary training still incomplete, she started looking for someone to finish her instruction, but there were few people who bothered much with such arts when advanced medical ninjutsu was so readily available. The only things chemists could really do better was treat disease, and that wasn't nearly as much of a concern in Kumogakure as mission injuries were. If Rei wanted to continue upon the path of healing others, her best option was to get training as a medical ninja.

She was definitely late in starting compared to others, and had to fight quite hard just to get accepted into the academy, where she started her training along with children half her age, many of them from proud lineages and already well-versed in things like chakra pathways and hand seals. Rei knew none of it, and was playing catch-up basically from the very start. Never once, however, did she allow it to get her down, for she believed that, however slow her progress might be, she was doing the right thing. She was finding her purpose, her way to not only continue her family's legacy of healing the sick and injured, but also finding her personal path through the world, one she felt had no place for her but this.

Though she started at the very bottom, with a paltry chakra pool barely enough to earn her entrance into the Academy with six-year-olds, she worked harder than any of them, her personal discipline matched only by her thirst for knowledge and zest for life, and slowly, but surely, it all paid off. Given her age difference, she was taken on as a special case apprentice by an elderly ninja, well into his octogenarian years when he took her on after her graduation, a feat she did not achieve until she was fifteen. Hibiki was, however, a very good medic-nin, perhaps the best Kumogakure had. You are not talented, he told her, but that's why I chose you. Talent is a crutch. It is something for the weak-spirited to lean on, to get them through what they cannot work hard enough to achieve. You will achieve everything they do, because you will work for it. And when at last you stand on even ground with those talented people, you will know that, when things get so difficult they seem impossible to bear, you will stand strong while they falter. Because you will already know how to do the impossible.

He was, in his way, exactly right. Hibiki taught her until he had nothing left to teach. Rei achieved Chūnin rank at the ripe old age of seventeen, but made Jōnin only one year later, and was accepted into the medical corps. The training is difficult even for the exceptionally talented, and it was not easy for her, either. But as Hibiki had predicted, she already knew how to deal with that, and when all was said and done, her chakra control and medical ninjutsu were the very pinnacle of what Kumogakure had to offer in the area. She was strong, because she had worked hard for it.

Then the war started.

Most members of the medical corps saw little to no direct frontline action—they were too vital in treating the wounded and saving lives to risk direct combat. Rei was one of the few exceptions. Embedded with an elite Jōnin Lightning Unit, the Kumogakure equivalent of an ANBU squad, she saw more action than she truly lies to think about, but things were not unbearably bad until about a year into the war. Her unit, exhausted from days of relentless guerilla strikes on the Konohagakure ninja, fell into a trap, and were ambushed from all sides. Most were killed, but Rei was captured instead.

She does not speak in great detail about what happened to her, but she spent almost a year of her life in the company only of the Konoha interrogators and her own thoughts. She came out of it with too many scars to count, if only the ones on her body are taken into consideration. It is written on her skin, the story of what happened to her in there, and nobody's really quite sure how she escaped her torture, but escape she did, and returned to Kumogakure. When the Raikage was killed and Takehiko Yamamoto made the next Raikage, she was asked personally to accompany him to Konoha for the negotiations. She agreed without hesitation, and has resolved to set aside what happened to her there, even if she should meet her interrogator face-to-face.
---
---

---
---
⌈I believe they thought they had broken me. And perhaps they had, but all they broke was skin and bone. No man can break your spirit without your permission, and I never gave them

that

.⌋
---
---