Land of Water, June the 8th, 07:54, Somewhere in the Western OceanGreetings and good tidings,

The village Hidden in the Mist welcomes you; participants of the present Chunin exams, both fellow comrades in arms of our home village and members/affiliates of our illustrious Shinobi Alliance.

All of you have been judged worthy candidates for promotion, based on the recommendations of your Jonin-instructors and Kage. The following package contains your sealed orders for both the first and second tests of these exams. Be advised that you may only consult the orders for the second test once you complete the first. Ignore this warning at your own peril.

This test begins the moment all applicants regain consciousness.

Good Luck
Four years after the 4th Shinobi World War, the Alliance has survived in the new era of peace;
preforming the role of mediator and peace maker among the Great Nations.
Though peace has prevailed among the powerful, the lesser nations such as Orochimaru's and Pein's former dominions
in the Land of Rice and the Land of Rain have fallen into disarray and civil war with the absence of the former and death of the latter.
Such chaos invariably spills over the borders of these nations, and into the lands of the Great Nations.
Despite the best intentions of the Alliance and most of its supporters among the villagers,
attempts to intervene in the conflicts have only awakened centuries old disputes over territory and spheres of influence.
The Kage Summit has decreed that if the Alliance is to maintain its unity, a new force must be created.
A force that answers to its own allied chain of command over the orders of any one ninja village.
The Shinobi Alliance certainly does not lack experienced volunteers for such a program.
But every new organization needs new recruits.
You are one among well over a hundred Genin being tested in the Alliance - Hidden Mist Chunin exams.
After days or maybe weeks of traveling, accompanied by several Jonin instructors of your village,
you have finally made it to the infamous village; Formally also known as "The Bloody".
In the night prior to the exam, you conclude last minute examinations of equipment and techniques
and go to sleep with your team in a hotel room paid for by your village.
As you rest yourself on the comfortable bed,
dismissing anxiousness and excitement for the coming day from your mind,
you finally drift away into a heavy sleep...
---
'
---
This Role-play begins with the first test of the Chunin exams in Hidden Mist. In a way this entire adventure revolving around the Chunin exams is a pilot, telling the story of how various Ninja from different villages became one of the first full time teams of the Shinobi Allied Forces Directorate. For the time being, I will direct much of the plot using both my own Genin and additional characters as I feel appropriate. Once we become comfortable as a team of writers, I hope to make the running and planning of this Role-play a more collaborative effort.
Though I used the rules box for IC purposes that does not mean I do not intend to enforce certain rules:
1) I ask that you please follow my instructions regarding character creation and other requirements. My way of doing it might seem overly complicated, and it probably is, but I have my reasons for such actions so please trust me on this.
2) I would be foolish not to think you have all gone off and finished much of your characters by now, or imported them from previous Role-plays. I won't stop you form using ether, but I ask that you remain open you changes including but not limited to a new character sheet format and other requirements that may arise.
3) As the GM by responsibility is firstly telling the story, my own character is second to that. The first test will be a prime example of how my job as GM will compel me to play the role of puppet master extraordinary with various NPC's , and purposefully challenge you for the benefit of the drama.
4) I ask that Any questions, thoughts and required submissions be sent to me by PM.
---
'
---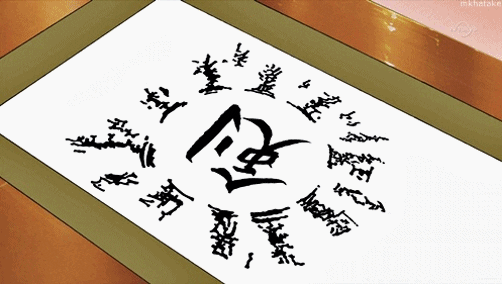 Character Submission guidelines:
Before I will accept or review completed characters, I ask that you each send me a PM with a proposal for the character. I want to make sure that you each create unique characters, if I see two character proposals which are too similar I will be able to inform both writers to take action prior to the formal submission.
Update: I forgot to point out certain limitations regarding character submissions; This Role-play sticks to Cannon in terms of background and history. While I do not intend to shove cannon into people's throats, there are certain clans that are off limits.
Uchiha: Currently, Sauske and possibly a very young Sarada are the only recognized living members of the Uchiha Clan. There will be no exceptions here, no hidden Uchiha's and no Uchiha from other villages.
Senju: I will allow characters related to the Senju clan, but direct clan members no longer technically exist.
Uzumaki: Canon is vague on this point but there probably are Uzumaki's by blood outside Konoha (such as Karin, Nagato and others). Most characters from this background are probably not aware of their heritage and aren't full Uzumami's.
Hyuga, Nara, Inuzuka etc: Acceptable
Dead clans: Certain clans such as the Kaguya clan, specified as extinct, are closed off. Other clans who's fate was not made clear may be available with if the backstory is convincing.
Code: Select all

Preference Sheet:
[list]
[*][b]Gender:[/b] Male/Female (I will accept two of a single gender and one from the other)
[*][b]Village:[/b] Hidden leaf/other (only two characters from the Leaf will be accepted),
[*][b]Secondary village preference[/b] (if not the Leaf): Sand, Mist, Rock, Cloud (read more at http://naruto.wikia.com/wiki/Category:Villages)
[*][b]Specialties:[/b] Ninjutsu, Genjutsu , Taijutsu, Kenjutsu (Sword) or other disciplines. Please state one and describe in short its application.
[*][b]Elemental Affinity:[/b] Choose one, try to match it with your village if you can but feel free to do otherwise if you so wish.
[*][b]Personality:[/b ]In one word how would you describe your character? is he/she outgoing, moody, insecure, humorous and so on? Choose three different words each describing and aspect of his/her's personality.
[*][b]Bloodline limit:[/b] If you want to use a cannon bloodline limit write the name of that clan, if you want to create your own original clan please describe in short their special abilities.
[/list]
Character Sheet
Code: Select all

[center][img]Go to http://fontmeme.com/naruto-font/ to create a frontmeme for your full character name, make it size 40 and customize the color to suite your style. [/img][/center]


[center][img]place your character's profile image here. please keep the image close to 384 horizontal and 288 vertical[/img][/center]

[center][size=100][i]"Your character's quote here, should be expressive of his personality"[/i][/size][/center]

[center][size=100][i]"A common phrase the character says often here"[/i][/size][/center]

[hr][/hr]


[right][img]Place another character image here, important that it be exactly 480 both horizontal and vertical[/img][/right] [b]Surname:[/b] (Remember that Japanese names place the family name before the personal name)
[b]Forename:[/b] (If you are having difficulty, you can go to http://www.behindthename.com/random/, click the categories option and choose Japanese. You can click the name you are given to find our it's meaning)
[b]Nickname:[/b] (If you want to have one)
----------------
[b]Age:[/b] (Keep in in the 13-15 range)
[b]Gender:[/b] (If you see there are already a lot of characters from one gender, please take the other one)
[b]Village:[/b] (Ether Sunagakure ((Sand)) or Konohagakure ((Leaf)) for the time being)
[b]Rank:[/b] (For now everyone will be Genin, this may change during the RP)
----------------
[b]Height:[/b]
[b]Weight:[/b]
[b]Hair color:[/b]
[b]Eye color:[/b]
----------------
[b]Blood type:[/b]
[b]Clan (if any):[/b]
[b]Kekai Genkai:[/b] (Just the name, describe it in full in abilities)
----------------
[b]Chakra Type:[/b] (Fire, Wind, Lightning, Earth or water - choose ONE primary and ONE secondary)
[b]Team number:[/b] (What was the number of your character's original team?)
[b]Team members:[/b] (List the names of your original team from Jonin to your two other comrades, later on we will create Kabuto styled information cards for them in the OOC section, they will be NPC's in the story)
----------------




[hr][/hr]

[center][img]http://fontmeme.com/newcreate.php?text=Background&name=njnaruto.ttf&size=40&style_color=15155E[/img][/center] (Note that you can change the code of the color of the pic to match that of your name)

[b]Childhood history:[/b] (Prior to becoming a Genin, how where your character's childhood years? how did he fair in the academy? was he a star pupil? a social outcast? a bully? the class president? How did the ongoing war affect his childhood? Did people close to him perish in the conflict?)

[b]Operational history:[/b] (Since becoming a Genin has the character been active for long? Or was his team only created recently?)

[b]Family:[/b] (if any, who raised the character? does he have grandparents, Parents or Siblings? if so, what is their relationship?

[hr][/hr]

[center][img]http://fontmeme.com/newcreate.php?text=Personality&name=njnaruto.ttf&size=40&style_color=15155E[/img][/center]

[b]General Description:[/b] (Describe your character's personality, how he reacts to people, what is his/hers attitude to life, how he thinks?)

[b]Motive:[/b] (What is are your character's goals? why does he live? why does he fight? is it to avenge a loved one? to protect his or her village? or is the character just trying to do his duty and stay alive? or, is he a coward, why?)

[b]Major interest:[/b] (What is the singe most important interest to your character?)

[b]Worst skill:[/b] (What is "that subject" the character never quite figured out? could be anything from Math to Genjutsu)

[b]Hobbies:[/b] (Does not have to be a Shinobi issue, Jiraiya liked to write and peep, I am sure some Shinobi like to fish,dance or gamble, what are your character's hobbies?)

[b]Talents:[/b] (Like hobbies,you could be talented in healing, or maybe in bargaining?)

[b]Shortcomings:[/b](weaknesses, not necessarily what your character can't do, maybe if your character is very skilled at Genjutsu but has also attention deficit disorder? Maybe, a selfless healer is also stubbornly convinced he is doing the right thing when he isn't?)

[b]Likes:[/b]

[b]Dislikes:[/b]

[hr][/hr]

[center][img]http://fontmeme.com/newcreate.php?text=Backpack&name=njnaruto.ttf&size=40&style_color=15155E[/img][/center]


[b]Main weapon:[/b] (What is that weapon your character always takes out first? could be a Kunai, could be a sword or a fan ((sounds familiar), or maybe the character does not have one, that's also possible)

[b]Second weapon(s):[/b] (Don't think in terms of if not the main weapon, then that - A shinobi should have different weapons for different situations, maybe the second weapon is a ranged one while the first is a melee one? such as needles?)

[b]Character unique items:[/b] (choose 1-5, remember you only have one small backpack and most of it is full of basic supplies. I won't set defined limits on the general items you can carry but be realistic, take the time to choose 1-5 items important enough to your character to carry with into the battlefield. Maybe a special toxic grenade, or maybe a simple flute? Weapons are excluded from this list )

[b]Other:[/b]

[hr][/hr]

[center][img]http://fontmeme.com/newcreate.php?text=Jutsu&name=njnaruto.ttf&size=40&style_color=15155E[/img][/center]

[b]D - Rank jutsu: [/b] (choose about 5, give or take, remember that E ranked Jutsu are known to your character already)

[b]C - Rank jutsu:[/b] (choose about one to three)

[b]B - Rank jutsu:[/b] (I would prefer only one or two from this area)

[hr][/hr]

[center][img]http://fontmeme.com/newcreate.php?text=Additional%20details&name=njnaruto.ttf&size=25&style_color=15155E[/img][/center]

(Delete this line: completely optional, you may choose to fill in these details for fun and to increase the deapth of character, if not just delete the section)

[b]Favorite Sin:[/b]

[b]Favorite Virtue:[/b]

[b]Favorite season:[/b]

[b]Lucky number: [/b]

[b]Favorite color:[/b]

[b]Favorite drink: [/b]

[b]Favorite fruit:[/b]

[b]Favorite food: [/b]

[b]Time of day: [/b]

[b]Favorite animal:[/b]

[center][img] PLACE VILLAGE SYMBOL HERE, LINKS BELOW[/img][/center]

http://img2.wikia.nocookie.net/__cb20100714205222/naruto/images/1/18/Sunagakure_Symbol.svg
http://img1.wikia.nocookie.net/__cb20090830222821/naruto/images/d/de/Konohagakure_Symbol.svg
http://vignette1.wikia.nocookie.net/naruto-fandom/images/b/b1/180px-Iwagakure_Symbol.svg.png/revision/latest?cb=20130519134804
http://img1.wikia.nocookie.net/__cb20130519135729/naruto-fandom/images/f/f1/180px-Kumogakure_Symbol.svg.png
http://vignette1.wikia.nocookie.net/gran-alianza-shinobi/images/6/66/Kirigakure.png/revision/latest?cb=20130611194913&path-prefix=es




All prior team formations are henceforth annulled until the conclusion of these exams.
All occupants of this vessel are hereby registered as a temporary squad for the duration of these exams.
Mission goals: Reach the specified Island, location is provided in this ship's navigation charts.
Duration: 96 hours
Disqualifiers: Squad numbers less than three members, failure to comply with time limit and destruction or crippling of vessel.
Squad may revoke a member's candidacy from the Chunin exams by majority vote.
Each participant in the exams has the right to withdraw his candidacy.
Taking place in...
1 posts here • Page 1 of 1
The sun-rays of dawn flickered across the waters of the Great Western Ocean, as if they were glimmers of light on a ballroom floor. Here; thousands of miles away the main continent of the Elemental Nations the world was left unaltered in its pristine beauty. Distant specks of green representing largely unexplored jungles broke the dominant blue of the sea. These were the uncharted islands; nominally territories of the Land of Water though few were ever visited by that great power's representatives or any human being at all for that matter. Beyond these islands lay a seemingly infinite expanse of water, and stories of other continents beyond.
Only the somewhat sentient dolphins could appreciate the puzzling sightings of almost a hundred small fishing boats, all in the vicinity of one of the larger islands in the territory. Most of these ships held no conscious operators and appeared to be drifting but a mysterious force none the less held the ships in the region and seemed to prevent individual ships from encountering any of their counterparts.
Onboard one of this ships, four unconscious youths lay on the deck. Each seemed to be in a deep sleep, undisturbed by their damp clothing, seemingly collected over several hours of their unaware state. The various symbols on their forehead protectors declared both their Shinobi training and their allegiance to their respective villages. An astute observer may have guessed the nature of their congregation in this specific place at this timeframe, but no one was to be had. Only seagulls maneuvered the air currents above the boat and they didn't care much for the hairless monkeys, they were not the sweet juicy fish they were looking for.
The youngest of their number stirred, battling the induced substance that had placed him in the clutches of the unnaturally still sleep. After several minutes of a dazed half awareness, the boy rushed to the starboard beam of the ship and vomited; whether from a side effect of the sleeping substance or just sea sickness was anyone's guess.
Yoshiro Hagoromo was one step away from an enraged fury; when he agreed to partake in these exams he was never told he would be drugged and tossed onboard a drifting ship. Sand ninja were not naturally born sailors; sea sickness was even rumored to be the primary reason why Land of Water and the Land of Wind had never fought a war against the other. Several moments past before the faded green headed lad felt steady enough to immerse himself in his surroundings.
The ship was around 40 feet long and about half a dozen feet wide, primarily constructed out of wood and industrial fibers. Yoshiro had only seen the sea once before in his life so he could not ascertain the ships type but guessed it was involved in fishing, judging by the various rolls of nets onboard. A small cabin at the rear end of the ship appeared to serve as the control room and a small door built into the ship's interior suggested there were more rooms inside. A folded sail held by a large wooden poll suggested the vessel could function on wind power, though a quick inspection of the ship's rear revealed that it was primarily powered by a motor engine.
The most interesting aspect of the ship was its cargo; 3 other shinobi from various villages none of whom his own and four bags packed with equipment, one of which he recognized as the property of Suna from its style, design and emblem.
Yoshiro examined but otherwise didn't disturb the foreign ninja; he would let them wake up in their own time. Two were girls; the black haired one was from Konoha, stereotyped in Suna as naïve tree hugging mama's boys. The taller white haired girl hailed from Iwagakure, mocked in Suna for being humorless, unimaginative and losing several wars (while conveniently ignoring Suna's similar history).
Yoshiro was a snob and didn't deny it, but he was also a professional ninja so he was well above these preconceptions. None the less, he judged that the blond Kiri ninja was probably insane since no civilized people could possibly live in an environment which required its people to travel by sea. Maybe that was the reason The Hidden Mist was the most infamous among the five powerful ninja villages; for killing more of its own people in less than a decade then all of its slain enemies combined.
A note nailed to his bag made clear what had occurred and why four different Shinboi had been spilt away from their original teams and put together:
_________________________________________________________________________________________________
Greetings and good tidings,

The village Hidden in the Mist welcomes you; participants of the present Chunin exams, both fellow comrades in arms of our home village and members/affiliates of our illustrious Shinobi Alliance.

All of you have been judged worthy candidates for promotion, based on the recommendations of your Jonin-instructors and Kage. The following package contains your sealed orders for both the first and second tests of these exams. Be advised that you may only consult the orders for the second test once you complete the first. Ignore this warning at your own peril.

This test begins the moment all applicants onboard this boat regain consciousness.

Good Luck
_________________________________________________________________________________________________
Sure enough, two small packages had been placed in the bag, along with equipment; such as clothing, bedding and various utensils. The Hagaromo carefully unraveled the first of these packages.
1. All prior team formations are henceforth annulled until the conclusion of these exams.
2. All occupants of this vessel are hereby registered as a temporary squad for the duration of these exams.
3. Mission goals: Reach the specified Island, location is provided in this ship's navigation charts.
4. Duration: 96 hours
5. Disqualifiers: Squad numbers less than three members, failure to comply with time limit and crippling of vessel.
6. Squad may revoke a member's candidacy from the Chunin exams by majority vote.
7. Each participant in the exams has the right to withdraw his candidacy.

---
1 posts here • Page 1 of 1
Arcs are bundles of posts that you can organize on your own. They're useful for telling a story that might span long periods of time or space.
There are no arcs in this roleplay.
There are no quests in this roleplay.
Here's the current leaderboard.
There are no groups in this roleplay!
Welcome home, Promethean. Here, you can manage your universe.
Arcs are bundles of posts from any location, allowing you to easily capture sub-plots which might be spread out across multiple locations.
You can create Quests with various rewards, encouraging your players to engage with specific plot lines.
Settings are the backdrop for the characters in your universe, giving meaning and context to their existence. By creating a number of well-written locations, you can organize your universe into areas and regions.
Navigation
While not required, locations can be organized onto a map. More information soon!
There are no groups in this roleplay!
By creating Collectibles, you can reward your players with unique items that accentuate their character sheets.
Once an Item has been created, it can be spawned in the IC using /spawn Item Name (case-sensitive, as usual) — this can be followed with /take Item Name to retrieve the item into the current character's inventory.
Give your Universe life by adding a Mob, which are auto-replenishing NPCs your players can interact with. Useful for some quick hack-and-slash fun!
Mobs can be automated spawns, like rats and bats, or full-on NPCs complete with conversation menus. Use them to enhance your player experience!
Current Mobs
No mobs have been created yet.
Locations where Mobs and Items might appear.
You can schedule events for your players to create notifications and schedule times for everyone to plan around.
Add and remove other people from your Universe.
The Forge
Use your INK to craft new artifacts in Naruto: Rengogun. Once created, Items cannot be changed, but they can be bought and sold in the marketplace.
Notable Items
No items have been created yet!
The Market
Buy, sell, and even craft your own items in this universe.
Market Data

Market conditions are unknown. Use caution when trading.

Quick Buy (Items Most Recently Listed for Sale)
None
Discussions
Topics

Replies
Views

Last post
Most recent OOC posts in Naruto: Rengogun
There have been no posts in the OOC topic for this roleplay!