Name:
Kurai Hyūga
Nicknames:
"The next Neji."
Age:
22
Gender:
Female
Birthday:
February 14th
Height:
5'4
Weight:
115 lbs
Blood Type:
AB Positive
Village:
Konoha
Rank:
Jonin
Classification:
Exam Proctor
Academy Grad. Age:
9
Chuunin Prom. Age:
10
Jounin Prom. Age:
15
Personality:
Kurai is quiet, calm and hard to anger. Atleast, to most people. She is the exact opposite to her family. She is somewhat like Anko. She has a sweet tooth, and can be very cheerful when she has a sweet of some sort.
History:
Nothing weird about her here apart from the fact she was a prodigy. Kurai grew up under difficult training from the main branch of the Hyūga clan. She matured quickly, and didn't take any nonsense. She really is quite normal apart from that. She was tasked with being the Exam Proctor for the Second Part of the Chunin Exams - The forest of death. She scares the Genin by getting fake blood and covering the gates with it, usually.
------------------------------------------------------------------------
Tailed Beast:
N/A
Clan:
Hyūga Clan
Weapons:
Two twin Wakazashi blades. Often held so that they are facing behind her. Their names are Yoto and Dokuto. One of them is drenched in a deadly poison, the other drains and stops Chakra and Chakra Flow. Vials of Deadly Poison.
Chakra Type:
Wind Release, Poison Release.
Kekkei Genkai:
Byakugan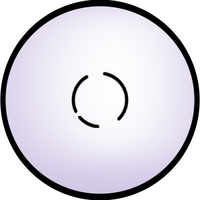 Description:
Those who inherit the blood of this clan have almost featureless white eyes. When the Byakugan is activated, the user's pupils become more distinct, and the veins near their temples bulge. It also appears that unlike the other two great dōjutsu, all members of the clan possess and can use the kekkei genkai from birth, as opposed to needing to awaken or not inheriting it at all.
The Byakugan's abilities have left it highly coveted by the other villages, as evidenced by Kumogakure's attempt to steal it during the Hyūga Affair. Ao of Kirigakure was able to obtain a single Byakugan from a Hyūga he defeated, and goes to great lengths to protect it. At the same time, Danzō Shimura went to equal lengths to retrieve or destroy it. Unlike a transplanted Sharingan, a transplanted Byakugan can be activated and deactivated at will. The Byakugans main abilities are being able to see Chakra and the Chakra Network, being able to see 360 degrees around them, with one weak spot on their neck, and being able to see through solid objects.
Signature Techniques:
__Byakugan Techniques___
Chakra Needle Technique
Eight Trigrams Mountain Crusher
Eight Trigrams One Hundred Twenty-Eight Palms
Eight Trigrams Palms Revolving Heaven
Eight Trigrams Sixty-Four Palms
Eight Trigrams Thirty-Two Palms
Eight Trigrams Vacuum Palm
Eight Trigrams Vacuum Wall Palm
Gentle Fist
Gentle Fist Art One Blow Body
Gentle Step Twin Lion Fists
Palm Bottom
Protection of the Eight Trigrams Sixty-Four Palms
___Wind Release and Kenjutsu___
Rotating Ferocious Wind
Rising Blade Dance
Falling Blade Dance
Rising Leaf Dance
Falling Leaf Dance
Leaves Blowing in the Wind
Rising Leaf in the Breeze
Wind Release: Vacuum Blast
Yoto Dance: Chakra Rush
Dokuto Dance: Poison Mirage
Twin Sister Blade Dance: Poison Chakra Stream