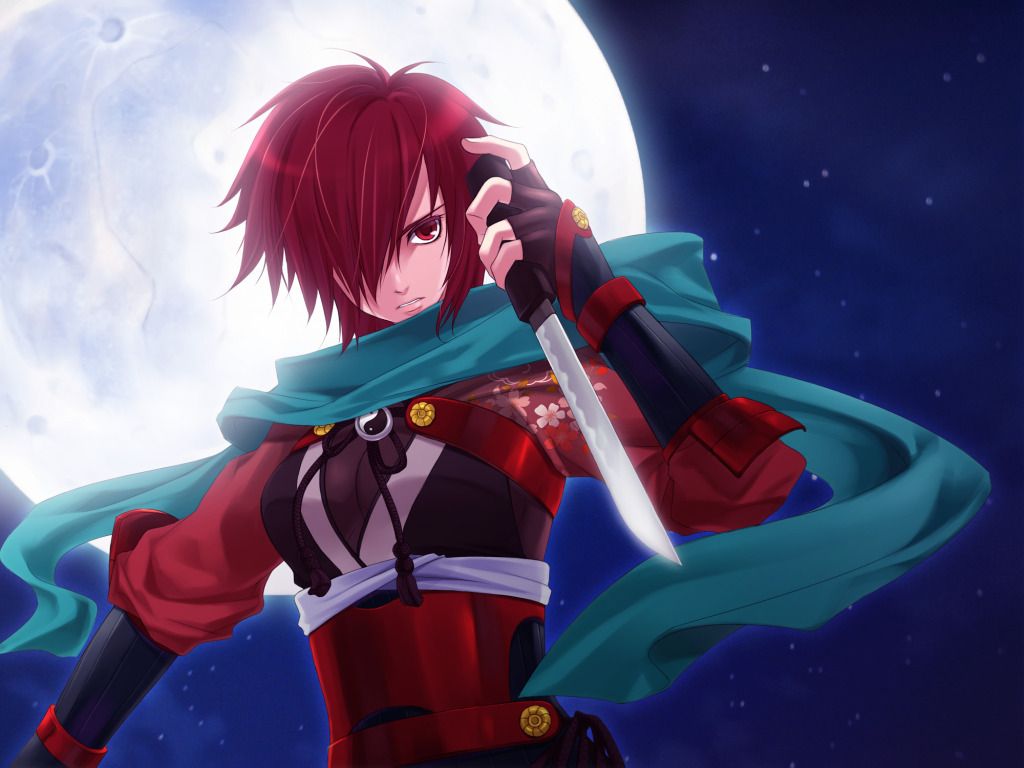 Name:
Izumi Hikaru
Age:
27
Gender:
Female
Birthday:
14 January
Height:
170 cm
Weight:
55 kg
Blood Type:
AB+
Village:
Sunagakure
Rank:
Kazekage
Classification:
Kazekage
Academy Grad. Age:
9
Chuunin Prom. Age:
9
Jounin Prom. Age:
12
Personality:
Izumi is a kind hearted person towards anyone in her village. She isn't so kind to other village members however. This is because of her past. She started to secretly hate the other villages but the hate was only small so this didn't harm the relationships the villages had. She would however hesitate to help people who are from another village. Despite her kind nature, Izumi is a person you wouldn't want to mess with. It could in fact cost you your life if you did. This goes for any person even for people out of her own village. She also pays a lot of attention to respect. If you do not respect her she will most likely not respect you. To others Izumi might have a sad expression because she almost never smiles. Again this is because she already went through a lot in her past making her almost unable to smile. In battle she is merciless and feared and Izumi is a master in strategy and battle and has been called a true genius for the most part of her life.
History:
After the 4th great ninja war and the dead of the previous Kazekage: Gaara, the sand village was in pain. The previous Kazekage was a great man who was able to control the first tailed beast before it was stolen from him by the Akatsuki and he was also the youngest Kage ever seen in history. It really hurt the Sand village when they had to choose a new Kazekage but they were still able to do so. The new Kazekage was a young person who would lead the Sand village for almost 50 years. Unfortunately for the Sand village he wasn't that good in being a Kage and wasn't able to keep order. This almost cost the Sand village its title as one of the great ninja villages but they managed to hold the title somehow.
Izumi comes out of a family from respected ninjas in the Sand village. It was around the 4th Great Ninja War that they started to make their name. The people in this clan usually were good learners and there even was a genius in the family here and there. The family was also known for their ability to learn the Explosion Release Kekai Genkai. This is because they were originally from the Rock village but due to betrayal they had to feel the Rock village and the Clan found a new home in the Sand village. People would be trained almost imeaditly after being born and Izumi was no expection.
Izumi used to be seen as a failure ninja when she was young. (5 years old) She used to be trained by her family but Izumi didn't really show any good ninja abilities. She was a slow learner and it took her almost 2 years to master the beginning E rank Jutsus you would learn in the academy.
When Izumi was 8 years old her brother, who was currently an Anbu, was sent on a secret mission even Izumi's dad didn't know the details about. Her brother talked with no one about it and left a week after gaining the mission scroll. He never returned and later they founded out that he was killed by a Leaf ninja…
The pain Izumi felt is something you can't describe with simple words. It was after Izumi lost her brother that she started to show signs of who she really was… And that was a true genius. Many people questioned how it came that she showed signs of a genius when she used to be seen as a failure around that time... But the only conclusion they could make is that she was previously not really interested in the ninja art. After the disappearance of her brother this changed however.
Izumi learned her first and second element on the early age of 9 years old and learned her last element a year later. It is usually uncommon for a ninja to have 3 elements and surely on such an early age. On her 10th birthday she took the exam to become a Genin and she passed. On the same year a Chuunin exam was being held with the sand village as host. Izumi saw this as a good chance to become a Chuunin and took the exam 3 months after becoming a Genin.
The Chuunin exam was a great spectacle that year and a lot of ninja's lost their lives in the battles that were hosted there. Even though statistics showed a great dead count, the Chuunin exams were never cancelled and every battle was shown into public. In those battles Izumi lost her first friend and teammate who was killed by a Cloud ninja.
Again Izumi could feel a great pain going through her due to the dead of one of her teammates and promised herself that she would win this Chuunin exam for the sake of her teammate. This is then also exactly what happened. After winning the Chuunin exams she was appointed to Chuunin by the current country leader. The Kazekage couldn't make it for some reason.
As a Chuunin Izumi didn't have a lot of missions so she had a lot of time to train together with her teacher and her teammate who was still alive. Because of this Izumi was able to learn a lot of new Jutsus during this period and was able to become stronger than the normal Chuunins would be. During this period she was also present when the next Jinchuuriki of the one tailed beast Shukaku was born and was presented to the villagers of the Sand village after the attack of the Shukaku were many Sand Ninja's lost their lives.
On Izumi's 12th birthday she was sent on a mission together with her teacher and her teammate to recover some stolen data about the village. Unlike the information said, the people who stole the data were actually rogue ninjas from different villages… Mostly the Rock village.
In a surprise attack against the group the teacher of Izumi was forced to give away his life in order to protect Izumi and her teammate. This again was a great shock for Izumi and probably also for her teammate who also saw how their teacher was killed right before Izumi's eyes by one of the rogue Mist ninja's. In the commotion both of them managed to escape the surprise attack and they also managed to claim the data once again for the Sand village. Not much later both Izumi and her teammate were promoted to the Jounin rank. Around this time Izumi learned her first Jutsu involving the Explosion Release.
Again there was some time when there was peace in Izumi's heart. She and her teammate now trained alone or trained together to cover up the loss of their teacher. They also went to the grave of both their teacher and their diseased teammate. It was painful for both of them sometimes but there was nothing they could do against it but to train so that they would be able to protect themselves and the ones they love. At a certain point they were both appointed as Anbu and because of their great teamwork they were able to complete most of the missions succesfully. On Izumi's 18th birthday, she married happily with her teammate who was still alive. This happiness wouldn't last for too long however.
It was known in the village that both Izumi and her husband and teammate were strong Jounins in the Sand village due to the pain they had to bear in their lives. Because of this they both were sent on a lot of A and even S rank missions. Every mission they did made the duo stronger but unfortunately for them they weren't strong enough to face the leader of a rogue ninja gang from the Mist village. This person who was once one of the strongest ninja's in the Mist village seemed to have betrayed his village a long time ago and set his eyes on the Sand village which had a very bad Kazekage at this time making the Sand village the weakest village in the eyes of other people.
When the Sand village heard about how this gang was going to attack the Sand village pretty soon, they immediately sent a mission scroll to Izumi and her husband. They received it without any problems and deployed 2 hours after getting the S rank mission scroll.
The plan of the mission was simple… Go to the gang's campsite at night, assassinate the leader in his sleep and quickly return to the Sand village. Once the night fell this was then also exactly what the duo tried to do. Once they infiltrated the enemy camp and once they set foot in the tent of the leader. They found him being in a deep sleep which was a relieve to both Izumi and her husband. They wouldn't have to fight today they thought… But they were wrong…
When they came closer to the leader and pierced both their kunais trough his head, an alarm went off and the leader vanished in smoke. It seemed to be a clone. Both Izumi and her husband were surprised and when they turned around and ran outside of the tent everyone of the rogue Mist gang was already waiting for them including the leader.
The mission still wasn't lost. They could still kill the leader somehow they thought and they both rushed at the enemy. Some of the gang members were pretty weak and easily to kill but others were really strong and almost impossible to kill. After some time they managed to come closer to the leader however but the leader seemed to be on a whole different level then all the other gang members.
The fight between the leader of the gang, Izumi and her husband took very long. Both the leader as Izumi and her husband were very skilled. Still the leader seemed to be stronger then Izumi and her husband. They almost were both killed a few times in this battle and only escaped dead because they were with 2 and because they were able to dodge attacks just on time. When Izumi was wounded in this battle however her husband concluded that there was only one way to save both Izumi and the sand village and that was to kill the whole gang at the cost of his life.
Izumi's husband didn't really look like it but he was actually a master in using Fuuinjutsu. He was also interested in a person who had lived in the past named Danzo from the Leaf village. In one of the history books he readed previously he readed something about a certain Sealing Jutsu called: Ura Shishou (Reverse Four Image Seal) and he tried to recreate this jutsu as good as he could. He succeeded in doing so though it was an incomplete jutsu and he had a lot of problems with it in the past almost killing himself exidently. But today he was able to use it just to protect the one he loved and to protect the village he loved If he would use it he should first make sure the Izumi was safe. He did this by using a Summoning Jutsu and taking Izumi to the world of the snakes. There she stayed for 3 days before being fully healed and being brought back to the original place she was. She didn't know what her husband had done yet though.
When she finally was brought back to the original place she saw to her fear that her husband had used this sealing jutsu he had studied before and had wiped out the whole gang with this Jutsu. Due to this event the last person, except for her, in her squad died. This caused Izumi to change into what was later to become the Kazekage.
A lot happened the next 2 years but to make the long story short, Izumi was appointed to the 7th Kazekage of the Sand village on the early age of 20 years old. This was because the old 6th Kazekage died due to an assassination. The village didn't have any time to shed tears over the dead Kazekage, no they had to appoint another one and fast. The Sand village already looked weak in the eyes of others. If word that the Kazekage had died would leak, then it surely was to be attacked. Out of the possible candidates Izumi was chosen due to the name of her deceased clan, her skill and her loyalty towards the village.
The first thing she did was make sure that the Host of the one tailed beast wasn't hated. For this she didn't have to do much however because it seemed like most of the people forgot about it or didn't blame Zurui for the incident. There were a few people who hated her however but those were quickly dealt with. This seemed to be a very good decision as the host of the one tailed beast became a great ninja not much later.
3 Years after Izumi was appointed to Kazekage the sand village built up a massive, great and strong army of Sand ninja's… But even though the Sand village built up this great army, the Sand village didn't see any war after the 4th great ninja war. The village also wasn't attacked by any other village or rogue gang since Izumi's appointment however. Izumi was still considered a genius. Even after becoming the Kazekage she didn't stop training and this is how she became a really strong Kazekage. Because of all these events, Izumi was later known as a specialist in military cases and as one of the greatest Kazekage's ever seen in the Sand village. After becoming Kazekage, the Sand village also regained its previous order when the Great Gaara was still alive and it also became a peaceful village once again.
Many things happened since then including Izumi becoming a lot stronger, the village becoming more and more powerful and the peace which wasn't disturbed yet to hold stand. Even though the Sand village is a peaceful village now, Sand villagers are usually people you don't want to mess with or it might cost you your life.
-----------------------------------------------------------------------
Tailed Beast:
None
Clan:
Hikaru
Weapons/Tools:
File, Range Finder, Hunter Disposal Kit, Mirror, Exploding Notes, Wire, kunais, Shurikens, Senbons, Smoke Grenades, Knife, Clay Pouch, Training Weights
Chakra Type:
Lightning, Earth, Wind
Kekkei Genkai:
Explosion Release
Description Of Your KG:
Explosion Release is an advanced chakra nature Kekkei Genkai. This chakra nature seems to give the wielder the ability to utilize explosive chakra in combat, allowing them to cause explosions in objects they come into contact with.
Signature Techniques:
Kekkei Genkai:
-C1
-C2
-C3
-C4
-Clay Clone
-Explosion Release: Landmine Fist
-Explosive Clay
-Explosive Clay Minions
-Explosive Landmines
-Suicide Bombing Clone
Earth:
-Doryuu Heki (Earth Style Wall)
-Doryuu Taiga (Earth Flow River)
-Shishi Dojou (Corpse Soil)
Wind:
-Shinkuu Gyoku (Vacuum Sphere)
-Shinkuuha (Vacuum Wave)
-Shinkuu Taigyoku (Vacuum Great Sphere)
Other:
-Izumi Is unable to use C0 due to not having a mount on her chest.
-Izumi's parents died in the attack of the one tailed beast. This caused her to lose every family member she had left.
-Izumi is good in using Taijutsu and Elemental Jutsus. She is bad in using general Ninjutsu and Genjutsu however.
-Izumi has a small, hidden hate towards all the villages because of her past. She does however not show this to anyone.
-When Izumi's weights are taken off her speed increases unbelievably.
-Izumi tends to get mad when her deceased loved ones are mentioned.
-Even though Izumi has a lightning natured chakra she is unable to use it for anything else then her Kekkei Genkai. This means that she is unable to use Lightning Jutsus on itself. The reason for this is unknown.