[size=85]
Given Name:
Artemis Rune
Alias:
Natasha
Nickname:
Miss. Fix it
Employer:
Alex Ryder
Age:
19
Gender:
Female
Birthdate:
June 28th
Rank:
Mechanic
Birth Place:
New York, New York
Current Residence:
Big Bear Lake, CA, with Alex
Heritage:
Middle Class
Education:
College, Auto Motive Technology
Accent and/or Other Known Languages:
English.
Favored Weaponry/Firearms:
2 9mm Pistol
Weapon Nick:
Mara and Eris (Destroyer/Death and the goddess of destruction)
Skills and Talents:
Artemis LOVES messing with anything. She might take things apart and make them better while putting them back together for the fun of it. She loves designing and making them is her favorite thing to do though. She's very fast at building and is also a speedy and is a good idea to have around for quick get aways or when you need to lose someone. She isn't all that good with her aiming though so she needs some cover.
Years Trained:
Ever since she was 5, she started messing with mechanics. She never went anywhere without her handy wrench after that.
Strengths:
Being able to lose anyone in car chase or keep sight of someone in a car chase. She is also able to fix anything she sees.
Weaknesses:
Scared of Doctors, Failing, and isn't that good of a shooter.
Transport:
Koenigsegg CCX
AKA "Baby"
Work Attire:
All of it is black leather with a zipper down the front.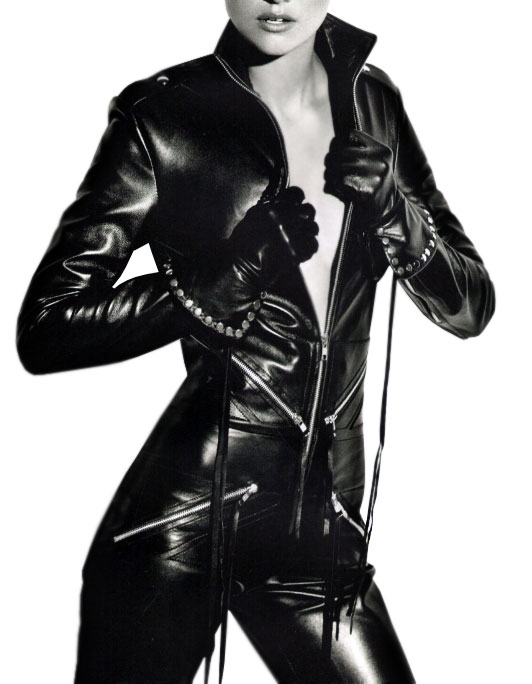 Outward Appearance:
Artemis has long black hair and usually wears her black leather jump suit whenever she wants (Which is usually all the time) She actually bought multiples of this jumpsuit so she would always be able to wear it.
Height:
5'6"
Build:
Skinny
Handed:
Right handed
Smoker or Non-Smoker:
Non-smoker
Scars or Tattoo's:
On her face minus the little jewels.
On her stomach. She also has the belly piercing.
Physical Weaknesses:
None.
Personality:
Is usually a happy girl. She often is friendly with the other co-workers and tries to make everyone be friends with each other. She loves hanging with both the engineers (The Mechanic and The Programmer) She often speeds ahead in her thoughts so when she's finally done talking, she may say some random stuff that you won't understand. She tries to be friends with everyone but avoids Arisha because she's afraid of doctors.
Likes:
Speeding, tinkering with stuff, making cars, High tech stuff, sweets, and video games.
Dislikes:
Doctors, Failing, dresses, and veggies.
How They Met and/or Were Employed by Alex Ryder:
Artemis knew Alex when she was young but then suddenly moved when she was 15. By this time, he already figured out she was a good driver and mechanic. One day, when she was leaving school, she was greeted by her old friend. He asked her to work for him and she immediately said yes without thinking but never regretted it. She is very loyal to Alex and will do anything for him (at least, mostly anything).
History:
Artemis' farther was a racer while her mom was his engineer. They both showed her their jobs which influenced her greatly. They later both died due to a driving accident and she had to move out of New York. She later went to college and was found again by Alex. She drives to remember her father and fixes things to remember her Mother. She holds them both in high esteem so whenever someone says she's like them, she's happy for the rest of the day.
Personal Possession(s):
Her lucky wrench. It was her mother's. She may also use this as a weapon some times and will never let anyone borrow it or use it. If anyone uses it without her permission, she will be mad at you for ,possibly, a week.
Most Used Phrases/Quotes:
"Ooo~! What do we have here!? I could make something outta this."
"Come on Baby, we can make it out of here alive!"
"Keep that doctor away from me! I- I have a wrench and I'm not afraid to use it!"
"NO! Do you see that! That is a scratch! Don't worry Baby, I'll have you fixed up in no time."
"Come on, just a bullet wound. No need to go to the doctor.... Right?"