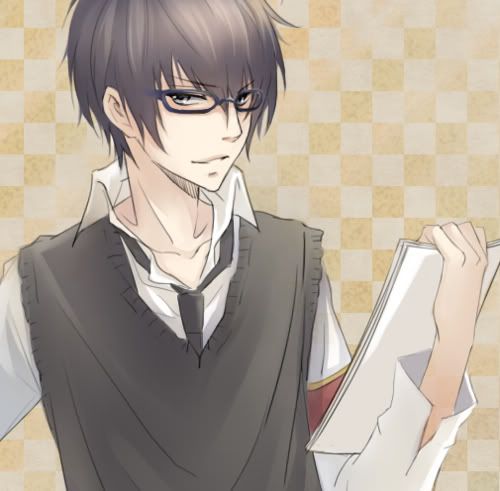 Name:
Kyoya Orihara
Nickname:
Kyo
Gender:
Male
Age:
17
S/O:
Most likely bisexual. But he was never in a real relationship before
Love Interest:
"This is none of
your
business,"
Job In NEET:
He collects information or pictures and is an expert at investigation
Description:
As shown in the picture, Kyoya does wear glasses. However, it's not because he has bad eye sight. Kyoya is merely farsighted, and only wears it when he needs to read. His eyes are a dull shade grey with a slight mix of blue. He stands to be about 5'11, with a lean body. Although he's not buff, you can clearly tell Kyoya has a few muscles here and there.
Personality:
Kyoya is someone who doesnt accept other easily. There must be something interesting about you if you want his attention. He seems to have many connection, often getting his hands on private information. If there's something Kyoya wants to know about, he'll get it. Rather it's by smooth talking, or beating someone half to death he
will
get it. Kyoya is quite troublesome to handle since everyone know how 'independent' he is. Yes, he helps out his fellow NEET detectives when they need it, but otherwise, Kyoya likes to do this own thing. Trust me, he's very picky when it comes to work. He will only do things that
he
likes. He takes part in cases that he's interested in. Kyoya... has fun observing this world. He knows all the names of the world's criminal, and is always up to date. There's nothing he doesnt know. It may seems like he doesnt care about anyone at all, but to tell the truth, he does care; it's just that he hides it.
Likes:
-Animals
-Pocky
-Tea
-Reading
-Getting information
-Observing this world
Dislikes:
-Anything
he
finds annoying
-Giving out personal information
-When people goes through his things
-Anything too loud
-Crowds
Hobbies:
-Working alone
-Getting information
-Reading
-Figuring things out
-Taking care of stray animals
Role:
NEET Detective 3
History:
Kyoya was born into a pretty wealthy family. His father worked with the government in Japan, thus never had time to come home. He grew up in his mother's hand, and saw his father mostly on TV. When he was 14, his mother was murdered. By who, they still havent figuered out. This is something nobody knows besides him and a few relatives. Kyoya had never talked about his family in public. In fact, a lot of the people doesnt know who is father is. He joined the NEET Detective for one reason... He was bored of his life and was looking for something that might actually entertain him a bit.
Secret(s):
"It wont be a secret if I told you... right?"
Theme Song:
[will add]
Other:
-He like to take care of stray animals, which tend to surprise many people.
-He has at least 5 phones.