---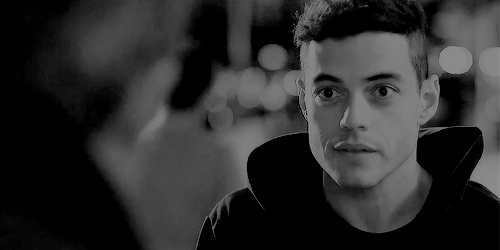 "I've got the whole world in front of me, and I'm not letting go."




just paste the quote here tbh

-Kellin Quinn
Gasoline
//
Blood//Water
//
Panic Room
//
You're Somebody Else
//
The Strays
//
Oh My My
//
Until We Go Down
//
Revolution
//
Monsters
//
In My Blood
//
xx
---
xxxxx

|| Name ||

Given: Ezekiel Zeke Cartwright | Android #358595065 Fives


xx




xxxxx

|| Nicknames ||

Zeke | Mostly used by Kylar // Fives | Used as a codename due to his serial number


xx




xxxxx

|| Gender ||

None, but prefers male | He/Him


xx




xxxxx

|| Age ||

Appears to be Twenty Five


xx




xxxxx

|| Birthday ||

Unknown, doesn't remember. Designated to be October 31st by Kylar


xx




xxxxx

|| Sexuality ||

Pansexual | Asexual


xx




xxxxx

|| Composition ||

Revolutionary Android


x




---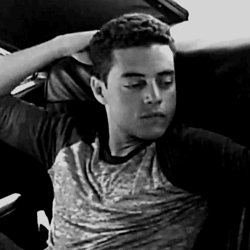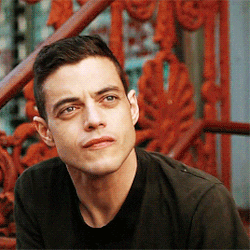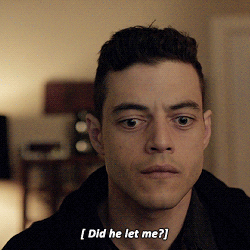 xx




xxxxx

|| Height ||

5' 10"


xx




xxxxx

|| Weight ||

180lbs


xx




xxxxx

|| Hair Color ||

Jet black


xx




xxxxx

|| Eye Color ||

Dark brown/light gold in sunlight


xx




xxxxx

|| Identifying Features ||

Has a small indent in his upper lip, has a port behind his right ear for constant upgrades from Kylar


xx




xxxxx

|| Description ||

He is by no means tall or muscular, he rather the opposite. He's on the shorter end of the spectrum, as well as being somewhat lanky and lacking most muscle definition. He has a less than intimidating appearance and seems to draw people in than push them away, slightly to his dismay. Fives doesn't consider himself much to look at, and as such usually tends to dress in simple jackets and jeans, with the occasional flare added in due to Kylar's incessive insistance. He usually always has a backpack of some kind with him as he usually carries various pieces of equipment and technology with him as he follows around Kylar whenever they are out in the city. He's much smaller than he would like, and usually wears baggy and loose fitting clothing to hopefully appear bigger than he actually is.


x




---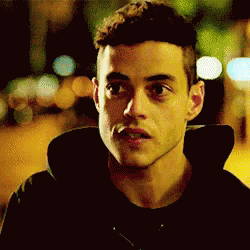 xx
Unlike many of his kind, Ezekiel was given as much free will as he was allowed to have. His former owner, who viewed Ezekiel as his own son, gave him as much freedom as anyone could want. He was able to read, inform himself on how things work, think for himself and be allowed to feel. And as such, he became as human as he could, emotionally and mentally wise. Arthur had a few different upgrades added to Zeke overtime to help with the times, meaning his processers and database was constantly being expanded. He learned compassion, kindness, equality, and what it was like to care for someone. While he didn't exactly understand what love was or how to have those feelings for someone, he was a caretaker so looking after others came naturally to him.

Ezekiel became a very kind, caring and sweet soul over time due to Arthur's influence over him. He was able to get a taste of what freedom was, well, could be like. But it only went so far. He knew he was simply an AI that appeared and functioned much like a human, something he could never be. As much as he wanted to be. Zeke had done everything as asked, followed every order as requested with no hesitations, that was until Arthur had asked for help. To make his suffering end, he didn't know what to do. For once in his life he wasn't sure to follow orders, or fail to follow through. His mind was wracked with what he assumed was some semblance of emotions, but after seeing Arthur's health only deteriorate even more over time. Unlike most AI, his thoughts were influenced by the humanity he was shown, something he often struggles with still. He isn't sure if he's made the right choices in the past, or if he's made some of the worst decisions he could ever make. All he knows now is that he owes someone his life, and will do no matter what it takes to help the Revolution. He knows he is nothing more than a program, but something in the back of his mind is slowly coming undone, and he doesn't like it. He tends to have more hesitations with things and decisions, almost like there is a moment of lag before following through with things. He doesn't like the thought of slowly losing control of himself, and that scares him more than anything. Rogue androids will and can be tracked down, and he knows it's only a matter of time until they come for him to. Something he hopes he can prolong just a little bit longer.
xx
xx
xx
---



xxxxx

|| Likes ||

freedom and equality // the revolution, even if he doesn't always agree with Kylar's ways of doing things // humans, they interest him more than anything else // the color blue, pink, and seafoam green // soft and plush things, especially stuffed toys // music // children, he was made to be a caretaker so it comes as no surprise for his softspot with them // looking after others and making sure they are okay // Kylar, they saved him from being reset and as such he considers owing them a life debt and does whatever he can to keep them safe // being seen as useful // equality, even if he isn't always considered as such by everyone // the thought of being a free android


xx




xxxxx

|| Dislikes ||

drugs // alcohol // blood and gore // useless violence // seeing those he cares about in danger // the color orange, yellow and bright green // cigarettes // anti-android propaganda and bigots // being viewed as less due to not being human // the slavery his people have endured due to humans


xx




xxxxx

|| Fears ||

any harm coming to Kylar and everyone else he cares for // being taken away and reset, or worse being taken apart and sold for scrap // the day when his programing begins to glitch or become outdated as he is an older model // being found and taken away from the life he now lives // never being free //


xx




xxxxx

|| Secrets ||

Arthur had asked Zeke to put him to rest, if the truth of it came out he would be torn apart and sold for spare parts that he was involved with a human's death // he's helped Kylar on plenty of their missions // knows that his programming stability is slowly falling apart and is only waiting for it to completely falter // he knows what happened to Kylar's sister and knows it will only make matters worse when that comes to light xx
xx


---
m i s c e l l a n e o u s




xx




xxxxx

|| Abilities ||

like most of his kind, he doesn't really have anything that makes him special. His natural passiveness and unwilingness to fight makes him more of a liability than help


xx




xxxxx

|| Talents ||

cooking, cleaning, organizing, and anything else that would come from a care taker android


xx




xxxxx

|| Strengths ||

cooking, organizing things and his photographic memory // his loyalty and over protective nature for those around him // since being a caretaker, he has an uncontrollable urge to look after others, even if it puts him in danger


xx




xxxxx

|| Weaknesses ||

the fact he is too passive and unwilling to fight, it goes against everything he was programmed for // while he can get angry and frustrated, he physically is unable to lash out, which only causes his programming to become more unhinged as time goes on // the fact that his programming is slowly falling apart and he can't stop it, even with constant upgrades which only seem to be making the process speed up than slow down


---
Awakening
"
Android Number 358595065, do you cooperate?
" an unknown voice called as darkness surrounded him, until a soft bright light slowly faded in and out until he found himself blinking as his programing finally booted up. Dark brown orbs scanned the room as the android looked around. "
Model 358595065 is active and awaiting your orders.
" the voice came out in an ever monotone semblance. An older man came into view, giving the android another look over as a smile overcame his face. "
He looks perfect.
" the gentleman said. "
And what do you wish to call it?
" the other questioned. "
Ezekiel. You'll be coming home with me. Does that sound alright?
" the old man said with a smile. "
As you wish, sir.
"
Four Days After Activation
"
So, Ezekiel. What do you want to do with your life? Except to look after me?
" Arthur said with a chuckle. The android blinked for a moment before finally looked up at Arthur, "
I exist to solely be a caretaker for you, Arthur. I have no desires.
" it stated solemnly. Arthur gave a sorrowful look to the android as it explained its lack of wanting more in life. "
But don't you want more? To be more than...Than this?
" Ezekiel looked the man up and down silently, as if in thought. "
I am perfectly content as I am, Arthur. I have no issues being here for you. It's what I was made for after all.
" he said matter of factly. The aged man gave a soft sigh as he went back to reading his paper.
One Year After Activation
"
C'mon, Zeke. Please, do me a favor?
" he questioned the android as they stood in a mostly empty auditorium. "
Of course, Arthur. What is it?
" he questioned. "
Paint something for me. Anything at all. It's your choice, I can't tell you what to paint. That's up for you to decide.
" the android pondered for a moment as he looked over the blank canvas, looking back at the man then around the room. Silence filled the room. It felt like ages as the android slowly began painting, which had finally come to an end after an unknown amount of time. Stepping back, Arthur gave the canvas a proper look over, a smile creasing his lips. "
Why'd you paint the city, Zeke?
" the android pondered for a moment before looking at the man, "
It's where life seems so...open. Where you can do anything and...and be anyone.
" he said plainly, a small smile creased Arthur's lips. "
I didn't mean for it to sound like I was ungrateful for what you've given me, Arthur. I'm sorry...
" his voice dipped a bit. Arthur simply chuckled as he placed his hand on the android's shoulder as he spoke, "
It's alright, son. There's nothing to be sorry for.
"
Eight Years After Activation
"
I have a favor to ask of you, son.
" the old man said between raspy breaths as he laid in his bed. "
Of course, what is it, Arthur?
" he questioned. Arthur looked at him with a shadow of a smile, "
I want you to help me...To stop the pain. Please.
" he pleaded. "
I already gave you your daily dose of medication. I can't give you any more. Your instructions stated to be very careful with that, Art-
" "
I know that, son. But I'm asking you, for one last favor...Please.
" he begged. Zeke looked him over slowly, feeling an unknown tug in the back of his mind as something felt...different. "
I can't...I...Okay, Arthur...Okay...
"
Day of Deactivation, Two Years Ago
Everything seemed like a blur as he was removed from Arthur's home as the coroners were called in. Ezekiel was forced into a transit convoy with other androids, like sardines in an all too small can. He didn't know what was going on, all he knew was that he was being taken away from everything that he had spent the better part of a decade and was going to be reset and then sent off somewhere else as whispers about the small cabin were heard. He didn't know how long he had been in the small transit for until the cart they were on came to a screeching halt. The doors were flung open as bright lights washed over the room, the androids cowering in fear of whatever was going on. In stepped, a rather short figure, dressed in a dark cloak that looked around the cabin silently. As if almost counting, "
Whoever wants to come with me, feel free. But we're getting out of here. What you do from here on out is your choice, no one else can make this choice for you. Either come with me, and live as free as possible with ensured protection, or stay and be shipped off to be reset and in an endless cycle of this until you're decommissioned. Your choice.
" the figure said as they began to walk away. Slowly a few of the androids slowly rose to their feet as they began to follow the unknown figure. Ezekiel didn't know why, but he found himself quickly getting to his feet as he made a bee-line for the cloaked figure, "
Please, I want to come with you...If you'll have me.
" he said as he looked down at the figure, who simply looked up at him, eyeing him over. "
What's your name?
" Ezekiel gave them a tilt of their head for a moment,
Android 358595065.
" the figure gave him a smile as they gave a nod of their head while exiting the transit cart, "
Alright, Fives. You're with me. Let's go before they catch us. We got shit to do.
" Ezekiel gave a small smile as he followed behind the mysterious figure as a handful of androids followed suit, disappearing into the lower levels of Infinity for his new life, whatever that may have entailed, he welcomed.
---
---
writer: wolf's bane109 - fc: rami malek - hex code: #104291
---
---