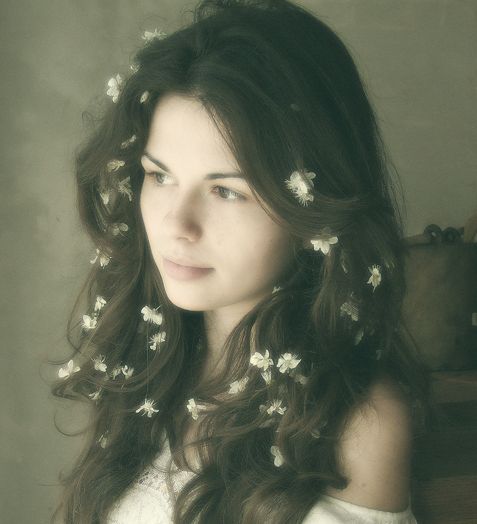 "If you can't truly quantify intelligence, how can you compare it between two people? Two beings? They say that intelligence is the very thing that makes us human, but we can hardly define humanity. Tell me what separates us from them. Tell me why it's okay to kill them. Then tell me why it's so wrong to hold out a vengeance for Alexander McCaulkin."
Name:
Alyssa Josephine Delson
Age:
17
Gender:
Female
Previous Occupation:
High school student
Place of Birth:
St. Louis, Missouri, USA
Place of Residence:
__ City, USA
Height:
5'1"
Weight:
104lbs
Physical Description:
Alyssa Delson is small and ghostly of figure, with little to no strength and almost doll-white skin. With washed-out green eyes, it's almost as though the color has been drained from her altogether. Striking against all this, however, is her raven-black hair, inherited from her mother and shared with her brother. It's waved and frizzes easily and seems to go unkempt within minutes of brushing it.
In terms of her facial structure, Alyssa has a somewhat wide face and a short, plain but slightly broad nose smattered with freckles. Her eyes are thin and almond-shaped and ringed by longer-than-normal eyelashes and wispy but dark eyebrows. If one can get past how frail she looks, she's a catching girl if looked at long enough even though her figure is more flat and girlish than she'd hope.
History:
Born to a lone Missouri mother working graveyard shift at a diner, Alyssa Delson was a somewhat unwelcome addition to Mindi Delson's already teetering family of two. Alyssa was the second child born in the span of just over a year, and she was premature, small, and sickly from the start. Like her mother and her brother, she sported a shock of dark hair, lily-white skin, and incessantly wavy hair with a constant mess to it. From birth, there was hardly a time when she wasn't coughing. Her growth was slow, and there were times when her mother worried she might not get better again.
Alyssa lived through her early years, however, and though somewhat stunted and sickly grew into a young girl with a formidable mind. She was reading years before her brother, tearing through simple chapter books by kindergarten and keeping a lead over the other children for years to come. Her mother took up another job around the time Alyssa was in elementary school, prodding her to take up residence in the local library. For a girl who sunburned in ten minutes and who ran out of breath given the tiniest hint of physical exertion, all the friends she needed could be found among the dusty pages and the quiet solace of the library.
Alyssa grew to be a quiet, bookish, yet infinitely curious girl with few friends and almost no interaction outside school. Where she excelled in other subjects, however— mathematics in particular, skipping one year in third grade and another in sixth, closely followed by the sciences— she fell short in human interaction. Throughout her childhood, Alyssa was abnormally unexpressive and obsessive. This grew less intense over the years as she observed social constructs by proxy, but through choosing to never participate in anything even remotely social, Alyssa grew socially inept, finding it even harder to make friends. The spiral perpetuated itself infinitely, and Alyssa retreated further into the haven of her studies. Paired with the curiosity that had plagued her since the first day she walked through the doors of the St. Louis Central Public Library, her intellect seemed nearly inexhaustible even when her skills for human interaction were slowly withering away.
Having exhausted the school's hardly-plethoric array of mathematics courses by the end of her freshman year, she was granted independent study during the periods when she would usually have been taking the courses. While finding a space to use to do such things normally wouldn't have been a problem, Alyssa was finding it increasingly harder to even approach people her own age. Though she was hardly hated by those around her, she had no real relationships with any of them and felt tentative in interacting with them for fear of making them ostracize her. Alyssa found herself retreating to the theater, which was thankfully unoccupied during her independent study period. There, the allure of the black upright piano by the side of the stage proved too strong, and she taught herself to play between calculus lessons. She was never particularly good, in her own opinion; clumsy fingers and her characteristic shyness gave her a certain air of stage fright. But it was enough to pick up a job when she started to realize she'd need it, playing simple, poppy songs between performances at a local music venue.
It was during this time in her life that Alyssa first realized that college might, in fact, be an option for her. She'd never been raised strictly, often left alone for days on end with no one but her delinquent brother for company, but knowing she came from a low-class Caucasian family she knew she couldn't afford it. There weren't many scholarships available, with most awards going to her more-commonly-male peers. With a world of profits and marketable skills opening up, though, an inkling of hope began to form behind Alyssa's eyes.
Alyssa started working more hours, fitting in performances wherever she could. She was the faceless girl making the background noise between acts, but it paid well. Eventually, she'd earned enough off the bar that the owner began to take notice. He was old, fat, and rich, but he knew a girl who wanted something when he saw it. His name was Alexander McCaulkin, Alyssa learned the day she was called into the man's backroom office. His name was Alexander McCaulkin, and he was all too ready to give her what she wanted— on his conditions. It reeked of a marina, but Alyssa didn't know how to say no. She walked out of his office that day no longer the shadow at the piano bench but McCaulkin's shining-new 'personal assistant.'
'Personal assistant,' for a man with enough money to shut up seventeen-year-old girls who can't say 'no,' means much more than filing papers and taking calls. It went on for six months before the other employees began to catch wind of it all. What resulted, with the insults and accusations of whoring, was ultimately what saved Alyssa from what was possibly one of the most gruesome spore outbreaks in the city.
Alyssa hardly had time to process her emotions— the disgust with herself and her fear for the future— before Kay had loaded up his motorcycle with knives, guns, trading drugs, and a handful of food and sped them away, eventually ending up in ___ City through all the chaos that the roads had become. She's survived only with the protection of her brother. As she approaches her eighteenth birthday, she wonders how long the adrenaline can stave off the depression and self-loathing—.
Personality:
Alyssa is everything timid and shy one might expect of a bookish girl like her. She has trouble raising her head to meet the gazes of others and is reluctant to speak at all when it's unnecessary. Though she can maintain a professional attitude around her seniors, she's extremely icy around those of her own age and can even come across as hostile to conversation.
That said, Alyssa's second most obvious trait is her submissive nature. She's never one to defy anyone even when she knows she's being manipulated or forced to do something she'd never willingly do. She does what she's told without a word of protest because she's too timid to let herself do anything else. She's intelligent beyond measure, but when it comes down to it, she's simply unable to do anything when the situation requires it, be it fighting off an infected man or defying a tyrant. For protection, she hides behind her spitfire brother Kay— but even she can't apologize when he goes too far.
The seeds of self-loathing and and devalue have begun to take root in Alyssa's mind since the night she and Kay left town, but she rationalizes as much of it away as she can. She knows she knew she was being manipulated all along, and for that she feels that she's undeserving of being the brilliant girl she once was. She's still as undyingly curious as ever, but she's grown shyer and less willing to put forth her ideas than ever before. At the moment, the only person she even tentatively trusts is her brother.
Though she can sometimes be selfish, Alyssa does her best to make sure she's never needy. She doesn't like to burden or inconvenience people if she doesn't have to, preferring to stay a wallflower when she's not being used by others. She can't fight or defend herself, but she's practically an encyclopedia of medical, chemical, and botanical knowledge.
For those who do get her a bit more comfortable in conversation, she has quite the snarky, sarcastic sense of humor. She does her hardest not to offend, but under the right circumstances she can lighten up a bit. She loves her brother unconditionally, though she is more sparing with her love for others.
Tools/Equipment:
- A double barrel rifle.
- A small but waterproof backpack.
- Tarps.
- Rope.
- A hand-crank flashlight.
- A cheap hunting knife.
- A very limited supply of ammunition for the rifle.
- A low-caliber handgun with no ammunition.
- Three notebooks.
- A handful of pens.
- Walkie-Talkies.
- Blankets.
- A change of clothes.
- A first-aid kit absolutely crammed with stolen medical supplies.
- An acetaminophen bottle filled with MDMA.