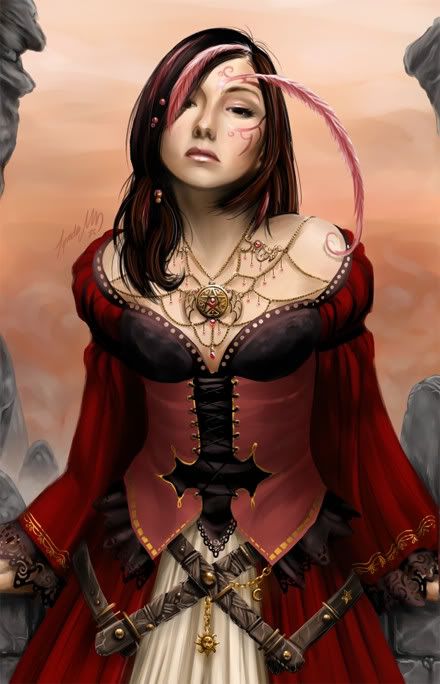 Name: Elana Teris
Race:
Human - Varnir or Elf. Haven't decided
Class:
Dragon Hunter
Age:
23
Skin Color:
Pale
Hair Color:
Dark Red
Eye Color:
Brown
Height:
5'10"
Weight:
143 lbs.
Build:
Awkwardly tall for her bulk and slender.
Elena may be quite a capable and experienced young lady. She is dedicated to serving the righteousness of the kingdom. Yearning to be noticed and important. Although she has given her allegiance to Valinor she is a free spirit. Always wanting to be out enjoying herself and doing what she wants in the end. Because of this she has somewhat of a naive and childish attitude.
Likes:
Being important. Feeling valued. Achieving the impossible. Rain. Serving the kingdom. Doing what is right.
Dislikes:
Being ignored. Empty rooms. Drunks. Crime. Dogs
Hobbies:
Wandering through cities. Exploring. Parkour.
Gender:
Female
Sexuality:
Straight
Relationship Status:
Shy
Weapon:
Scimitar
Whirlwind Strike:
Elana executes an elegant whirl, striking out multiple times.
Slice and Dice:
Using her smaller size, dashing at and past her opponent multiple times. Delivering a quick precise attack each time.
Whiplash:
Leads with her shield and bashes her enemy in the face.
The early years of her life Elana was an orphan, a street urchin. She was a wild child but not a thief or trouble maker. She got small jobs where could. Eventually she was adopted by a veteran soldier, a sergeant. He raised and trained her while still on active duty. Traveling with an army inspired her to serve in the military of the kingdom.
World:
Netherworld Styx. (aka Pandora III.)
Hometown:Parents:
Jerson Teris
Siblings:
Unknown
Character Theme:Battle Theme: