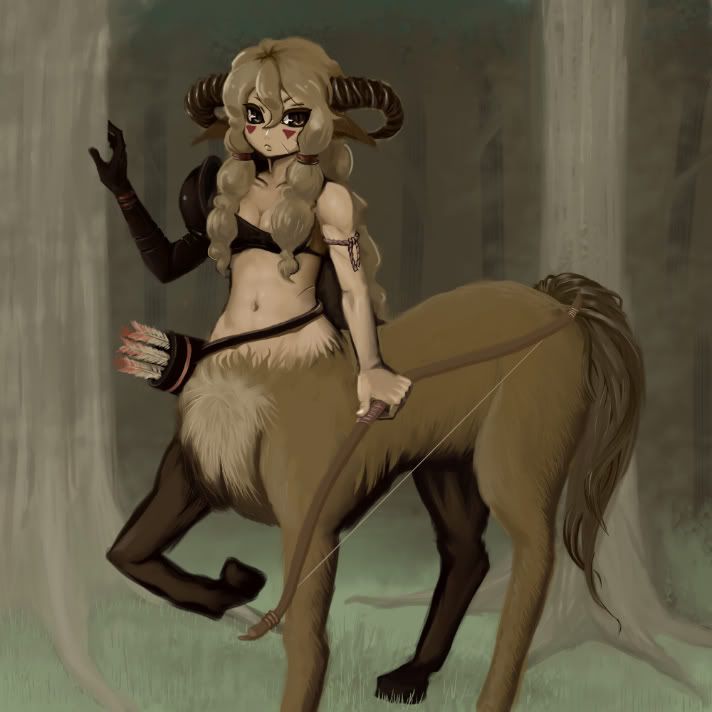 ---
Race: Centaur.
Class: Archer.
Age: 17.
Hair Color: Pale blonde. (Long and wavy, partially braided in the front.)
Eye Color: Brown.
Height: 6' 4".
Weight: 630 lbs.
Build: Somewhat tall, and fairly heavy since she's a centaur. Her humanoid half looks rather slim and athletic though.
---
Serina is a calm, polite, and intelligent young woman. She is loyal to her friends and will not let anyone harm them. She's a bit of a pacifist and will generally try to find another solution to an argument or fight, using force only if it's absolutely necessary. If you'd want to ride on her back, then you'd have to earn her trust first. Centaurs don't give rides to just anybody.
---
Likes: Prince Charon (crush), nature, and practicing her archery.
Dislikes: Unnecessary fighting, loud people, and those who would harm the forest.
Hobbies: Target practice, bathing, and occasionally racing other centaurs.
Gender: Female.
Alignment: Lawful Neutral.
Sexuality: Heterosexual.
Relationship Status: Currently single.
---
---
Perfect Aim: Temporarily enhances her vision and ensures that the following attack from her bow will hit the target. Only works for one attack.

Triple Shot: Fires three arrows simultaneously at the opponent.

Arrow Rain: Fires a volley of arrows into the sky which rain down on the enemy from above.

(She might learn new skills at some point.)
---
Serina was born and raised in Centurio Village by her parents. She began practicing archery at a young age, to one day join the Centurion Guard. Sometime during her childhood she met Prince Charon, the chieftain's son, whom she quickly became best friends with. I'll add more info on her past later.
---
World: Netherworld Styx. (aka Pandora III.)
Hometown/Birthplace: Centurio Village.
Parents: Currently unknown.
Siblings: Unknown.