Name Ali Wilson
Age 17
Image (can be anime or real)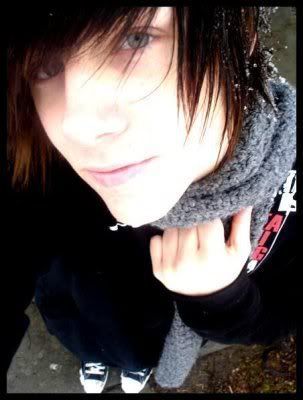 Desription Ali is around 5 feet 11 inches and he weighs around 110 pounds, he wears a lot of black and a few bracelets on each wrist one of which he never removes since it was given to him by his ex. His arm are dotted with thin scars where he started to cut himself
Personality Ali is quiet sweet when you break through his well formed shell which is silent and depressive. He doesn't like to socialise with people because he feels that if he gets attached to someone they will leave him and it will be all his fault. If he finds someone with the same interests as him it's not as painful if they desert him.
Reason why you are at N.H. Severe depression multiple suicide attempts. He doesn't want to die but Ali feels that if he is not in the world everything with reverse back into itself and he will be happy and safe again and be with his boyfriend.
- Entry from Ali's journal after the break up -
I can't believe it after a bad day at school, Dain calls me and says that he's been cheating on me for four months. I mean after being together for two years you would have thought that if there was a problem in our relationship we could have talked about it, fixed it.

I don't know how to feel its might fault it has to be my fault, I obviously wasn't attrative enough for him to go to someone else for affection. My chest hurts and my throat is burning from crying like I'm drowning, perhaps this is just a bad dream like I've been shot in the head and I'm in a coma....I have to get out of this to make the pain stop it has to end.
Likes
Music
Video games
Books
Movies
Skateboarding
Dislikes
Crowds of people
Seeing people upset
Being placed in hospital
History Ali was in a great 2 year relationship with his boyfriend until he revealed that he had been cheating on Ali for a while now, Ali blamed himself for the break up claiming that he wasnt good enough and that he wouldn't be good enough for anyone or anything in life, he tried to brown himself in the bath multiple times as well as jumping in the deep end of the pool with weights around his ankles. After the final suicide attempt his parents couldn't cope so they heard about New Haven in the hopes that he could start again. Ali stopped talking for a while and would just sit on his own staring into space.
Other