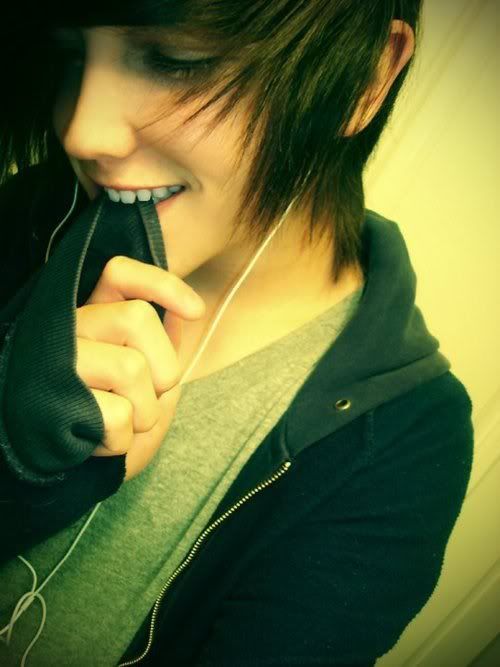 Name: Pierre Cesaire de La Fontaine
Age: 16
Description: Pierre has a rather simple frame; standing at 5'4 and weighing little, a bit smaller than the average male his age. Covered with milky, pale skin, deprivation of vitamin D at the most, he normally wears baggy jackets with hoods, often chewing his sleeves. Chestnut brown hair covers his head, with feminine eyelashes around his eyes, eyes of emerald green. He's normally found wearing grey skinny jeans, with dark grey converse shoes.
Personality: Pierre, himself, is a cutesy-bubbly boy, rather shy though, at the same time. He's eelymosynary, giving, and considered a "sweetheart", normally submissive and giving in to people's orders. On the other hand, his other personalities, well, are the complete opposites. That, and they have names as well.
One is named Claude, and he yells. A lot. No, he doesn't really attack people, though he won't mind if he needs to. Pierre's personalities don't necessarily hate him; they actually want to protect Pierre because of his naive demeanor. Not to mention Claude has a horrible potty mouth.
There's also Alphonse. Alphonse is mischievous and malicious; playing multiple harmless pranks on people and being your average trouble maker.
Last but not least, Alois. Alois is, to say the least, quiet but is extremely hot headed like Claude. Except, the difference being Alois enjoys classical music, bright colors, and small children.
Reason why you are at N.H: His personalities would rapidly change, over and over, and it tired his parents out. He had two parents; yes, but they were both male. He was born to a surrogate mother, and despite loving their child, his personalities stem from loneliness. No one at school would talk to him. No one around him would talk to him, so he felt lonely. Emotionally abused, and he would imagine up best friends. Now, they've become a reality.
Likes(Pierre):
+ Bubblegum
+ Croissants
+ People
+ Smiling
+ Acting cutesy
Likes(Claude):
+ Yelling at people
+ Protecting Pierre
+ Heavy metal music
Likes(Alphonse):
+ Playing pranks
+ Laughing
+ Pierre
Likes(Alois):
+ Classical Music
+ Small Children
+ Animals
+ Bright Colors
+ Pierre (They all have the same goal: to protect Pierre.)
Dislikes(Pierre):
- Getting hurt
- Pain
- Violence
- Thunderstorms
Dislikes(Claude):
- People messing with Pierre
- Getting threatened
Dislikes(Alphonse):
- People messing up his pranks
- Others making fun of Pierre
Dislikes(Alois):
- Loud music
- Individuals hurting Pierre
- Smoothies
History:
Pierre lives with two men; or lived. Born from a surrogate mother, but, he was never respected because of society, he never fit in. His parents love him, but, Pierre began talking to air, as if staring at something, something being right next to him. It all started with Claude. Claude was his best friend, or is, in school. No one heard Claude though, Claude was invisible to people: except Pierre. This was in France, before they moved to Michigan in America. Pierre was labeled as a freak in school because of his tendency to talk to nothing, until then came Alphonse. Afterwards, Alois. They were a tetrad; a quad. Until it developed to something more: Dissociate Identity Disorder, or in other words, Multiple Personality Disorder. He stopped seeing them; instead, they were inside him. They
are
him. They speak to him in his head, and come out at times. Now, after Pierre once had a meltdown, he's here, in New Haven, for a long while.
Other: Pierre is omnisexual; he doesn't care what gender, as long as they are nice.