---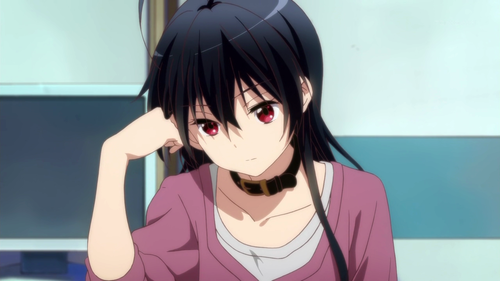 ---
【Name:】
Elizabeth Fournier | goes by Beth
【Age:】
20
【Gender:】
Female
【Faction:】
The Valiant
【Appearance:】
Beth is around five feet five tall with a slender frame. Her skin is pale as she rarely goes outside and instead locks herself in her apartment room that had been turned into a makeshift laboratory. Her hair is sable black and cut just above her shoulders as to not bother her while she's working. Her eyes are a bight blue and her vision is so atrocious that she needs glasses. During he phenomenon was one of the very few times she wore contacts, and the radiation caused the contacts to burn into her eyes. Her eyes color is now crimson, but her eyesight is considerably better than before. Her clothing style is dark and casual, and she can usually be seen with a multi-purpose tool tucked into her pocket.
【Personality:】
+ Smart | + Manipulative | - Vengeful | - Selfish
Beth studies at the best university in New Horizon and is one of the top students of her class. She's extremely smart, and often passes off as cool and aloof. She almost always has a neutral mask on, neither smiling nor frowning, so the people around her doesn't know how to act around her. But when she does show emotion, she manages to be manipulative enough to get any and all that she needs. She had been born and raised as an only child, and her parents had pampered her. She's incredibly selfish and prideful, even bordering on chaotically vengeful at times. She has very few people that she truly cares about, and prefers the hum of technology over idle chit chat with fellow humans. However, she will put on a facade when need be. With Beth, you'll never know when or if she's being real with you.
【What your character did before the phenomenon:】
College Student studying Computer Engineering major in Robotics
【Powers:】
Technology Manipulation
User can manipulate technology and technological constructs, computers, robots, hardware and other devices that can be termed as "technology". Manifested as a special form of electrical/telekinetic manipulation, a special form of "morphing" which allows physical interaction with machines, or even a psychic ability that allows mental interface with computer data.

Users can control the flow of intricate machinery and can allow them to assemble or disengage their programming at will. Can operate most technology just by touching or looking. A variation on Electricity Manipulation, the user controls specific electrons and instructs them which items to engage or disengage. Some users may even be able to use the electric impulses to gently control smaller metal parts.
【Personal belongings:】
A
spider-like robot
she built herself
【Weaknesses:】
Her manipulative tendencies and love of machines have gotten in the way of more than one relationship | Her power becomes null over purely mechanical machines and when away from modern civilization | She's physically weak
---
---
Faceclaim: Tooka Takanashi
Dialogue Color:

#83F52C