Name: Kuro Setsuya;Nickname Suishou
Age: 20
Land/Village: Land of Fire
Rank: elite jonin; used to be rogue and student under Tsukiko.
Specialty: Host of Niibi and Kekki Genkai is crystal release
Description: Kuro has a slender build and can be seen wearing her headband around her neck. It is dented from a kunai aimed at her neck getting embbeded in it.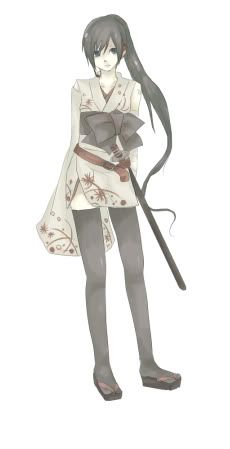 Jutsu List: Crystal Release: Crystal Imprisonment Wave
Crystal Release: Crystal Pentagonal Prison
Crystal Release: Crystal Wheel
Crystal Release: Growing Crystal Thorns
Black Crystal Moon Dance - Black crystals form on her katana and she attacks with dance like movements, and really fast. You wouldn't be able to see her if unless you could sense chakra.
Crystal Chidori- A black chidori which impales the target with crystals on contact as well as do the damage or a regular chidori.
Along with some healing jutsu.
Other: Tsukiko Takahashi was her master in these techniques.