"Careful baby, even the prettiest roses have thorns."




| Full Name |
"It could be worse I guess."
Natasha Madeline Woods
| Nickname |
"I guess three syllables is too much for some people."
Natasha, Nat, Asha [ ah - shuh ], or Ash
| Age |
"I'm young for a supernatural. Some of us are

centuries

old."
Appears 17, is really 113 years-old
| Gender |
"How many men do you know named Natasha?"
Female
| Role |
"I'm the pack beta."
Girl One



| Appearance |
"I'm pretty, but then, so are all supernaturals."
Hair
>> Long and dark <<
>> Nearly black in the wintertime <<
>> Almost dirty-blond in the summertime <<
>> Hangs in big, loose curls <<
>> Falls past shoulders <<
Eyes
>> Silvery blue <<
>> As a wolf, her eyes are more silver then blue <<
>> As a human, her eyes are more blue then silver <<
>> Irises have a ring of dark navy around them <<
Build
>> Tall and slender <<
>> Curvy, but not extremely so <<
>> Delicate bone structure <<
>> Slender body, appears petite despite her height <<
Piercings
>> Left earlobe <<
>> Right earlobe <<
>> Right Cartilage <<
>> Belly button <<
Scars
>>

Right wrist

<<
Wrapping around her right wrist and forearm, Natasha has a scar that actually carries over from her wolf form. As a wolf, she got her front right leg caught in a bear trap so, as a human, it shows as a scar on her right forearm/wrist.
>>

Left shoulder

<<
Another scar of hers sits on the back of her left shoulder. It's a bullet scar. She was shot by a silver bullet by a vampire when she wandered too close one night. Seeing as wounds inflicted with silver tend to bleed incessantly and don't heal quickly, it nearly killed her.
>>

Right collarbone

<<
On her right collarbone, she has two tiny puncture scars from a vampire attack that happened back when she was first turned.
Tattoos
>>

Spine

<<
Running down her spine, she has a tattoo of the moon's cycles
>>

Left ribcage

<<
On her left ribcage, Natasha has a small pine tree tattooed, depicting her connection with nature.
>>

Back of neck

<<
On the back of her neck, in small typewriter font, is the date she was turned



| Likes |
"I like attention, trees, and my brother."
♥ Black coffee
♥ Nature
♥ Dancing
♥ Drinking
♥ Her wolf form
♥ Summertime
♥ Hot sex
♥ Running
♥ Bad boys
♥ Attention
♥ Parties
♥ Her pack
♥ Breaking the rules
♥ Her brother
♥ Flirting
| Dislikes |
"Idiots."
✗ Stupid people
✗ Being ignored
✗ Being underestimated
✗ Being looked down on
✗ Tea
✗ People who talk too much
✗ Cats
✗ People who hunt
✗ Most humans
✗ Being told no
✗ Rules
✗ Waking up early
✗ Being alone
| Fears |
"Fear is for children."
☠ Failing her pack ➛ Aside from her brother, the most important thing in the world to Natasha is her pack. She is fiercely loyal to them and would do anything to protect them, even lay down her life. She fears her alphas looking at her in disappointment. It's something she absolutely cannot have. They took her and her brother in and gave them a home when they had none, they may not be blood, but they are her family and she loves them. She may not like taking orders, but if her alphas are giving them, you can bet your ass, she'll carry them out without a flaw.
☠ Losing her brother ➛ Her brother is her only blood relative left alive and she loves him. Ever since they were turned, it's been just the two of them against the world. Even though she loves her pack, she'll never have the same bond with them as she does with her brother. If something were to happen to him, she'd lose a huge part of herself.
☠ Love ➛ As cliche as it sounds, Natasha is afraid to really love someone other then her brother or the members of her pack. She refuses to let her heart get attached to someone only to have them ripped away. She's just not okay with the way loving someone make you vulnerable to be hurt by them.
☠ Vampires ➛ She will never admit it to your face, but she is actually very afraid of vampires. Unless the full moon is on her side, they are technically the stronger species and she, more then most the wolves in her pack, knows that firsthand. Throughout her years, she's been attacked by many vampires and several of those attacks nearly killed her.
☠ Being alone ➛ As a werewolf, Natasha feels a strong need to feel connected with others like her pack. She hates the thought of being alone. Ever since she was born, she's always had her brother at her side at least so she's never truly been alone. Should she be fully alone someday, she would feel utterly lost and terrified.



| Personality |
"Ever heard the phrase pretty, but deadly?"
The best word to describe Natasha is strong. She's got a heart made of steel that nearly nothing can penetrate. Even when she's terrified, you'll never know i because she will never let it show. Over a hundred years of living have given her the ability to easily turn off her emotions and become cold and collected. Sometimes she can actually be quite cruel without even realizing it because she rarely takes others feelings into consideration when she speaks and, if it hurts, she very rarely cares.

The most important thing to know about Nat is that she does what she wants, when she wants. She's determined and driven. If she sets her mind on something, she gets it, if she plans to do something, she does it. She's rather headstrong and hates when people try to tell her what to do, even her brother. If someone, gives her an order she doesn't feel like carrying out, she simply won't and that's that.

Oftentimes, when people try to push her around, she pushes back, just to spite them, finding it amusing, which is part of the reason she's drawn to men that are just as headstrong and wild as she is. The "nice guy" type bores her because they're too easy to push around. She likes someone who will challenge her. Nothing gets her more excited then a challenge.

Natasha is also fairly dangerous. She may not be the strongest person in the world, but what she lacks in strength, she makes up for tenfold in speed and cunning. She's good at playing head games with people, twisting them around her finger and, when backed into a corner, no one is faster then Natasha. She's the fastest wolf in her pack by quite a bit.

Asha also craves attention and amusement. Boredom is something she absolutely will not tolerate, and so is being ignored. She loves when every girl in a room is jealous and every man wants her. When someone's full attention isn't on her, it drives her crazy. It's part of the reason she sleeps around with strangers so often, her need for attention and affection. However, they never seem to last long. Very rarely does she get involved with a man past a one-night stand. Either she doesn't care to get to know them, or, when she does, they bore her too quickly and she finds someone new.

Despite her tough exterior, however, Natasha is actually quite sensitive if you know just how to get to her. Her brother is one of the only people in the world who's ever seen this side of her, but you can catch a glimpse of it in the way she speaks to and interacts with him sometimes. She loves him and when he's hurt, she's hurt. The two of them are a team and she treats him better then she's ever treated anyone because he's the only person she's truly afraid of losing.

Natasha hurts and feels fear like everyone else, she's just better at hiding it then most people. Very few people can crack through her tough exterior and see what's underneath, they have to be fairly determined and aggressive to do so, but once you do, you'll see that she's not as strong as she pretends to be. She actually has a pretty huge complex about affection and is in constant need of it, despite the fact that she acts so aloof and carefree. She can also be fairly easily manipulated if you know just how to play with her emotions. By appealing to the part of her that craves affection and attention or the part of her that loves a challenge, you can get her to do nearly anything, though this is a secret she keeps well hidden, for obvious reasons.

All in all, Natasha is headstrong, cunning, fearless, and loyal, but it is possible to get under her skin, though many have tried and few have succeeded.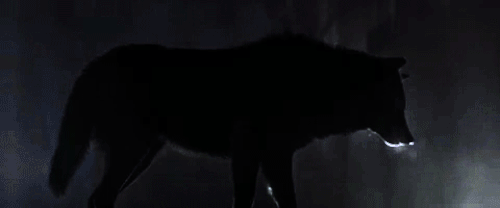 | Wolf Form |
"I'm small, but quick."
As a wolf, Natasha is rather small, even for a werewolf. She's slender and lithe, her body sleek slight. She's the beta of her pack, but she's also the smallest wolf in the pack. Seeing as she's small, she isn't very strong physically. That being said, she is beta for a reason. One being that her small size makes her incredibly fast. Of all the wolves in her pack, she is by far the fastest. She's also very stealthy and cunning. She knows when to hide and when to strike and moves without making a sound. At night, her pure black coat helps her to blend with the shadows, moving almost seamlessly through the darkness of the nighttime. She may be small for a werewolf, but she is still a force to be reckoned with.

| Weaknesses |
"Silver is a bitch."
- Strength -
Natasha, being as small as she is, seriously lacks in physical power. Should someone with a lot of physical strength manage to back her into a corner, she would essentially be trapped.
- Vampires -
Though she is immortal and her senses, speed, and strength are of supernatural quality, she is a werewolf and, as such, unless helped by the full moon, she is weaker then vampires.
- Silver -
As are all werewolves, Nat is weak to silver. If it wounds her, she does not heal with her usual speed and even small wounds will bleed to the point of death if not quickly taken care of.

| Strengths |
"At night, I'm basically a shadow."
+ Stealth +
Natasha's black coat helps her blend with the darkness as a wolf, but she's also very quiet and graceful in her movements. If she doesn't want you to detect her, you can bet your life, you won't.
+ Speed +
She's fast and her small form only helps with this, making her lighter and all the more quicker.
+ Empathy +
As an immortal being, Natasha's individual power is that of empathy. She can feel what others feel, and, if their mind is weak enough, she can even bend their emotions to her will if she wishes. It is nearly impossible to hide your feelings from her, making it easy for her to manipulate.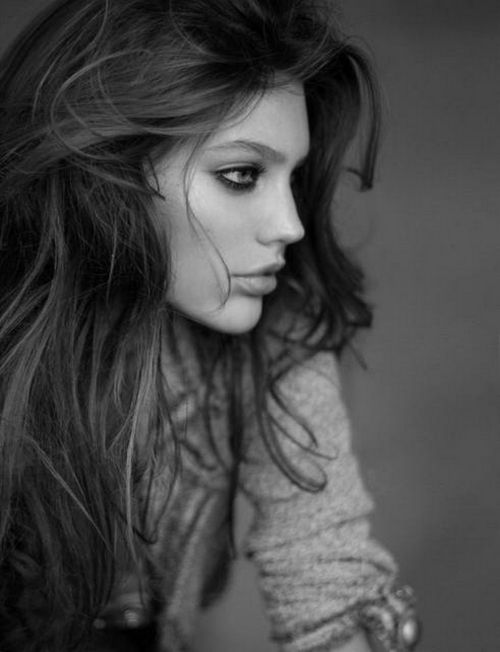 | History |
"Who can remember one hundred and thirteen years?"
If you ask Natasha about her life, she will tell you it is too long for her to remember it all, but this is not entirely true. She remembers every second of it, but sometimes, she wish she couldn't. She hates talking about where she comes from because it hurts. Only her brother and her alphas know where she's been and she intends to keep it that way. Not even the entire pack knows where she came from and they know better then to ask.

Nat wasn't born a werewolf, she was made one when she was seventeen. Her life as a human was fairly happy. Her family was wealthy and her mother and father both loved her and her siblings very much. When she was human, she had four siblings. There was her brother, who was the oldest, and then her, the second oldest, and then three younger sisters. The youngest two were twins and she adored them.

Nat grew up in a time of immense change. When she was turned, at seventeen, it was 1919 so she was born in an age where everything was conservative and modest, but as she grew older, things changed rapidly and the world became a very different place. She loved everything about her life. She was a wild child and times were changing in favor of people like her, who liked to do what they wanted when they wanted and live a little wildly. Every once in a while when things went too far, her brother was always there to reel her back in and keep her from hurting herself though he took her along with him to all his parties, allowing her to drink with him and flirt shamelessly with his older friends. Her and her brother spent their parent's money frivolously and hadn't a single care in the world.

Then, near the end of her seventeenth year, things changed. Asha met someone. A man named Dmitri. He was dark and mysterious, and scared her a little, but she didn't care. She fell hopelessly in love with him and her brother became best friends with him. The three of them were constantly together, pretty much inseparable. After several months of knowing him, Dmitri started to talk about the three of them leaving the city in which they lived and making a life somewhere else.

Nat and her brother had no intention of leaving however and this seemed to anger him. One night, after arguing about it for a long time, Dmitri took away their choice. It was then that the siblings learned that he was really a werewolf. He slaughtered their family in the middle of the night and turned the both of them. At first, they were scared and didn't know what to do. They thought if they didn't listen to Dmitri, they would be the next ones killed so they stayed with him for a long time, learning things they hadn't known before about being a werewolf and about the alpha of their little pack.

He was a loner wolf, a pariah. As a werewolf, being dubbed an outcast and forced to live in solitude is practically the worst punishment that could be given, worse then death. They learned that Dmitri had murdered a fellow pack member ages ago and was banished from his pack, forced to live in exile. He hadn't put up with it though. He'd slaughtered his old pack and promised to make a new one. One where he was alpha. So he'd made Nat and her brother into wolves and basically scared them into submission for a long time.

It wasn't until her and her brother learned the full extent of their new supernatural strength that they managed to kill Dmitri and were free of him. After that, they wandered alone together for a long time, with no pack. Sometimes, it was good, just being with her brother, and sometimes it was so horribly lonely not belonging to a pack, that she wasn't sure she could go on any longer.

In Vegas was when they were finally accepted into a new pack. One of the largest, most powerful werewolf packs in America as a matter of fact. They'd learned early on that packs don't like loners hunting on their territory, but they'd been starving so they'd made the bold decision to hunt on another pack's land in Las Vegas, having no idea the extent of the pack's power. When they were caught, they were nearly killed, but their refusal to give in, even against impossible odds, drew the eye of the pack alpha.

It is only the alphas who know where her and her brother have been, because she told them to save their lives, but after hearing their story and learning that the two of them weren't werewolf outlaws, but abandoned wolves, the alpha accepted them into their ranks. It didn't take long to learn just why the pack was so strong. They owned all of Vegas. Well, almost all of it anyway. They were incredibly powerful, numerous, and wealthy. Within a few short years, Natasha proved herself over and over again to the pack. Now the alphas are like her parents and she, proudly, is beta, or second in command which is rare, among werewolves, for such a title to go to anyone other then blood relatives.

She loves her pack and would do absolutely anything to protect them. They are like her family to her, even though they are not truly related, she's been with them long enough to love them like family and she dedicates her life to making her alphas proud and making sure no one ever harms a member of her pack. It's not all business however. She may be next in line to take over the pack and ownership of their many lucrative businesses, but in a city like Vegas, with the kind of money and power she has, there is a lot of trouble to be made. It is, afterall, Sin City.

She just has to be sure to stay clear of clubs or establishments owned by vampires. She hates them and even fears them because, in her wanderings with her brother, she's run into them multiple times and every time, she was lucky to escape with her life. Vampires, are her biggest threat.



Semi-Automatic
Twenty-One Pilots
Night falls, with gravity.
The earth turns, from sanity
Taking my only friend I know,
He leaves a lot, his name is "Hope".

I'm never what I like
I'm double-sided.
And I just can't hide
I kinda like it
When I make you cry
Cause I'm twisted up, I'm twisted up, inside.

The horrors of the night melt away
Under the warm glow of survival of the day
Then we move on,
My shadow grows taller along with my fears
And my friends shrink smaller as night grows near

When the sun is climbing window sills
And the silver lining rides the hills
I will be saved for one whole day
Until the sun make the hills it's grave

I'm never what I like
I'm double-sided.
And I just can't hide
I kinda like it
When I make you cry
Cause I'm twisted up, I'm twisted up, inside.

I'm never what I like
I'm double-sided.
And I just can't hide
I kinda like it
When I make you cry
Cause I'm twisted up, I'm twisted up, inside my mind.

I'm semi-automatic,
My prayer's schizophrenic
But I'll live on, yeah I'll live on, yeah I'll live on
[x4]

By the time the night wears off,
The dust is down and shadows burn
I will rise and stand my ground,
Waiting for the night's return.

I'm never what I like
I'm double-sided.
And I just can't hide
I kinda like it
When I make you cry
Cause I'm twisted up, I'm twisted up, inside.

I'm never what I like
I'm double-sided.
And I just can't hide
I kinda like it
When I make you cry
Cause I'm twisted up, I'm twisted up, inside my mind.
_________________________




_________________________
Going To Hell
The Pretty Reckless
(The end is the end)
(Don't bless me father for I have sinned)

Father did you miss me?
I've been locked up a while.
I got caught for what I did but took it all in style.
Laid to rest all my confessions I gave way back when.
Now I'm versed in so much worse,
So I am back again.
And he said

For the lines that I take, I'm going to hell!
For the love that I make, I'm going to hell!

Gettin' heavy with the devil, you can hear the wedding bells.

Father did you miss me?
Don't ask me where I've been.
You know I know,
Yes, I've been told I redefine a sin.
I don't know what's driving me to put this in my head.
Maybe I wish I could die, maybe I am dead!
And he said

For the lives that I fake, I'm going to hell!
For the vows that I break, I'm going to hell!

For the ways that I hurt, while I'm hiking up my skirt.
I am sitting on a throne while they're buried in the dirt.

For the man that I hate, I'm going to hell!

Gettin' heavy with the devil, you can hear the wedding bells.

Please forgive me father,
I didn't mean to bother you.
The devil's in me father.
He's inside of everything I do.

For the life that I take, I'm going to hell!
For the laws that I break, I'm going to hell!
For the love that I hate, I'm going to hell!
For the lies that I make, I'm going to hell!

For the way I condescend and never lend a hand.
My arrogance is making this head buried in the sand.
For the souls I forsake, I'm going to hell!

Gettin' married to the devil, you can hear the wedding bells.
---
---
NATASHA
Code: Select all

[center][img]http://i1180.photobucket.com/albums/x403/desire99600/desire99600020/ezgif.com-gif-maker_zpstduzxvvz.png[/img]
[img]http://i1180.photobucket.com/albums/x403/desire99600/desire99600033/newcreate%2010_zps662vpmyr.png[/img]
[img]http://i1180.photobucket.com/albums/x403/desire99600/6A1FF52F-2DB4-47FE-9369-CB0D3DEF660A_zpse1vltvvw.gif[/img] [img]http://i1180.photobucket.com/albums/x403/desire99600/6A974663-2322-4396-A555-4DDD7B674B4A_zpsnjrsdwg3.gif[/img]
[img]http://i1180.photobucket.com/albums/x403/desire99600/desire99600020/ezgif.com-gif-maker_zpsq5hnkts0.png[/img][/center]
[font=times new roman]POST[/font]
ADRIAN
Code: Select all

[center][img]http://i1180.photobucket.com/albums/x403/desire99600/desire99600020/ezgif.com-gif-maker_zpstduzxvvz.png[/img]
[img]http://i1180.photobucket.com/albums/x403/desire99600/desire99600039/newcreate%2020_zpsfmcz27tz.png[/img]
[img]http://31.media.tumblr.com/tumblr_maf5drFMDs1rggc7ho1_500.gif[/img]
[img]http://i1180.photobucket.com/albums/x403/desire99600/desire99600020/ezgif.com-gif-maker_zpsq5hnkts0.png[/img][/center]
[font=times new roman]POST[/font]

---
---