---


--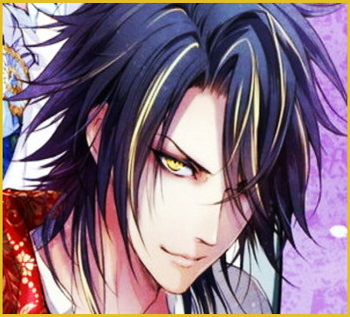 x
「
」

WHEN YOU HEAR A HOWL, JUST REMEMBER YOU WANTED THE WOLF
▖||
TITLE
▖||
NICKNAME(S)
▖||
ALIAS
▖||
AGE
▖||
GENDER
▖||
STATUS
▖||
OCCUPATION(S)
▖||
YEAR
▖||
JUNIOR
▖||
DIALOGUE
▖||
THOUGHTS
❣
|
the hellion
........
VOICE
........xx....
❣
|
"i won't let you get away, bang."
❣
|
kaz or j
▖|.....||.
ETHNICITY
...||xx

❣

|

japanese
❣
|
tsukino
xx...||||||
BIRTHPLACE
.....

❣

|

tokyo, japan
❣
|
eighteen
xx.||||||
BIRTHDATE
.......

❣

|

june 6
❣
|
male
xxx}...x...|.
❣
|
single
❣
|
student and novelist
❣
|
senior high school
❣
|
kaori himewari
❣
|
#aa6600
❣
|
#ffd700
---


--




♠

I CAN MAKE IT NICE AND EASY I'MA TAKE THE LEAD
they ain't even looking at you, baby they looking at me

.

☣
Kazuki is quite easy on the eyes and because of that, he stands out no matter where he is or what scenario he gets involved in. Why is that? Let's start with his unorthodox hairstyle that is effortlessly messy with an odd color where most is black with the occasional blonde streaks popping out in chaotic formation. No one knows what his true hair color really is, because it looks so natural. Did he dye his hair black? Did he put blonde highlights? The question is never answered. Then, there are his eyes reminiscent of a cat that radiates mystery, danger, and allure with its golden color that appears to glow. Many said that they cannot help but be captivated when under its gaze. These features' effects are tripled because he is remarkably handsome overall. His face structure is chiseled with fine features and strong cheekbones. His body is delectably ripped with strong muscles making it tough, never soft. It also adds that he's not an average stock of Japanese men when it comes to height. He stands at 6'2".

The natural traits are further enhanced by Kazuki's confidence and laidback fashion sense. He is not meticulous for he is a slacker. That shows in how he dresses, a missing button, crumpled pants, missing jacket, loose clothes, and the likes. He prefers comfort and is not the kind to worry about how he looks because he knows well he still looks so damn sexy even then. It seemed he won the roulette when good genes were being given as a prize and he knows it with a devilish smile.

♠

I'M THE BAD GUY, DUH
i'm only good at bein' bad, bad

.

☣
Kazuki is the epitome of a delinquent. There is no other way to label him. He drinks, smokes, brawls, and womanizes without limits or fear. He does whatever he wants and to hell with the consequences. That is why it is not terrible to assume that his morality is a bit skewed. Moreover, he harasses, bullies, and tricks people for the fun of it. So, it is no wonder his actions consistently put him in a bad spotlight. It isn't intentional though. This kind of mindset is due to his cavalier personality which normally does not sit well with authority figures and do-gooders. Actually, he thinks that these types of people are cowards and stupid.

That is when that kind of conflict happens, Kazuki finds hilarity and then relishes in its disregard. It certainly matches his other traits of being rowdy, brash, rude, and outright rebellious. So, it is not surprising that he is seen as selfish, obnoxious especially with his high-to-the-sky confidence, but that's just how he is. Listening to people all the time will only get him nowhere and since he has his own mind, it is better to use it than have other people make him a puppet. After all, there is no fun in that and life is far too short in his opinion to cage himself inside a small box.

Kazuki doesn't brood or gets disturbed about what he considers things he has no control over. So instead, he recklessly handles it enjoyably. Additionally, he never runs out of tricks and is not bothered by any retorts snapped his way whenever one finds his jokes going too far, insincere, or annoying. He takes it with a shrug and continues to be persistent in having his fun. Unfortunately, it is considered his redeeming trait often used in terrible situations, prompting his admission that he is sadistic from time to time.

One might say that this is a mark of being irresponsible and Kazuki certainly acts that way. But believe it or not, he is a responsible person. He never runs away from the consequences of his actions. It does not mean he will not groan about it which is more of airing out the circumstances than dislike or arrogance. He just doesn't like keeping much of his thoughts to himself and tends to speak it out, though it may appear random with a sense of tactlessness. Well, he's not a poet and doesn't filter his words that explain it. But, he makes certain that his outbursts fit the situation and person in front of him. Confusing isn't it? Well, he still has some consideration left in his bones.

After all, Kazuki doesn't like complicated things even though most of his relationships are complicated, especially with women. He has a policy of no attachments and never settling down with anyone. It does get problematic when women get clingy just because of a one-time deal. Then again, there's nothing too tough to ruffle his feathers as he simply does not take anything happening around him too seriously. He also doesn't hide behind anyone and would face his problems or fight head-on with a smirk on his face. One would wonder if he has some kind of death wish or just likes the idea of always being on the edge of danger. It could be both or not when it comes to him, but mainly he just lives the way he wants, and also life is supposed to be exciting, dangerous, and fun and that's how he is.
---


--




♠

MY MOTHER, SHE TOLD ME
don't get in trouble

.

☣
Strengths;
Weaknesses;
✦ Alley Rat
Nearsighted✦
"When you go hood, you never come back."
"Come close, so I can see where I can bite."
✦ Brawler
Vehicles✦
"I do need to punch someone's light once in a while."
"Walking is cheaper."
✦ Parkour
Owls✦
"Buildings? They don't exist."
"What the hell are those beady eyes?!"
✦ Sober
ADHD✦
"If you drown, better be in alcohol."
"Ah.. Next."
✦ Sexual Guru
Housework✦
"Will you satisfy me?"
"Just call a maid."
✦ Computer EX
Temper✦
"Just google it."
"Drop dead."
✦ Safecracker
Fuyuki✦
"Locks are meant to be opened."
"I just can't let her go."

♠

MY FATHER, HE TOLD ME
he knew I would

.

☣
Secrets;
Hobbies;
✦ Rich Kid
Sex✦
"Not my fault I have a trust fund."
"It is the best exercise."
✦ Erotic Novelist
Roaming✦
"You did say I have to put my best in writing."
"Moving is better than staying."
✦ Orphan
Cigarettes and Drinks✦
"Everyone is bound to be alone."
"My heaven and sea as they say."

♠

I'M CRAZY, I'M CRAZY. I'M CRAZY, I'M CRAZY, I'M CRAZY
everybody in the world knows i'm a little twisted

.

☣
「

IMPORTANT STAT

」
Athleticism | "You need strength to do what I want."
「

DESIRABLE STAT

」
Charm | "It makes things a whole lot easier."
「

CURRENT STAT

」
Intellect「 10 」
Athleticism 「 10 」
Charm 「 20 」
Popularity 「 33 」
Notoriety 「 22 」
---


--




♠

AS I WALK THROUGH THE VALLEY OF THE SHADOW OF DEATH
i take a look at my life, and realize there's nothing left

.

☣
「

BIOGRAPHY

」
Kazuki was born to Shinjiro and Megumi Miyamoto. His parents were very happy to have him and they raised their son with much love and devotion. They were wonderful parents and no one can deny that as they saw how they dote on their son. For the first five years of his life, he was blissfully contented and spoiled. His every need addressed promptly. It was no issue as his father is a big-time contractor while his mother ran a successful law firm.

But, the rest of Kazuki's growing-up years had to be spent without his parents. They died during their London trip where their car's brake malfunctioned and they fell from the cliff. His parents were able to shield him to the best of their abilities. As a result, he only suffered cuts and bruises. Help did come but it was too late for his parents. He on the other hand was suddenly left all alone in a foreign country. No one knew how much trauma he endured but eventually, he was aided by his mother's assistant who brought him back to Japan.

Kazuki was now an orphan and his known closest relatives have all passed away or location unknown. He was still a minor and would need a guardian to take care of him. Money was not an issue as his parents had a trust fun made for him. They probably did it to ensure that upon their untimely demise, he will still be able to take care of himself. Its amount is enough for him to be able to live comfortably for a long time. For the next 6 years, he was taken under the care of his father's best friend who was also his father's business associate.

Actually, Kazuki was living on his own and his so-called guardian only visited him from time to time to see if he was still alive or if there's a meeting at school or something to be attended. He doesn't have any ill will towards the man who also has his own family to take care of. He was simply an additional obligation. After 3 years, a relative was finally identified. It was his mother's cousin who is his uncle. He was then formally turned over to his uncle who turned out to be a Math teacher at Airdalen Academy.

It was then Kazuki was enrolled at the exclusive school, though, he still lives on his own. But, it's rather different now as his uncle is quite the busybody and nagger who is always on his case. It's also the reason he was employed at the ridiculous Junior-Senior Program because of his uncle. But, it is not really that bad if he would honestly say what he feels. He likes the thought of somebody who really cares for him even if it gets annoying at times. It's just like a family similar to the thing he lost long ago.
---