---
---
---
---
Full Name:


Mai Kon


Nickname(s):


Ai||Her mother called her this as does her cousin.


Gender:


Female


Sexual Orientation:


Hetero romantic


Nationality:


Japanese


Grade:


Junior


Senior Partner:


Kazuki Miyamoto


Face Claim:


Kohina Ichimatsu
---
---



Height:


4'9


Weight:


97


Hair Color:


Black


Eye Color:


Soft Green


General Appearance:


A small petite junior. Mai stands just under 5'0 but not quite reaching it either. Her soft green eyes often do their best to avoid direct eye contact. The small junior's smile can make anyones day as it seems more innocent and kind than what you'd feel came from an older girl. She keeps her black hair cut in a very short bob resembling a hime cut, with her bangs being recently cut to try and outgrow her shyness. Soft peach skin easily reddens when she is upset or embarrassed much to her dismay. Overall many think of her as doll and on occasion a grade schooler because of her appearance.

---
---



Personality:


Fundamentally shy and introverted, Mai lacks many social skills that most her age have built up at this point. The junior is also very empathetic towards those around her and is a good listener. She dislikes small talk and avoids drawn out conversations with strangers as much as she can, preferring to keep talk to a minimum amongst strangers. She is easily embarrassed, frightened and intimidated but it's quick to make her giggle or smile, even over the smallest of things. The small junior is also what you could call a cry baby. It doesn't take much to make her cry whether good or bad. Mai is the kind of gal who wears her heart on her sleeve. She can be easily hurt by another persons words, especially those who have gotten close to her. Unlike many, Mai is not the type to judge others actions and criticize them however appearances will affect her perception of people.



Strengths




Green Thumb||

She has been growing her own garden for years, even before she moved in her cousin. It was a hobby that she grew to cherish as it was something she could do with both her mother and father. Mai is also stronger than she looks. She is able to do certain tasks relatively well on her own that many would normally consider difficult for someone as small as her.


Heavenly Cook||

As with her gardening skills Mai is a very good cook. Since her cousin used to eat ramen every night, she has made it her goal to give him a proper meal although she herself enjoys ramen.


Animals & Insects||

The small girl loves every and any animal or bug she comes across. She especially loves big dogs although many find it comedic to see her being pounced on. Of the many bugs that exist in the world, her favorite is the stag beetle. Mai isn't afraid to handle critters, both creepy and cute, like most people. She is almost like a creature whisperer in that sense.



Weaknesses:




Stutter||

She has a very prominent stutter that when amongst strangers, standing in front of large crowds, or under pressure worsens significantly. It does lighten up when she is with those she is comfortable with. Mai does her best to not speak too much because of her stutter and is currently working on getting rid of it.


Anything Cute||

Mai absolutely loves everything cute. From stuffed animals to the real thing. She has also been known to care and even take home a few strays if her cousin allows it. The junior has actually gotten pretty good with various games that include winning something cute from the prizes.


Rangers Unite!

||Ever since she was little Mai has always loved the Rangers. As a child she and her father would pretend to be part of the show, with her being one of the rangers and her father the villain, much to his dismay. Mai has also memorized the many dances that go along with their theme song. Not only does she have the dances memorized, but she also knows just about everything there is to know about them. Her favorite Ranger is the Yellow Ranger although she is jealous of the Red Ranger's leadership skills. She does her best to keep it a secret as it really isn't suited for someone of her age.


Phobias||

Mai isn't fearful of the dark per say rather she just gets extremely nervous when she can't see. She is scared of heights and has fainted on a few occasions. Thunder has been one of her bigger and more notable fears since she was a child. She got lost from her mother when they were rushing to get back home on foot and being only six at time she was quite terrified. Mai also has a small fear of water. It's not that she can't swim, she can swim relatively well, it's more so the idea of maybe drowning and showing exposed skin that makes her uncomfortable. Mai is also claustrophobic. If there's the off chance that she might run into a large crowd she will do her utmost best to avoid it.

---
---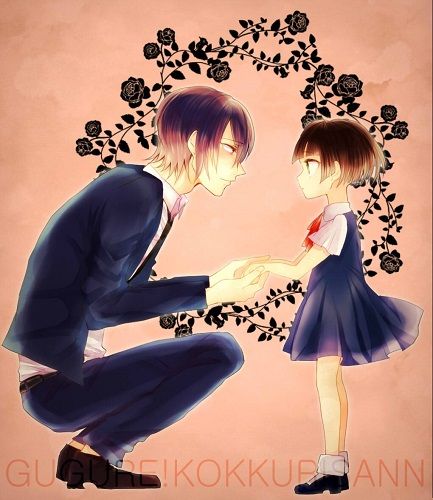 Whom you live with/Family:


Due to some family troubles at home, Mai lives with her older cousin Ren who is currently in his second year of university. He adores his small, doll like cousin a bit too much but he knows when to draw the line. Ren works at the local shrine and as payment is given food and housing, so it's to no surprise that Mai lives there as well. Mai has gotten used to the place and is getting along fairly well with those who run it.


Background


Mai grew up in the care of both of her loving parents however due to some financial problems they have sent her to stay with her cousin. She and her cousin were close as kids and her aunt and uncle were very understanding of her situation, so they decided to take Mai as one of their own. They're currently paying for Mai's enrollment at Airendale but not too much since she was able to get a partial scholarship. While she lives at the local shrine thanks to her cousin, Mai isn't just some freeloader. The small girl makes use of her gardening and cooking skills by helping out at the monthly soup kitchen and she also maintains the once neglected shrine garden in her spare time.



STATS:

26
-Intellect: 14
-

Physical

/Sporting Ability: 5-7
-Charm: 0
-Popularity: 1-5
Most important: Intellect
Most appealing: Charm
---
---
The Seniors & The Juniors
---
---
---
---
Casssiopiea||Unacquainted
???
Akira||Friends
Maybe he'll be my first friend
I can't believe he let me use his jacket. He's very nice
---
---
---
---
Gen||Acquainted
She seems really nice. She invited me to her hostess club
---
---
---
---
Bishop||Acquainted
Bishop-san seems amiable
---
---
---
---
Kazuki||Acquainted
Kazuki-sama is really scary
---
---
---
---
Ryou||Familiar
I know you! Maybe he'll be my friend too?
[/right]
---
---
---
---
---
---
---
---
Shiori||Acquainted
Kitogawa-san was my trust fall partner. I've never been asked by anyone before
---
---
---
---
Sora||Acquainted
He thought I was a grade schooler! It was so embarrassing.
---
---
---
---
Well he asked me to walk with him through the gates at the Halloween event. He's rather polite.
---
---
---
---
Tadashi||Unacquainted
TBD
---
---
---
---
---
---
---
---
---
---