Female
18
Heileen has bangs almost covering her eyes and long black hair, with a brown tint in it. Her hair is usually tied near her upper neck, running all the way down her back resting just below her rear. She has light brown eyes that sparkle in the sun. Heileen has smooth, creamy white skin that occasionally gets caressed by her long luscious lashes. Her face is shaped like a perfect oval. Heileen has thin shoulders and a very feminine figure. Like a priestess would, Heileen wears priestess clothing. She wears baggy red pants, with a baggy white shirt tucked underneath. She also wears kimono's often. She has a bow and arrows with her at all times.
Heileen is a delicate person. She does slay spirits or demons, but it is for good intentions. Other than the slaying she does, she is in fact, a delicate person. She always uses kindness when speaking to others, even when speaking to men. She doesn't like the idea of slavery, but she can't do anything about it. Heileen loves doing archery and is exceptional at it as well. She is always calm and tends to keep quiet, unless spoken to. She will start conversations, but only occasionally. Heileen isn't perfect, however. When people are being disrespectful to her, she will either ignore them or being just as disrespectful back to them. She despises traitors. If she has to, she will kill someone on the spot without hesitation, unless it's someone dear to her, no matter how much she hates killing and violence. She always tells the truth, even if it's painful. She blocks herself away from love, being scared of commitment. Even if she knows how great of a thing love can be.
Heileen was raised in a normal house. Women doing as they please, and they had a few men as servants around the house.
She grew up living with her grandmother, her mother, her aunts, her cousins and her older sister. They treated men terribly, and Heileen never understood why. She asked her grandmother, a woman who never disrespected men unlike her children, why everyone did this. Heileen's grandmother told her the tale of the goddess who was betrayed by a mortal man. Heileen felt so horrible for the man. She grew distant from her female elders, except for her grandmother, as she grew up since that day. Her older sister confronted her one day, about how she was treated men 'wrong' and she was being to easy and merciful on them. Heileen felt a great deal of anger towards her older sister for being so heartless towards men, and she attacked her. Right in front of her family, and ever the men they held as slaves. Their mother got in between them, and asked why they were fighting. Heileen's older sister told her mom that, Heileen hates women. Heileen tried telling her mother otherwise, but her mother wouldn't hear it. She believed Heileen's older sister over her, and made her work along with the men. Heileen grew quiet and socialized only with the men they had as slaves, and her grandmother once in a while. When Heileen was 10, their house got broken in to, and the women stood in defense, but were killed. The children, the men, Heileen's grandmother and Heileen herself, were hidden in the cellar and waited down there silently. It was a few minutes later when they heard the ruckus stop and they head back upstairs, only to find their loved ones slaughtered. Heileen immediately went to her mother's side, and her mother looked up at her, and for once in a very long time, she smiled at Heileen. She looked around her and seen some unfamiliar corpses as well. They buried all the bodies the next day, and mourned for a while. Heileen's grandmother became the head of the house once more and the men continued slaving after the women. A few months later, Heileen's grandmother spoke with Heileen and told her that she would probably be happier if she were to live away from the people she once called, 'family' and who know hated her. Heileen didn't like the idea of leaving her family, no matter how much they disliked her. She told her grandmother to go with her, but she politely refused, knowing she had to stay and watch over the children as they grew into women, until she took her last breathe. Heileen agreed, no matter how upset she was, and she left with one slave, who eventually got killed by an pack of wild boars... Leaving Heileen completely alone.

Heileen has been known as they 'Traveling Priestess' since then, and her sister a very infamous assassin.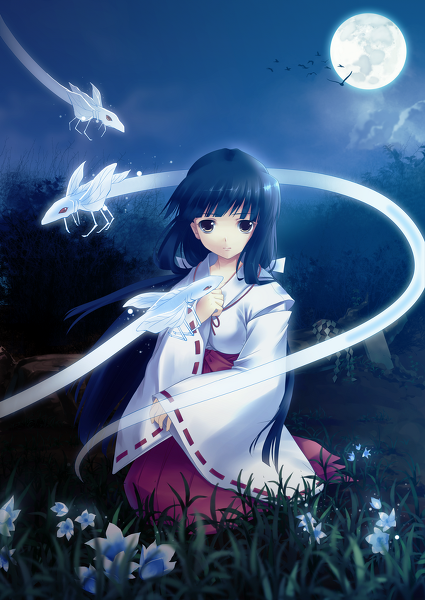 Traveling Priestess
Her sister, an infamous assassin, that is 4 years older than her, her grandmother who's death status is completely unknown to Heileen. She has many cousins, and their lifestyle is also unknown to Heileen. She man known as her 'father' was the slave that was assigned to leave with her by her grandmother, but was trampled by a pack of wild boars, leaving Heileen an orphan.