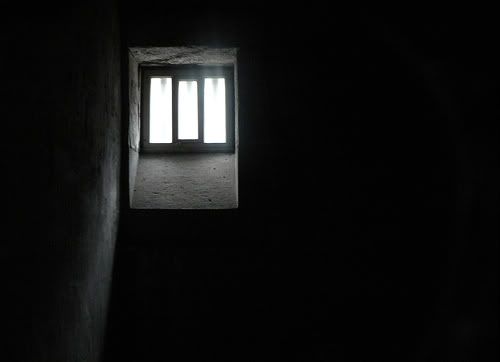 We don't exist. Never have and never will. That is to the normal population. To you however we seem very real. We are located in a rather secluded area. Not that our location matters so much to you, it is not like you are going anywhere. Welcome to the Department of Genetic Modifications, or what we nicknamed it; the DOG Mountain. Enjoy your stay.

You are all different; That's the problem. All been brought here for different reasons. Some needed to be silenced. You typed our name into an internet search program, we were alerted. No need to share your knowledge with the rest of the world, but you are normal. We will just make sure you stay silent. Others, they are more problematic. You are deformed, we are only trying to fix you. Of course there are always a few errors, but all for the greater good. Certainly the facility is not overly comfortable, but when your fixed you can move up…maybe.
The Plot:
People have been taken from their homes in order to be re-located to the Department of Genetic Modifications. Some have attempted to research about the department and have ended up with a visit and more or less detainment in the top cells. These are like normal rooms, and corridors. You are all treated nicely, but are forbidden from leaving the area. To enforce this there have been guards posted at all possible exits along with metal doors, which are obviously locked. While most are treated nicely, others are a little…rebellious they have prison cells just below the apartments of the norms as the department has nicknamed them. Even so, you are treated fairly…as criminals are.
Below this level are the mutations. People who have been born deformed or had incidents that have caused them to somehow change. They insist they simply have abilities, but the department believes them to be causes of danger to the normal populace, and therefore must be detained and "fixed". They are treated as less than animals in order to make sure they maintain a weak stance and no threat. Those that know of other people similar to themselves are interrogated for information. Each stay in cells which are uniquely built to adjust to each mutations limits.
Rumour has it that the mutations are getting restless and a certain one is stirring desperate to get out. You have a choice- Will you join her and be free or die trying? Or will you remain?
Setting:
The facility is located underground in America. Near New York City. The only way out of the facility is through the top floor and past the guards. Also note, they are meant to escape, though I will make this difficult and may take a while. Once they are out I am planning for them to split into two groups. Those that want to do good and attempt to use their abilities for the population and those that want revenge and power. Obviously this is not set (don't worry, I do have a plot, just having it a little mysterious for now), and up for discussion in OOC.
Character Slots:
Supreme Director-
In charge of the Facility.
Amaro De'or
played by Shané
Assassins-
These are basically the guards and torturers of those beneath. Respectful to the commoners at the top of the department and less the cordial to those marked as "Human Criminals". As for the mutations, they can do what they like to them. They are entrusted with three main goals:
A). To collect those located that are either interested in the facility or show "differences"
B). To maintain control and weaken those in the bottom cells to ensure escape is improbable and also to acquire information needed from those detained.
C). To assist in controlling those the Scientist's need and also to work under the Supreme Director.
They are broken into groups. The Second (basically second to the Supreme Director) is the one that has the most privileges as well as being skilled in his/her field. The Higher Order works beneath the Second and also have a lot of privileges and freedom in their work. The Agents are just your average guards. These can be used by all role-players.
Slots:
Second in Command- Either Male or Female
The Higher Order-
1. Male Slot
2. Female Slot
3. Male Slot
Common Norms-
Average people found searching or gaining information about the department. Cared for well, only lack freedom. These people are not needed to commence the roleplay, they are only if someone is interested.
Slots:
1. Female Slot
2. Male Slot
Human Criminals-
Normal people who were originally Common Norms, but became rebellious in the want for freedom. Now they are kept in cells, though are usually kept fairly well. There are occasions however when the Agents decide to mess with them.
Slots:
1. Male Slot
2. Female Slot
3. Male/Female Slot
Mutations-
These people have special abilities and are kept in cells specifically designed to hold them despite their talents. Please be creative with these, and I ask that we have no demonic powers just to keep it somewhat realistic (This includes ghosts, vampires, future telling etc. Just doesn't appeal to me, sorry). More focusing on mind powers, elemental and animal powers.
Slots:
1.
Raven Umbra
played by Shané
2. Male Slot
3. Female Slot
4. Male Slot
5. Male/Female Slot
Character Skeleton:
Name:
(Would really like each person to come up with a fancy name style to use at the top of each of your posts. Look at both my characters sheets and at the top there will be there "Name Titles".)
Sex:
Age:
(This can be literally anything within a normal human lifetime. Feel free to have older and younger people. Don't need to have all in their late teens.)
Role: (High Order, Second, Mutants etc...)
Physical Description:
(Please have a picture, no anime/cartoon. Thanks. Also please add clothing styles etc.)
Supernatural Talents:
(Please be creative, and try to avoid double ups. If there is already a character with you power, please change it. Note that this section is only for mutants).
Personality Traits:
(In depth)
Vices:
Strengths:
Fears:
(Just wanted to say, I really don't want everyone putting "death" here. If you put it down, try to think of something else as well.)
Likes/Dislikes:
History:
(In depth)
Floor Maps:
Here is the basic layout for each floor. Each floor is to scale. The lift is actually very large (due to government funding, money was not an issue) and about the size of a small room. This should give you an idea about the sizes of the cells and the massive offices.
1st Floor: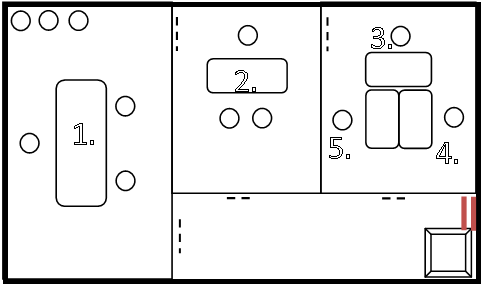 2nd Floor: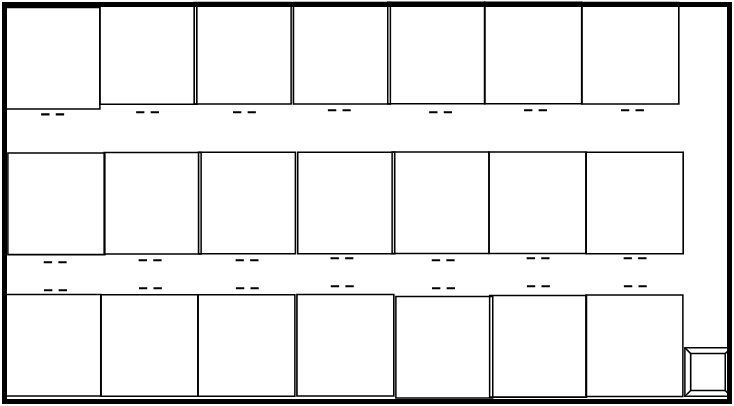 All the apartments contain the basics of a bedroom, living room, kitchen and bathroom.
3rd Floor: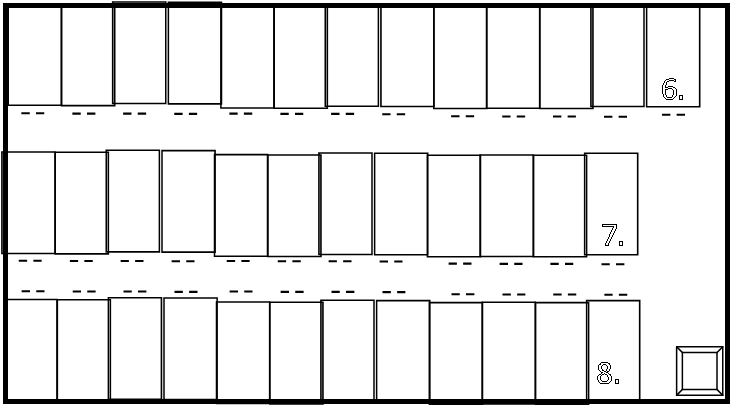 Cells contain a small fold out bed and toilet, nothing else. Shackles are provided on the wall for the guards to restrain those causing problems.
4th Floor: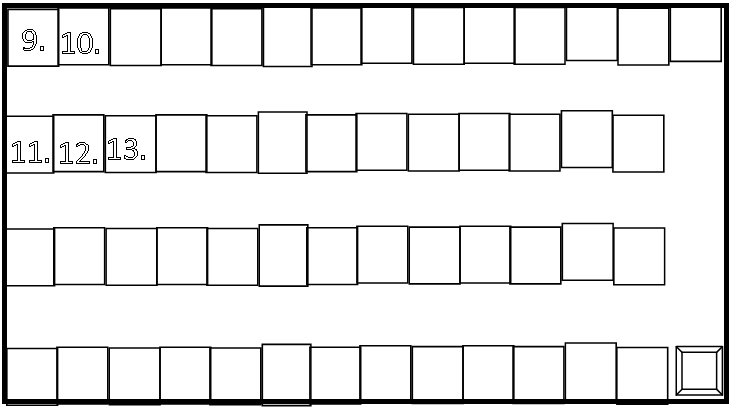 These cells have no beds, but a small toilet. Each one is designed to contain the mutant and suppress their powers to minimise escape. Shackles and shock collars are also available.
5th Floor: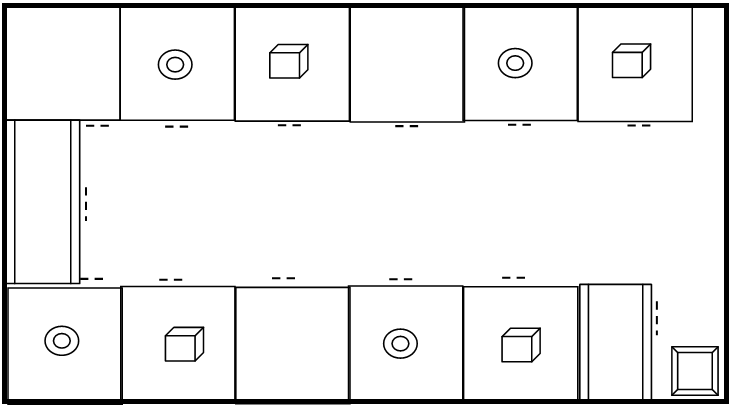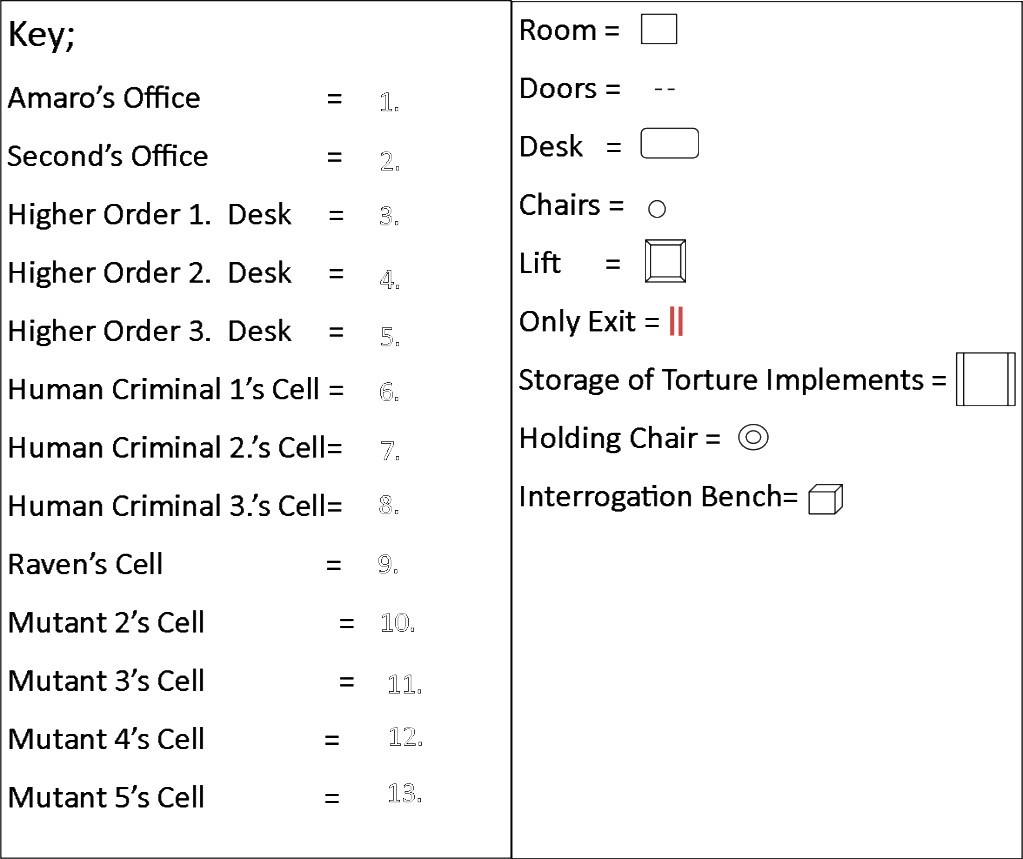 Note: Blank rooms contain shackles on wall and also a rack, thanks to Amaro's taste for the medieval. Just thought that should help you picture it and also allow the Higher Order and Second to know what tools are available. As for what is stored in the two storage areas, you can use your imagination.
Rules:
1. This is an ADVANCED roleplay. I want people who know how to construct art with words, and people who have experience. This also means LITERATE. I will not accept two paragraghs or less. There are so many things to write about, even in a lull such as feelings, description of location, character plotting etc. I want people to join who know what they are doing.
2. I also want commitment. If you submit a character, I expect you to actually want to post. I would like everyone to post every day, if not every second day. If you can't do this, please don't join.
3. Characters- I want each character to be developed and thought through. I also would like to have people think outside the box and not have your average character. Try to come up with back plots for your character such as a want for revenge, a secret romance, a broken past etc. Back plots add to the main plot.
4. While this is an advanced roleplay, this does not mean I want it to be vulgar. Please keep swearing to a minimum and out of courtesy to other players, block them out. Also keep sexual references out, it's not necessary in this rp.
5. If you join, be ready to work as a team. I would like everyone to be active in the OOC, giving suggestions to the plot and really working together. I don't want to be a dictator, I prefer a democracy, working as a team will also ensure everyone gets to have their character in the lime light.
6. Obvious one such as no Godmod, killing characters without permission etc. If you don't understand, obviously you are not advanced enough for the rp.
7. Enjoy it. If you don't like the plot line, don't join. I want this to be enjoyable and help extend us as writers. Be prepared to get sucked into the story ;)
0 posts here • Page 1 of 1
0 posts here • Page 1 of 1
Arcs are bundles of posts that you can organize on your own. They're useful for telling a story that might span long periods of time or space.
There are no arcs in this roleplay.
There are no quests in this roleplay.
Here's the current leaderboard.
There are no groups in this roleplay!
Welcome home, Promethean. Here, you can manage your universe.
Arcs are bundles of posts from any location, allowing you to easily capture sub-plots which might be spread out across multiple locations.
You can create Quests with various rewards, encouraging your players to engage with specific plot lines.
Settings are the backdrop for the characters in your universe, giving meaning and context to their existence. By creating a number of well-written locations, you can organize your universe into areas and regions.
Navigation
While not required, locations can be organized onto a map. More information soon!
There are no groups in this roleplay!
By creating Collectibles, you can reward your players with unique items that accentuate their character sheets.
Once an Item has been created, it can be spawned in the IC using /spawn Item Name (case-sensitive, as usual) — this can be followed with /take Item Name to retrieve the item into the current character's inventory.
Give your Universe life by adding a Mob, which are auto-replenishing NPCs your players can interact with. Useful for some quick hack-and-slash fun!
Mobs can be automated spawns, like rats and bats, or full-on NPCs complete with conversation menus. Use them to enhance your player experience!
Current Mobs
No mobs have been created yet.
Locations where Mobs and Items might appear.
You can schedule events for your players to create notifications and schedule times for everyone to plan around.
Add and remove other people from your Universe.
Orphanage
By marking a character as abandoned, you can offer them to your players as pre-made character sheets.
The Forge
Use your INK to craft new artifacts in Normality. Once created, Items cannot be changed, but they can be bought and sold in the marketplace.
Notable Items
No items have been created yet!
The Market
Buy, sell, and even craft your own items in this universe.
Market Data

Market conditions are unknown. Use caution when trading.

Quick Buy (Items Most Recently Listed for Sale)
Newest
You see this boot here? Touch me, and you can take a picture of its awesomeness...Median-YOUR FACE!
Trending
You see this boot here? Touch me, and you can take a picture of its awesomeness...Median-YOUR FACE!
Most Followed
You see this boot here? Touch me, and you can take a picture of its awesomeness...Median-YOUR FACE!
Discussions
Topics

Replies
Views

Last post
Most recent OOC posts in Normality
There have been no posts in the OOC topic for this roleplay!