Name:
Alexander Tyr
Age:
19
Gender:
Male
Physical appearance: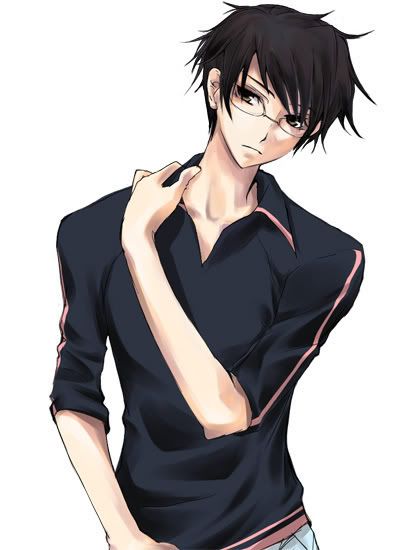 Alexander is almost an average boy. Just under 6'0" and topping out at 73 kg he is a little on the skinny side despite having a naturally broad build. That isn't to say he is unfit but he isn't impressive physically, his size being more to his detriment. His short straight black hair is typically a mess, stubbornly staying how it was when he woke up. If he gets it in hand it actually falls neatly to his shoulders. In terms of fashion Alexander dresses smart, like a typically nerd. He actually doesn't concern himself much with his appearance he just likes black trousers and long sleaved shirts. Overall he usually appears chaotic and disheveled at the best of times. However despite this he doesn't slump all too much, with a rather stiff back and sure stride that gets him unfortunate attention. His eyes are dark green and he has a scar across his collar at the base of his neck. He does wear oval glasses with rather thin frames that are just a little too small for him so they leave a mark across his nose.
Role
Nerd
Classes:
History
Literature
Art
Mathematics
Quirks:
Has a New Zealand accent strong enough to kill.
Gets irritated when someone calls a kiwi fruit a kiwi.
Incredibly excited and intense when discussing his ideas.
Favorite Hobby
Creating stories/ideas/settings
Fears
Trucks
Crowds
Making mistakes
Zombies
Likes
Good Stories
Writing
Reading
Concept art
Cats
Stars
The sunrise and sunset
Board Games
Dislikes
Smoking
Alcohol
Soccer
Golf
Jerks
Girls in revealing clothing
Chocolate
Habits
Typically wears headphones only in a single ear.
Scribbles and doodles on almost every piece of paper he uses.
Plays and fiddles with clothing tags when he has a free hand and is either concentrating on something else or doing nothing.
[/list]
Personality:
Alexander is someone who doesn't particularly go out of his way to talk to people. Which suits him well enough, not many people want to go out of their way to talk to a stick man who has a weird accent. He'd much rather be on his own and doing his own thing. He gets very enveloped in what he is doing, able to focus on something nonstop for a couple of hours or more. Despite this he is not actually incapable of social interaction, however he is somewhat uncomfortable around girls and most of the time he can't think of anything to talk about with people. Tyr is rather considerate and withholds from talking about stuff he expects others aren't interested since most of the time it creeps people out. He would be a silent helper, holding doors open, picking up books or volunteering to help with stuff. Usually he doesn't say no and people sometimes take advantage of that, although it isn't like he doesn't notice that. Alexander is able to learn things quickly, so he excels in most of his academic pursuits.
Sport:
Rugby but no one plays it here.
History:
Alexander Tyr has always lived a reasonably average middle class life in New Zealand. He had never known his father since his mother had a fling in her late teens that he was the result of. He didn't really mind that, his mother's parents were reasonably happy to have a grandchild as well. They owned a reasonably small farm well positioned at the edge of town. He went to school in the day like a normal kid and helped out around the place when he got home.
When he was about 15 his mother started dating again, this time it was a young businessman from the USA. It was a serious relationship but Alex wasn't sure if
he liked it or not. James McAdams paid for several extra trips across the pacific so she could visit him or he could visit her. Eventually they agreed to get married and his mother moved away saying that after he finished that year and they got him a school there he could join them. Well they did but things didn't turn out the way he had hoped. Instead of moving to Washington DC his father agreed to pay for him to live in New York and visit Cornell University.
Anything Else:
Licensed to drive a car and ride a motorcycle. Travels around on a motorbike.