Dante Knox Pike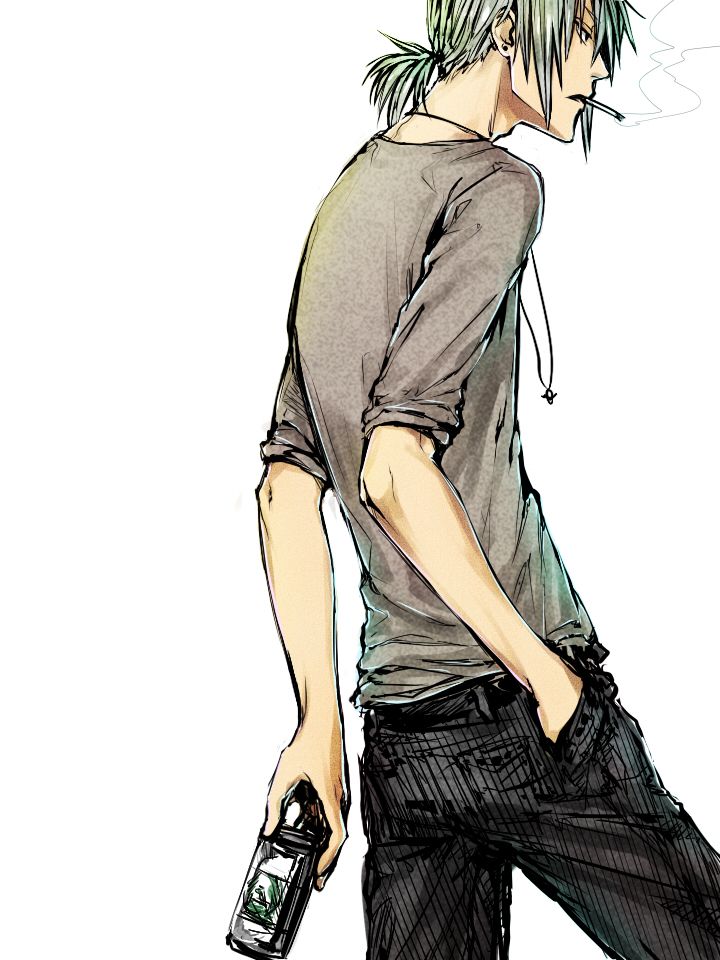 (He doesn't actually smoke.)
Nickname(s)
Just call me Knox.
He has none. Though, people who don't like him have a fond tendency to call him hard-ass or cold-hearted bastard. He does prefer to go by his middle name though.
Race
Human, not like he chose to be human. Life would have been so much easier if Knox was a dog or a cat instead of a human.
Age:
He's 30 years old, so Knox is pretty much set for life much to his pleasure.
Gender
Male, unless, of course, I've been lied to all my life.
Ethnicity
Caucasian, he doesn't really know. Knox is American; he could be anything really. He thinks there might be a large dose of German blood in him, but no one in his family really knows.
Orrientation
Asexual. He's never been attracted to either gender in his whole life. Also, yes, Knox is a 30 year old virgin. Not that he wants you to know. His sexual identity confuses him a lot. It's a touchy subject for him, its best if you don't talk to him about it. He's never dated or had a stupid crush for someone. It's a surprise Knox had his first kiss when he was only 13 years old. Of course, it was a dare because that's what stupid kids did when they were thirteen. Knox doesn't even remember who he had to kiss. Just the fact that the person has really dry lips.
Romantic Interest
I'm too busy with work to deal with dating.
He's actually terrified of the concept of looooove.
Residence
He resides in a two-bedroom apartment that is close to his office. The apartment complex is now only a few years old and has a slick, modern look to the buildings. He lives on the top floor, next to the fire escape so that when there is a fire Knox won't get killed.

It's best not to go inside his apartment because it is forever a disaster zone. There is always a stack of dishes pleading to be cleaned and put away in their respective cupboards, piles of "Psychology Today" and other psychology related material is scattered haphazardly around his "cozy" living room. This area, which has walls covered with papers relating to his more difficult patient, contains two black leather couches and a table buries under papers and books. The couches are probably the worst for wear pieces of furniture in his apartment, because Knox has designated them to deal with all of his violent anger. He's already thoroughly destroyed two other couches and his current ones are nearing their end. There is also a lovely hole in the wall the size of a fist just next to the door. This lovely hole was created when Knox found out that Syl was being bullied because of her love for science.

His room is the focal point of his untidiness. Knox has clothing clean and unclean strewn across the plush carpet that is littered with stains from instant noodles and coffee mugs filled to the brim. His bed hasn't been made since it was first put in the room piled with six pillows and millions of blankets. Next to his messy bed is a large chestnut closet that can't be closed all the way, if you dare look inside you'll find that over half of the hangers actually have clothing on them because the majority of his clothing is either laying on the bottom of the closet or is on the floor. Knox also has random glass-like objects lying on the bottom of the closet waiting to be place in their permanent resting place. There is an odd pile of glass jars that are stacked up in a systematically order across from his bed. He plans on having the wall covered in stacked jars varying in size and shape, which are glued together so no one can "accidentally" knock them over with their stupid clumsy bodies. A few of the jars hold random objects such as one hold a broken pen that has been taken apart while another contains colorful candy wrappers. Against the wall next to his obsession is a huge book case filled with, can you guess, books. The books are arranged in some sort of unseen order that only Knox understands, the shelves are contain books of all genre from science fiction to political leaders to how media effects child development.

The only time Knox has a fully stocked kitchen and his lovely abode seems like it doesn't inhabit a hobo is when his twin siblings stay over during their breaks from college. Atticus always goes into full out cleaning mode and tries to tackle the mess known as Knox's apartment. The room they share has two twin sized beds shoved against opposite walls. While they are staying it is painfully obvious who has which side with Harper's love for boy bands who wear more make-up than most 50% plastic cheerleaders, she makes sure that her side's walls are completely covered with their posters and has her nightstand covered with piles of gothic accessories and manga while Atticus being the boring, preppy sort of person that he was only has pictures of him and his friends, a few posters of scantily clad women, and his beloved fish tank.
Appearance
Looking at Knox, the first thing you could say is that he needs a haircut. He understands that his hair is too unprofessional to possible be the mop for a therapist. But that doesn't motivate him to go to the salon and cough up twenty dollars. He certainly doesn't want to deal with the agitating chatter of the hairdresser, plus a person touching his hair makes him extremely uncomfortable. Making haircuts a grueling process, so he will forever be pulling up his hear into a short, sloppy ponytail. With this hair style, a multitude of gray hair falls messily over the upper half of his face and sides.

His hair color is odd; in certain lightings give it an assortment of hues ranging from eton blue to glaucous, however, it always retains its silvery color. Surprisingly it isn't his natural hair color, seeing as to how he hates salons and that his isn't that old, but Knox has always had silver hair due to his mother buying hair dye in an over abundant amount while she was going through a crazy hair phase. Now he's just used to his mom dying and re-dying his hair all the time to the point where he has forgotten what his natural hair color is.

Even though his silvery hair messily falls into his face, it doesn't mask his alluring almond shaped eyes that seem to be able to pierce through anything. His eyes captivate and hold other peoples' gaze with the almost entirely washed out silver in his irises. In certain lights, his eyes can capture a yellowish-green hue to them giving them the allusion of being the eyes of a snake or some other reptile. Knox's irises begin as the palest of silvers that isn't white and slowly progress into darker shades until the color drastically changes to a thin ring of black surrounding the silver.

His hair isn't the only unkempt aspect in his appearance. Knox often goes to work in in wrinkly black slacks and a crumply white, button-down shirt with its sleeves rolled up. It's a surprise he even buttons his shirt properly, actually, half the time they aren't this is mainly due to the fact that he doesn't function well until its noon. His non-professional attire mainly consists of ratty, over-washed jeans and any clean t-shirt he can find. His wardrobe is dreadfully boring in both style and color, but he doesn't care what other's think of his appearance, however, Knox has to have pockets in his pants or he'll have an inner panic attack. He has an odd attachment to pockets. No matter what Knox wears; he seems to always have the sexy I-just-got-out-of-bed look.

Even though his clothing gives Knox an air of being a lazy bastard, he will surprise you in just how much muscle he contains under the haphazardly put on clothing. If you could get him to take off his clothing, you'll find yourself drooling over a muscle laden, tall body. Knox has a well-defined set of abs, broad shoulders that are packed with unseen muscles, it is all lean muscle and he's spent hours maintaining a body that can deal out damage if needed. He spent so much time due to a paranoid fear that he will be jumped or mugged one of these days.

Majority of people would think Knox would easily be in the seven foot range, but in real life he's only 6'5, which is still outrageous. He doesn't seem to have an ounce of fat on him, mainly because Knox has a tendency to get so involved with his work that he forgets to eat. Luckily, his secretary remembers and makes sure he at least eats lunch. Even though he misses meals on accident, Knox is far from being considered anorexic. He makes up for the lost meals by eating an amount that would scare normal humans.

Not only is his body a sexy example of genetic variation gone right, but his face is also captivating to look at. One could study his high cheek bones, sharply pointed chin, and a large, overflowing-with-personality nose and say that Knox has an elegant look. Well, that would get a snarl from him. And what a pretty snarl he gives with those thin, pale pink lips. His lips are where you can figure out what emotion he is currently experiencing because they are always twisted in some sort of a grimace or sneer. It's rare to find his mouth turned in a genuine smile; Knox is willing to give fake, polite smiles when the person he is around is emotionally weak. But other than that he isn't one for smiling, even if he is genuinely happy.

If you think about it, Knox's dyed hair, rumpled clothing, hidden tattoo, and the fact that he has his ears pierced would indicate he's still living in his teenage years trying to rebel against some unknown force. Unfortunately, that would be so incorrect Knox wouldn't reframe from telling you to go cliff diving with a cinder block tied to your neck. The dyed hair and disheveled clothing has always been a part of his appearance. However, the tattoo and pierced ears are a product of Harper's meddling. It is a major feat that his sister was able to get him to pierce his ears, this occurred during his 25th birthday when he drank himself into oblivion because earlier that day he had failed a test even after hours of intensive studying.
Personality
Knox isn't what you expect a therapist to be like; he isn't painfully kind and doesn't go to great lengths to make sure you are comfortable. However, he puts in a lot of time and effort into his patients and makes sure to cover up most of his rudeness and irritation, if he's gaged the person as being too emotionally/mentally to handle those certain aspects of his personality. Knox would hate to have caused one of his patients or anyone for that matter to cry because below all of his insults and blunt behavior he actually cares incalculably for other human beings. He is quick to becoming loyal to his patient and once he is loyal, he will stubbornly go to inordinate lengths to make sure they solve their issues. That means hours and hours of hard work from both parties. When he's set his mind out to help a person, nothing will deter him from his goal because he is as stubborn as an alpaca like that. During work hours, Knox's manner towards his patients is a distant politeness. In sessions he will mask most of his true emotions with a polite smile or thoughtful frown depending on which was appropriate. Normally, he will attempt to manipulate his personality to accommodate with his patient's needs.

Knox is a natural workaholic. Ever since he was in preschool put in the most effort in his finger paint and always listened to his teacher's warnings against eating glue while the other children didn't. The teachers in school always loved/hated Knox; he would be at the top of the class in grades but got into numerous arguments with teachers and fights with other children resulting in many detentions. As a child he had a sparse amount of friends because of his attitude, now that he is an adult he has even fewer friends; mainly due to the fact that Knox isn't a social butterfly nor is he willing to talk to people even if they catch his attention. Outside of work, he is much less willing to put up a polite mask or beat around the bush with sensitive things. Knox is painfully honest and straight to the point about what he thinks when he isn't at work. He isn't one for meaningless conversation and only makes himself talk to another human, who isn't blood related to him, if he has a something to accomplish.

When he categorizes something as work, Knox puts in all of his ability into accomplishing the activity as soon as he gets it. He always thought school and work was the same exact thing so he always put in the most amount of effort. With this mind set, he was able to achieve a bachelor degree in only three years and a doctorate in five years. Many people who know about his achievements have put him on a pedestal of being a super human or robot seen from the future to make those around him jealous of his abilities. Unfortunately, Knox finds their admiration annoying and offending, which causes him to bluntly tell them to "fuck off'. Ironically, cleaning and working aren't synonyms in his vocabulary; if he thinks a certain activity like cleaning isn't work, he tries to avoid it like it's the plague.

Knox is not a daydreamer. He's too much of a realist to be into that whimsical wishy washy shit the government is trying to get everyone to buy into. He more often than not actually uses logic in his actions. Not his emotions. He isn't one to wear his emotions on his sleeve, Knox has experienced enough of life to know when to trust someone, when to run the fuck away, when to drive someone away, and when someone betrayed his trust. The real world calloused his emotions or maybe having to deal with the emotional strain of his patients has. He isn't some ludicrous teen who thinks that everything in the world revolves around their petty drama. At this point in his life not much surprises him, Knox knows where he stands in the life and doesn't give a shit what others think about it or him.

While Knox isn't a dreamer, he does have an overactive imagination. However, he doesn't allow himself to get sucked into the world of conspiracy theories in public. This paranoia that the government is going to turn everyone's minds into a pile of submissive mush was instilled by his Grandpa Mac's numerous tales and suspicions he had avidly listened to as a small, naïve child. Knox understands that these thoughts are generally useless, but they entertain him when he has free time. It also gives him something to talk about with his grandpa and other family members.

Annoying Knox is easier than singing your ABC's, especially if you don't know the English language. Then just start speaking your native language drastically loudly in his ear and you've accomplished the goal to irritate him. He always gives a lovely reaction when something/someone annoys the living hell out of him. Knox often starts shouting eloquently put together insults and twists his mouth into the prettiest snarl or scowl known to man. He doesn't go red-faced and spit doesn't spew from his mouth as he's spouting random shit about the aggravating human/object; Knox somehow maintains his attractive features while telling someone off. This is just how he acts when he's annoyed or frustrated.

Surprisingly, actually causing him to be furious is a much more of a formidable challenge and a highly dangerous one at that. An angry Knox is worse than facing a horde of zombies who haven't eaten human flesh in over a million years and you are a prime slab of meat for them. When he's truly angry, he gets violent. You do not want a 6'5 tall, muscle-packed to be ready to carve a hole into your face with his hand. So, don't piss him off. How would one avoid such a feat? Simple, don't dehumanize another human being, don't physically harm someone smaller than you, and do not fuck with his family.

Family is the most important aspect of life to Knox. They are the ones he knows he can count on when he's screwed up. They're the ones he can spill his true emotions too. They are the ones who truly understand what he needs. They are the ones who see past his mask of annoyance or indifference. He is willing to jump off a building if it were to keep his family alive. Hell, Knox is willing to sacrifice the human race as long as his family was allowed to live.

Knox is an adrenaline junkie. He finds immense joy in activities such as bungee jumping or skydiving. The rush and pseudo danger is his outlet for all of his stress and other negative emotions. The only time you could possibly imagine him yoo-hooing is while his is falling to the ground from a thousand feet in the sky. These "simple" pleasures are the only time he truly lets loose and laughs.
Family
Mother (Clea Pike)-
A bio-engineer who has an odd obsession over anything Smurf-like. Clea also likes to pretend to be a hippie, but she normally gives up. She also has a knack for making up outrageous stories when she doesn't want to tell the truth. Clea enjoys being a single mother and has come to thinking that being bound to another person through marriage seems terrible. Knox obviously got most of his handsome genetics from his mother, but definitely not her height. His mom stands at an underwhelm height of 5'5, but she makes up for it in personality. She has naturally stick-straight mousy brown hair and almond shaped eyes that are the same tone as Knox's eyes.
Father (Unknown)-
But Clea always tells Knox that he was a mad scientist who got radiation poisoning. He, of course, doesn't believe her. Knox's theory on his father is that he either ditched her after she got pregnant with Knox or died around the same time Knox was born. But he never bothered diving into the past to find out what exactly happens. None of his siblings share the same dad because of his mother's lack of wanting commitment.
Sister (Sylvie Pike)-
Sylvie is at the annoying age of 12 and is in love with the media, much to Knox's displeasure. Syl also enjoys talking in a nauseating voice and chiding her brother on his lifestyle. But she shares Clea's love for science and often gets teased by other kids her age. Syl looks more like her father, who she meets with once a week; she has dirty blonde hair and hazel eyes that are almost green.
Twin Siblings (Harper and Atticus Pike)-
They are now in college and a decade younger than Knox, partying and thinking they are the best at everything. Well, Atticus thinks that way. Harper is too busy using her new-found freedoms getting millions of tattoos and pierces to think that way. Knox always liked Harper more than Atticus with her anarchy-will-rule-the-world attitude. Unlike Harper, Atticus has oddly preppy ways. At least he is an animal rights activist on the side. The twins have similar heights of 5'7 and both have brown almond shaped eyes, however, that is where the similarities end. Harper has vibrant neon blue hair that stops just below her shoulders while Atticus has his natural mousy brown hair.
Grandfather ("Mac" Pike)-
Mac is an 84 year old man, whose real name has slipped everyone's mind. It has even slipped his own mind, or so he says. Through many tellings and retellings of stories about his past one would think Mac has live 100 different lives being an astronaut who never got to go into space because his personality was too grounded to being a taxi driver who got into an argument with Frank Sinatra on what "good" music sounded like. He also shares his millions of conspiracy theories and always loves it when you actually pay attention. Mac has an interesting character that Knox has been trying to decipher all of his life.
Tattoos
Knox has an inking of a hot air balloon splayed across his left shoulder blade. The design is simple enough, but the details in the basket and the way to wind hits the balloon is astounding. If you look closely; you can see how the basket is worn and slightly damaged. How the ferocious winds are battering against the instruments used to keep it in flight. The color scheme for the balloon is an array of pale greens and vivid blues stripping vertically.

Knox isn't normally a sentimental sort of person, but he does have a personal reason for getting the tattoo and a corny one at that. He was having a tough time in college, while he was getting his doctorate, and Harper forced him to take her to the tattoo pallor without their mom's knowledge. Harper goaded him into getting a tattoo while they were there. Knowing her brother, Harper suggested in a sly manner to get something that would remind him that with work he can do just about anything. Being to foxlike person Harper is, she was able to convince him into getting a tattoo, which now has taken residence on his shoulder blade for the rest of his life.
Other
He dog sits for a neighbor in the apartment complex because they always seem to be gone on some sort of business trip. Knox has only seen his neighbor once when the deal was made and the neighbor was wearing a humungous black hoody, with the hood pulled over the person's head so he couldn't distinguish the person's gender. Unfortunately when the deal was made, Knox didn't realize what sort of demonic dog he had to deal with. Imagine his horror when he went the neighbor's door and found a small corgi giving him the evil eye as the dog sat obediently next to the metal door that was pretending to be wood. Beside the demon dog was a note explaining all of the dog's habits and how to properly take care of 'Rufus'. In the next few days, Knox learned all of Rufus' weird-assed habits that annoyed him to death. Like his love for chewing the table legs, barking in the middle of night to try to attract other lady dogs, and taking over Knox's beloved bed and causing all the blankets to fall on the ground. Now, he has to frequently dog sit that abrasive, wolf-like dog because he made a stupid deal with the devil.

Knox is ambidextrous, though he prefers using his right hand to write because to seems to draw less attention to him. He has a callous on his middle finger of his right to prove that fact; the callous itself is bothersome and causes his finger nail to be formed in an odd shape.

Computers are Knox's worst nightmare. Whenever he has to look up something about one of his patients, he constantly discovers that his computer has contracted a virus or malware has wiggled its way through the firewall. After a few minutes Knox finds himself shouting at the "gum clogged, ancient piece of rubbly shit that needs to meet a sludge hammer".

Sleep is the third most important thing to Knox after work and his family. He takes his eight hours of being dead to the world very seriously. Also getting in the way of his sleep will result in having to deal with him bitching non-stop until he sleeps. Then he'll be constantly suspicious that you are going to try and ruin his beloved sleep more. While asleep, Knox has the air conditioner unit set for 60 degrees. There isn't any rhyme or reason why he does that, but as an outcome he ritually buries himself under a pile of blankets and snuggles against his pillows. Although, he makes sure that his work cell phone is always turned on and the ring is on the highest setting.

Knox has a deep and completely irrational fear of birds. There's something about how sharp looking their beaks are that make him seriously believe that they are going to peak out his precious eyes and processed to eat his brain then throw it back up for their stupid bird kids. Whenever he sees a bird he immediately starts running away in the opposite direction or he'll freeze up and glare at the bird in suspicion until it flies away with its evil, filthy wings.

He is also afraid of children under the age of five. It is an odd fear, but Knox is terrified that he might hurt the child or the kid will puke on him or something. He's more afraid for their general well-being then them actually being so young. He's a bit of a worry wort when it comes to youngers. Although, changing a baby's diaper is pretty damn terrifying.

When he's lost in thought, mainly due to work related issues, he chews on the end of his writing utensil. With his sharp teeth, Knox tends to cause countless pens/pencils to break under the pressure of his teeth.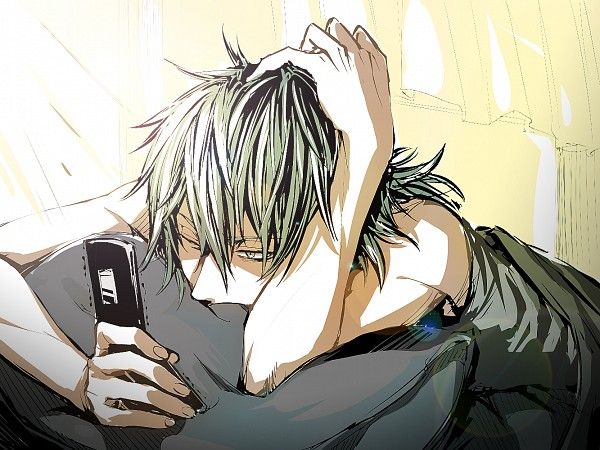 This was indeed taken without Knox's permission from his stalker! Oh wait; he doesn't have a stalker, as far as he's aware.