Name
Jackson Moore (Jax)
Group
Wolf Pack Leader
Year
Fifth (Failed second and had to do it twice)
Age
Nineteen
Birthday
January 1st, 1994
Gender
Male
Grade
Senior
Sexual Orientation
Unknown (unconfirmed straight)
Likes
-Football
-Lacrosse
-Baseball
-Girls
-Biology
-Music and guitar playing
Dislikes
- Goths/misfits
- Nerds
- Stupid people
- Blondes
Fears
Some fears Jax has are: Not graduating, not going to college, losing an important game, and has an irrational fear of claustrophobia.
Quirks
Charming smile, a habit of winking at anything with breasts, and flexing occasionally just to show off his muscles.
Personality
Jackson is not a very friendly person and is often found with a condescending sneer, disgusted smirk, or indifferent and uncaring expression. The only thing he cares about is himself and how he's going to win his next game so he can go to college. Jackson isn't just committed too his athletics, he's also a very engaged student (Or at least he was after sophomore year when he flunked) since then he's been focused on his studies and excels at AP Biology, though he lacks any determination in Calculus. Other than that he is primarily very conceded and often finds himself looking down at others and always trying to outdo anybody he thinks could threaten his position was Wolf Pack leader. Being so pumped full of testosterone all the time Jax is known for starting and finishing fights. Stay off his bad side and he won't bother you.
Appearance: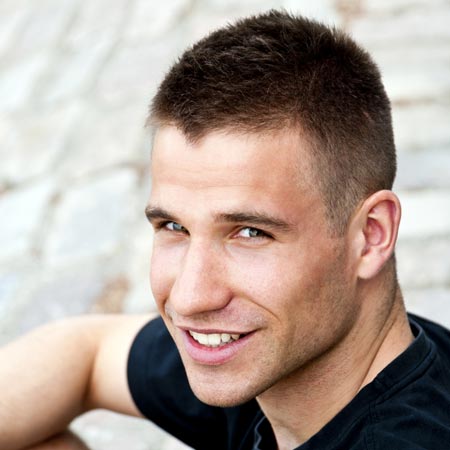 6'4", 155 pounds (Of solid muscle)
Jax has had a crew cut for as long as he can remember and is cleanly shaven every single day, though he tends t get stubbly no matter how much he tries to keep it trimmed. A soft brown fills his irises and he has dark brown eyebrows and hair. His smile is averagely white and straightened by a few years of braces during middle school. A typical handsome high school jock.