---
---
███████████████████████████████████████████████████████████████████████
---
---
"Simply calling out sins don't bring you closer to God."



|| Devil, Devil | MILCK || Holy | Pvris || Way Down We Go | Kaleo || I'm Only Human After All | John "The Ragin' Cajun" Jones || Lover, Fighter | Svrcina ||


---
---
███████████████████████████████████████████████████████████████████████
---
---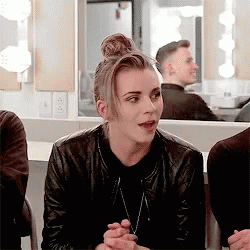 F U L L

X

N A M E
Taylor Liles Morrison

N I C K N A M E (S)
Tay | Mostly used by everyone
Ty | Used by her friends
Morrison | Was used by teachers and faculty

B I R T H D A Y
March 15th | Pisces

A G E
Eith-teen | 18

S E X U A L I T Y
Homosexual | Closeted, for now

E T H N I C I T Y
Caucasian

H O M E T O W N
Originally from Boston, MA, but has moved countless times since then

H E X
#800000
---
---
███████████████████████████████████████████████████████████████████████
---
---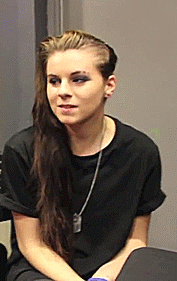 H E I G H T & W E I G H T
5' 7" | 115lbs

A P P E A R A N C E
Taylor is one that could be considered the epitome of unorthodox, especially considering she comes from a military-based family, as well as highly conservative. Firstly, she has a plethora of tattoos that are usually covered by her clothing as if her parents found out they would have an aneurysm, as well as she is always dying her hair from brown to blonde, or Visa Versa. She is everything her parents were against and has received multiple threats of being kicked out, for not only how she dresses, but how she presents herself. She can normally be found wearing skinny jeans and baggy tank tops or t-shirts, as well as the occasional sweater or jacket, along with her normal everyday boots or vans. She is best described as a hard rock punk girl in band with her long hair that is usually styled messily, as well as usually being shaved in areas. As people say the eyes are a gateway to one's soul, her eyes are almost hypnotic and entrancing, as even a single glance from her can cause one's heart to beat. Either from her natural attractiveness that she possesses thanks to her parents, or it's maybe the uncertain vibe she gives to people, and she is content without having to know which one it is.

As for tattoos, she has more than a dozen, and all have a meaning, whether they're publically known or not. Her first tattoo is on her left thumb knuckle, it is a small, line drawn inverted triangle with a line through it, it is the alchemic symbol for earth. On her left forearm is her second tattoo, which is of an arrow, the arrowhead pointing towards her wrist. On her left wrist is the symbol of her astrological sign Pisces, the fish. On her ankle is of a number 13 made of lightning bolts. She had it done as a "Friday The Thirteenth" tattoo on September 13, 2013 secretly, as it was her first one she ever got. Aside from tattoos she has a few scars that also cover her body, the most prominent ones being on her back, it goes from the back corner of her right shoulder blade, and down to the small of her back, it is a streamlined scar that is still rather sensitive to the touch, often being more so of pain as she can only remember it being from the crash that took away the love of her life.
---
---
███████████████████████████████████████████████████████████████████████
---
---
P E R S O N A
In the easiest and simplest terms? Taylor is often described as unorthodox and eccentric. Even when she isn't trying, she is usually the one standing out in the crowd. From her quirky behavior and odd humor she often sticks out like a sore thumb in a group. For one, she can never be serious for too long and often cracks a smile, even when she is being serious, which often makes people question her sincerity. She usually has a smile on her face that can easily light up a room, mainly as a facade so people don't worry about her, but also that she is usually always in a good mood, except for those few moments in life where she feels like everything is falling down around her.

In large groups of people, she tends to tone back her quirky behavior and becomes the quiet one, alone in the corner by herself. She's always been more of the listener than talker type, and would prefer to hear other people talk than herself. But while with people she holds close, she holds then all too closely and tightly as she is petrified of losing anyone else, but at the same time she is aware that can drive people away so she also remains as distant as she can. In other words, she can easily be your best friend if you want her as such, or she can be known as the quirky girl in band that often has the spotlight on her. Away from friends, and when with her family she is completely submissive and often a recluse, never talking unless spoken to and is rather contrary to her true nature, seeing as how she is everything her parents never wanted their child to be. She is loud and brash at times, especially when she is passionate about something, especially when it comes to those that can't stick up for themselves. She isn't one to stand by and do nothing when someone is being bullied or harassed and will easily stick up for the small guy as her father taught her one thing right, be the person you wished was there for you in dark times, and she does her best to stand up for those that can't for themselves.


---
---
███████████████████████████████████████████████████████████████████████
---
---
F A M I L Y
Dante' Morrison | Father | 38 | Missing
Their relationship was almost never existant since he was always away from home and too busy with the military to give her his time of day. He would always send gifts and things for her, as his way of saying sorry, and that he cared, but it always felt hallow and empty, never seeming to be genuine to her. And whenever he was home, he was distant and never seemed like her father and always seemed like a stranger more than blood to her. He does care for her, it's just that he doesn't know how to show it, and he always had an inkling of who she was and who she liked, but never said anything as he never wanted to ruin what small relationship they had...


Rebecka Morrison | Mother | 36 | Missing |
To say that her and Taylor ever had a relationship would be a lie. Ever since she was a child it was always the same thing until recently, dictating everything she did, who she could see, what her interests were, and what she could do in her spare time. As the years went on, their relationship grew more faded and none existant, and at this point, one would even question if it was ever there in the first place. Taylor has always questioned if Rebecka ever even loved her and isn't sure if she ever even saw her as her child and not just a puppet she could control. She knows Rebecka hates everything that Taylor is passionate about, and is waiting until the day she gets to leave that she can finally go out and be herself, and not afraid of who she can love...


---
---
███████████████████████████████████████████████████████████████████████
---
---

H I S T O R I A
Her younger years were all muddled together over the years as she only really remembered moving from place to place when she was younger due to her father. They never stayed in one place too long, and when they did she would finally be getting used to the town and she would finally make friends, to only just end up moving soon after. This went on for years until she was sixteen, and up until then, she was trying her best to not let it show that it bothered her. Pretending like she was okay that she was forced to move all around the country for the sake of her father's job, pretending like not having any friends or anyone to turn to was okay with her, that it never bothered her or made her feel like the odd one out. The things she learned over the years? Don't get too friendly with anyone as you'll just end up moving far away and never getting back into contact with them, and it would only make matters worse for her. As well as on top of the fact that her very overbearing mother made it so that whoever she was friends with would be supervised and monitored, always having an open-door policy and never allowed to be gone longer than a few hours. No one was allowed to stay at the house and she wasn't allowed to stay at anyone's house for the night.

Mixed with her father's military life, and her mother's over-controlling view, as well as religious views, Taylor became the very thing her parents were against. She got tattoos as soon as she turned eight-teen, she'd dye her hair just in spite of her mother's conservative lifestyle, as well as wear clothing and talk against how her parents would wish. She grew up having to have a certain viewpoint and lifestyle but went against it all as that wasn't her, but more so just in spite of her parent's. Over the years she developed a closer bond to her aunt and uncle that lived far away from them, finding them as her only solace and peace of mind away from her parents. They were the exact opposite of her mother and father and were exactly like Taylor. Free-spirited, quirky, outgoing people that just wanted to live life to the fullest, and it was because of their open-mindedness and caring attitude that made her feel like she had someplace to go to, and someone to come out to when she was six-teen. She told her aunt and uncle that she was secretly dating a girl from her old school and that she didn't want her parents knowing. Up until this day they never knew about the relationship, and she prefers to keep it that way.

All they knew was that one of her old classmates had passed away in a car accident due to drunk-driving and that Taylor was in the backseat while her friend was in the passenger seat, and was thrown out of the car and killed on impact. The news devastated Taylor and made her go into solitude and seclusion for a while as she grieved in silence for her girlfriend. She never told anyone the truth of what happened, and how it was her fault, she distracted the driver and it ended in them being severely hurt, and her lover dying, all because she was a distraction. She's secretly lived with that guilt and truth for two years and a day has never gone by where she doesn't reflect on that night and not blame herself for the crash, due to that she holds a bit of self-hatred and anger towards herself and refuses to get close to anyone ever since that day. Now she's enrolled in the local high school in Oakville, having joined the band and swim team she has some semblance of normalcy, and she looks forward to the day of when graduation comes she can move out of Oakville and go live with her aunt and uncle, leaving this small town and her parents way of life behind. At least that's what her plan was until the field trip, and when they returned no one was there. No parents, no other students, not even animals. No one was around. She doesn't know what's going on and she doesn't have a good feeling about it, but part of her is relieved that her parents aren't around, and just maybe...Maybe she can finally be herself and not have to worry about her mother's control over her anymore..


---
---
███████████████████████████████████████████████████████████████████████
---
---

R E L A T I O N S H I P

X

S T A T U S
Single | Uncertain if anyone would want to date her

S E C R E T S
Her sexuality: She'd prefer it to stay to herself as her family is incredibly conservative | She struggles with anxiety and depression and would prefer people to not know as she doesn't want to feel like a burden | She was the cause for her past lover's death and blames it on herself for causing the accident | Night terrors, she more often than not suffers from nightmares of the accident and has to take medication to get proper sleep |


F E AR S
Losing another loved one : She is absolutely terrified of losing she loves again and would do whatever she could to stop the person from being put into a deadly situation | She's worried of never being accepted by her parents, but part of her is okay with that and would probably move on after a while | She absolutely despises the dark and does whatever she can to always have one form of light in a room | Small and tight places, she is highly claustrophobic and often has panic attacks whenever she is forced into small enclosed places |

S T R E N G T H S
Vocals and Music. Ever since she was a small child she has had an attunement to music and singing, she was never taught by a tutor or had a vocal coach, simply having taught herself from a young age, being able to play the guitar, both acoustic and electric, drums, piano, and of course, vocals | Swimming, seeing as she was always on the swim team in her old schools it isn't surprising that she got on the swim team in Oakville all too easily, often being the best member on the team | Survival training, thanks to her father being in the military, she was all but forced to grow up knowing how to survive any and all situations and how to prevent situations from happening. She is CPR and First Aid certified and she knows how to bandage up any wound that is almost entirely fatal | Shutting down her emotions and feelings, due to her father she grew up learning when she needs to turn off her emotions and feelings to get the job done | American Sign Language, she learned from a young age how to sign and has a basic understanding of it and can help translate for those that are hearing or speech impaired | She is athletic and toned in stature, but is by no means competitive or into sports except for swimming and running |

W E A K N E S S E S
Insecurity: Taylor is surprisingly insecure, albeit no one would ever know since she knows how to put on a brave face and soldier on. She doesn't do well with criticism and more often than not takes it a little too personally | Stagefright, contrary to what people may think, especially since she is in band, she is incredibly scared and nervous of large crowds and usually has to get her mind into a different place for her to not crumble under the pressure | Hopeless romantic, not very shockingly, she is a hopeless romantic and everything about it melts her heart. She adores everything about dating, from cuddling with her partner on the couch to holding hands and watching sappy movies. When she falls for someone, she falls hard and it is usually obvious when she has feelings for someone | Can become easily emotional at times, often being easy to piss off or depressed | Taylor becomes anxious by the simplest of things, especially crowds |

---
---
███████████████████████████████████████████████████████████████████████
---
---