---
Character Profile
---
Introduction
Name:
Nicola Renate Stehr;
Lutrix
Age:
21;
502
Sex:
Female
Location:
Reimes, France
Role:
Demi-goddess
---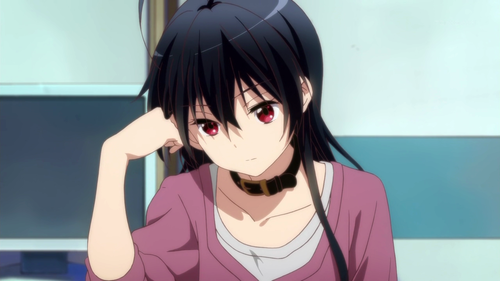 Height:
5'6"
Weight:
130 lb
Physique:
Atlethic
Complexion:
Slightly Tanned
Hair color:
Coal Black
Eye color:
Blood Crimson
Handedness:
Left-handed
Clothing style:
Typical
Makeup:
None
Glasses / Contacts:
None
Scars / Deformities:
None
Tattoos / Piercings:
This
on the inside of her left arm
Chanhes after power activation:
Her eyes turn a golden hue and streaks of yellow highlights appear on her hair. Her outfit also changes to her magi attire.
---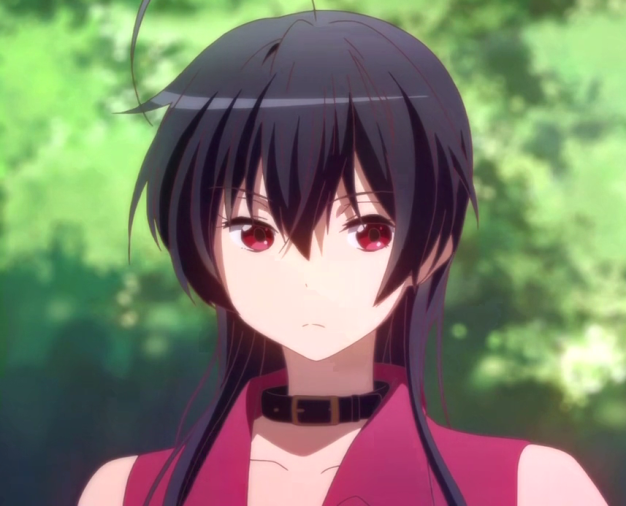 Intelligence level:
Above Average
Mental condition:
Sane
Emotional condition:
Detached
Introvert / Extrovert:
Introvert
Philosophical / Emotional:
Philosophical
Impulsive / Cautious:
Cautious
Driven/Lax:
Driven
Loyal/Disloyal:
Her loyalty is only to herself
Others:
Years of living alone has hardened Lutrix into simply not caring about the world at all. She is often viewed as cold and snobbish, but it is simply because she does not want to be bothered by petty mortal affairs. Centuries of fighting for the sake of her existence has caused her to have a deep mistrust of others, and now that the fighting seems to come to a yield, she takes the time to enjoy a little relaxation. This does not mean that she's not prepared for any and all possibilities. She is still cautious of everything, but at the same time, curious of the changes in the world.
---
Date of birth:
Unknown
Place of birth:
Abyss
Ethnicity:
40% Greek, 30% German, 10% French, 20% Japanese
Language:
German, French, Japanese, English, Greek, Latin
Religion:
Atheist
Relationship status:
Single
Occupation:
Unemployed
Socioeconomic status:
High SES
Sexuality:
Bisexual
Educational Background:
Highly educated by private tutors in Ancient Greece and knowledge attained from experiences over the years. In the first two centuries of her existence, she took the time to study in some of the most prominent academies.
Employment Background:
She doesn't work. Ever.
---
Nickname:
Nicola, Ren
Theme song:
Tether | Chvrches
Hero / Idol:
The Goddess Euna
Likes:
The night; Silence; Books; Tea; Bitter chocolate
Dislikes:
Mortals; Gods; Physical Activity; Shindigs; Obnoxiousness
Strengths:
Smart; Creative; Adaptable; Good-looking; Cunning
Weaknesses:
Distanced; Distrusting; Disloyal; Deceptive; Fickle
Drugs:
Not associated
Alcohol:
Occassionally drinks; Favourite is vodka
Smoking:
Not associated
Ambitions:
To survive whatever the Gods throw her way and to discover a way to become a true Goddess.
Current Living Space:
A modern loft in the city of Reimes.
She designed it herself and built most of the furniture.
---
Weapon:
Arcane
(right) &
Shadowsteel
(left)
Head:
Aviator Goggles
Eyes:
None
Face:
None
Neck:
Hellish Whispers
Torso:
Cursed Infinity
Shoulders:
Silent Worlds
Arms:
None
Hands:
A glove imbued with magical properties on her left hand
Waist:
Hellish Whispers
Legs:
None
Footwear:
Stitched Boots
---
Character's name:
The Goddess Euna
Character's relationship:
Lutrix looks up to her like an older sister. Euna was one of the very few people to give Lutrix respect and not try to kill her.
Character's name:
Pyreus
Character's relationship:
Pyreus is one of Lutrix's main prosecutors. He, like many other gods, believe that the existence of a demi-god is unjust and that Lutrix must be annihilated.
Character's name:
Ysyn
Character's relationship:
Ysyn is another one of Lutrix's prosecutors, but the reasoning behind Ysyn's chase is unknown to Lutrix.
Character's name:
Antoine Suzuru
Character's relationship:
Antoine is a mortal who discovered Lutrix's identity as a secret. He now works as Lutrix's eyes and ears, and all around servant, in exchange for his chance to do research on a demi-god.
Character's name:
Elyette Rivoire
Character's relationship:
Elyette is a swordswoman/fencer who has an unrequited attraction towards Lutrix. She occassionally helps with fending off stray lower level gods.
---
Lutrix was born in the Abyss, a realm ruled over by Gods and Goddesses, and she was expected to be a goddess who held tremendous capabilities. But she turned out to be a demi-god, something regarded as an incomplete god. She was believed to not have completed her travels from the Heavenly Planes into the Abyss, and the gods set out to kill her. Baby Lutrix managed to fend them off for some reason and a Goddess named Euna helped her escape into the human world. Lutrix was left in an orphanage, where a German couple adopted her.
Ever since then, Lutrix took the name Nicola Renate Stehr, especially when she needed to blend in with the mortals. Euna kept watch over her over the years and made sure that she was safe, but the day of Nicola's twenty-first birthday, the stronger Gods made their move. It was also then that Nicola learned of her true identity as a demi-god and began her continuous fight for survival.
Over the years, she developed her skills and true to prediction, became a masterful warrior. But she lacked proper training and weaponry, so on her 100th birthday, Euna gave her her swords as a gift. She mastered them quickly and utilized them as if they were an extension of her arm. On her 120th birthday, Euna disappeared. Lutrix learned that this was because duty called the goddess back to the Abyss, but she held a sinking feeling that it was also because of Euna's involvement with Lutrix. Still, she had no choice. She had to continue fighting and running.
On her 500th birthday, many of the Gods have called off the hunt, though some persistent ones remained. The lessening of her prosecutors began to allow Lutrix to settle in the human world, and she quickly found that she liked it. She took refuge in a town in France and fell in love with the country. She made mortal friends who knew about her identity, and helped her against the few remaining Gods who were still after her.
---
---
Face Claim: Tooka Takanashi
Dialogue Color:

#FC851E



---
©