................................................................
◤
◥
◣
◢
---
---
⋮█⋮
⋮█⋮
⋮█⋮
⋮█⋮
⋮█⋮
⋮█⋮
⋮█⋮
⋮█⋮
⋮█⋮
⋮█⋮
⋮█⋮
⋮█⋮
⋮█⋮
⋮█⋮
⋮█⋮
⋮█⋮
⋮█⋮
⋮█⋮
N A M E
Basile Roux
BAZ-eel roo
N I C K N A M E S
Roux (red)
A G E
20
G E N D E R
Male
S E X U A L I T Y
Heterosexual
N A T I O N A L I T Y
French
L A N G U A G E S
French, English
M A J O R
Double major Sculpture and Ballet
P A R T N E R
Sterling Santos
---
---
H A I R
Ginger
E Y E S
Green
H E I G H T
5'11"
W E I G H T
150lbs
A P P E A R A N C E
Easy smile
Natural ginger
Tan (still prone to burn)
Toned
Stubborn hair
Thin lips
Strong nose and jaw
Long fingers help with sculpting

---
---


⋮█⋮
⋮█⋮
⋮█⋮
⋮█⋮
⋮█⋮
⋮█⋮
⋮█⋮
⋮█⋮
⋮█⋮
⋮█⋮
⋮█⋮
⋮█⋮
⋮█⋮
⋮█⋮
⋮█⋮
⋮█⋮
⋮█⋮
⋮█⋮
⋮█⋮
⋮█⋮
⋮█⋮
⋮█⋮
⋮█⋮


L I K E S
❈Coffee – He can't function without it
❈Avocado ice cream – He gets a lot of weird looks but it's delicious.
❈Baths – It's impossible to go wrong with a soothing, hot bath after a long day in the studio or on stage. He's not afraid to luxuriate; bath-bombs and fragrant oils are a must.
❈Lavender – It smells wonderful and functions as insect repellent. What's not to love?
❈Sunbathing – He works almost embarrassingly hard to keep his skin tan. Not an easy task considering how easily he burns.
❈Poetry - His father always kept the shelves of his study well stocked with books of poetry of varying styles. Whenever his father was away on one of his extended business trips and Basile found himself missing him, he always wound up curled in a nook of the study with a book of poetry nuzzled in his lap.
❈Nature - His mother always kept the gardener on her toes, ordering new arrangements and color schemes seemingly before the old ones could successfully take root. Because of this, the Roux's garden was constantly changing from one lavish theme to another and Basile spent many afternoons exploring the new attractions.
❈Thunder storms - The deep rumblings of thunder and soft pattering of rain are far more successful than any lullaby could hope to be.
D I S L I K E S
❈Horror Films – What? Of course it's not because they legitimately scare him. Don't be absurd.
❈Tea – Its bitter leaf water, how could anyone legitimately enjoy it?
❈Melted cheese – Just the thought makes him queasy.
❈Drawing – Prefers 3D methods of art.
❈Insects – Sacks of blood and interstitial fluid bathing and convulsing around their organs. So nasty.
❈Novels – Definitely more of a movie guy. Although, he doesn't mind being read to.
❈Tuna – The smell makes him gag.
Q U I R K S
❈Movies - Cries incredibly easy. If anyone onscreen is tearing up, so is he.
❈Cigarettes – He smokes a lot.
❈Music - Listens to it on one of the lowest settings.
❈Gum – Spearmint is his favorite, but he tends to smack.

S K I L L S
❈Ballet – Years of training have turned him into a skillful performer.
❈Sculpting – Known for the delicate, almost whimsical appearance of his pieces.
❈Green Thumb – He's not sure where he picked it up from, but there's always at least one plant in his room.
---

P E R S O N A L I T Y
PROACTIVE | STUBBORN | ENTITLED | SUPERFICIAL | SENSITIVE
Basile is a very involved, proactive kind of person who hates being benched. He trusts his own skills above those of others and finds it incredibly difficult to hand off the baton and step out of the spotlight. It is never his intention to make someone feel less of their capabilities, he just truly believes he can do better. If anything was to go wrong he'd blame himself and beat himself up for not doing all he could. Truly, he's a perfectionist to a fault; a bit of a handicap in his work as the beauty of a piece often lies in the imperfections.

Basile is often too prideful and stubborn to back down from an argument even when he knows he's wrong; frequently rubbing people the wrong way with his obstinate nature. He's rather arrogant and occasionally overwhelms himself because he overestimates his own capabilities. He is easily stressed but takes care to never let it bubble to the surface.

Raised in an upper-class environment, Basile has developed into a rather superficial individual, often judging appearance first rather than taking the time to truly get to know the person. This superficiality has a tendency to leak into Basile's relationships and self-perception as well. He has a predisposition for vanity and can get caught up in his own appearance, gaze lingering on his reflection just a moment longer than most.

The limelight is where he feels most comfortable, thriving on the praise and adoration of others. He needs validation in all that he does and will often seek approval before he can allow himself to continue whatever it is he was doing. He takes advantage of social media for this reason, taking pictures or video of unfinished pieces and posting them in hopes of flattering commentary.

Basile is incredibly social, preferring the company of others to that of his own. When alone, his mind wonders into deep self-reflection, spiraling him into bouts of melancholy. Nights seem to be the worst for him. Lying in bed waiting for sleep, he finds it nearly impossible to evade his depressive thoughts. Often he will browse through his social media or practice routines to the point of exhaustion instead of allowing sleep to come naturally. He does not, however, mind solitude when deeply focused his art; creation and repetition serve as a sort of meditation for him. Nonetheless, because of his susceptibility to melancholy he finds it incredibly easy to empathize with others and is often the first to offer sympathy.

He comes off as confident and, in many regards, he is, but he is in no way as 'cool' and collected as he pretends to be. Below his cool façade lies many deeply rooted fears and insecurities, all of which he keeps to himself.
---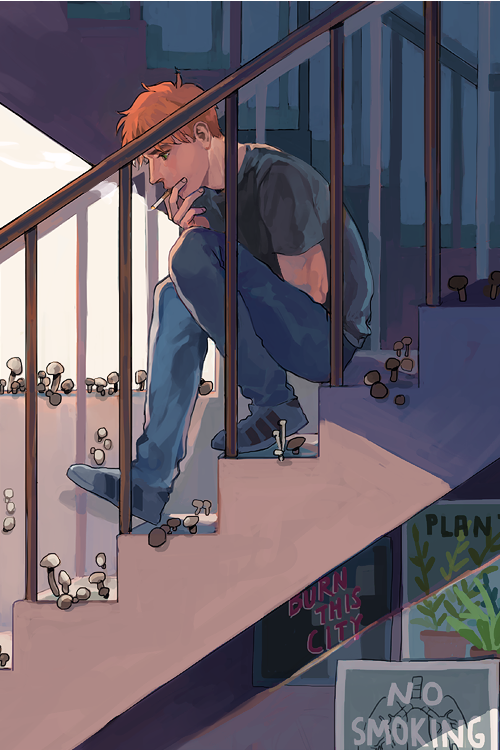 H I S T O R Y
As an only child in a well-off family, Basile was forced into a litany of different extracurriculars and clubs throughout his youth. He complained often and loudly, convinced his parents simply wanted him out of the house. That is, until he was introduced to the French Academie of Ballet. Here he quickly fell in love with the art and grace of ballet.

His progression was slow, but he eventually grew proud of his achievements and always looked forward to preforming in the academy's productions. The cheers and applaud he would receive after a performance almost made up for his parents' rare attendance.

When his mother was home, she would gladly keep up their tradition of biweekly trips to the Louvre. It was here a deep love and appreciation for the arts was instilled. Basile was especially inspired by the ancient and striking sculptures that towered over his young frame. He eventually tried his own hand at sculpting and found it incredibly soothing. His blooming interest was quickly fortified as his achievements were immediately meet with a great deal of support and praise from his mother.

He continued with the Academie, growing stronger and more talented with age, but found is attention now divided. As he evolved as an artist, he began exploring new sculpting mediums and found metal to be the most engaging. In most of his work he would incorporate the movements he had grown so accustomed to through the Academie in humanoid figures. His preferred medium in these pieces was metal not simply due to its stimulating appearance, but also because he felt it was the only one to bring justice to the dance. For even though the sculpture looks delicate with its thin limbs and supple angles, one knows within a glance the true strength of the piece, all thanks to the medium.

When graduation came along and the opportunity to choose a university, ENSBA was an obvious first choice. His major, unfortunately was not nearly as easy to decide. He was equally torn between ballet and sculpture before ultimately deciding to forgo the decision altogether and select a double major. Basile soon found the double major was not as easy as he had hoped. His energy and focus became so divided between his social life, ballet, and sculpting it's a wonder he hasn't yet collapsed from exhaustion.