♦

Sylvia Kaye Wiles

♦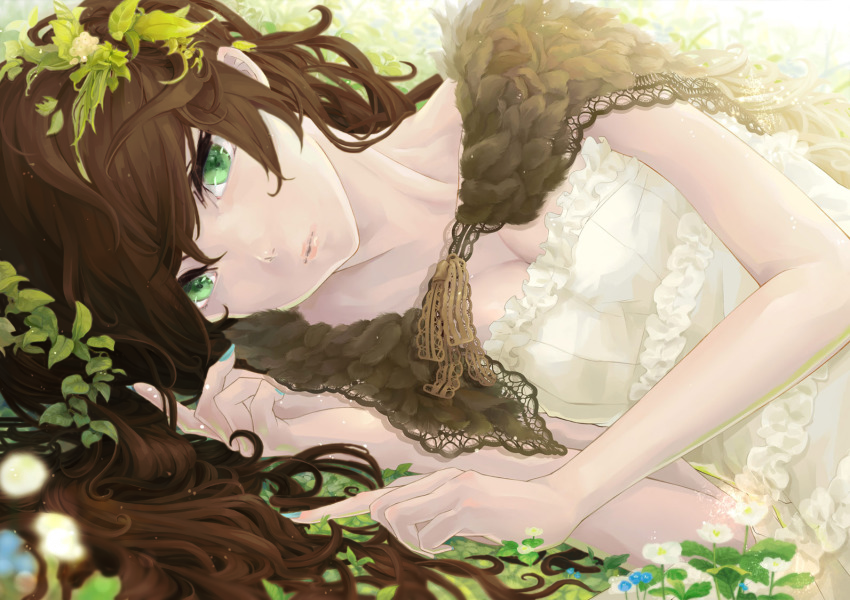 Theme:
Tsuki no Ie - Outlaw Star
Image Song:
Leaves From The Vine
♦
GENERAL INFORMATION
♦
Role:
The Town's Angel
Gender:
Female
Nickname(s):
Sylv, Kaye
Age:
19
Race:
Human
♦
APPEARANCE
♦
Height:
5'1
Weight:
110
Build:
She is on the curvier side, making her have an hour-glass figure.
Hair Color:
Dark Brown
Eye Color:
Green
Scars/Tattoos/Piercings:
She has a scar on the back of her neck, down her back, and across her stomach from when her mother tried to kill her.
Description:
Sylvia is 5'1 weighing around 110 pounds. She is on the curvier side, making her have an hour-glass figure. Her hair stops right at the small of her back; she has it down most of the time and pins it back. Some say she has the body of her mother and the face of her father. She has a scar on the back of her neck, down her back, and across her stomach from when her mother tried to kill her.
Preferred Clothing:
Sylvia has always been the one to make her own clothing. She mostly wears skirts but, anything that is cute and simple she will wear. Most of her clothing though is on the dull color scale. Beige, green, and red are the majority. She has one fancy dress that she adores, which is a forest green ball gown her mother wore when she had first met her father.
♦
MENTALITY
♦
Oddities:
Overly honest person, always telling the truth. She will only do this in secret. Sylvia only drinks clear or red drinks. She always bites the insides of her lips when she is nervous or thinking. When she is really excited she does this little jump and wiggles her hips. She gets easily distracted by cute animals or breathtaking landscapes.
Skills:
Listening, baking, sewing, singing, writing
Likes:
The smell of old books, libraries, puppies, kittens, sloths, fresh air, the country side, bonfires, fireflies, thunderstorms, playing in thunderstorms, food.
Dislikes:
Violence, lightening, rude people, clowns, tornadoes, snakes.
Hobbies:
Reading, writing, helping people.
Phobia(s):
Atelophobia - Fear of imperfection.
Atychiphobia - Fear of failure.
Coulrophobia - Fear of clowns.
Ecophobia - Fear of the home.
Lilapsophobia - Fear of tornadoes.
Ophidiophobia - Fear of snakes.
Personality:
Sylvia has a quiet personality. She will keep to herself most of the time, only speaking here and there. But don't let it fool you, she loves talking and being friendly. Sylvia tries hard not to show her emotions in front of anybody, it makes her feel like she is bothering people and looking for attention. She is not one to be easily angered, but once she is, she will properly tell you in secret how she feels.
All in all, she is a sweet, loving, and caring girl. She would take a bullet for those who she keeps close. She hates violence, living with it up until she was 13, it is something she tries hard to stay away from. She always tries to help, even when it might be impossible for her to. Some people swear she is something of an angel, but she would think otherwise.
♦
COMBAT
♦
Weapon:
Even though she rather hill with kindness, she carried a pocket knife in her skirt's pockets everywhere she goes.
Fighting Style:
Mainly defensive style. She hates violence, but she does know how to defend herself to get away. She will scream while pushing someone back, hit in areas that will mostly affect them, and use the small pocket knife if ever the situation get to that point.
Abilities:
She sings sweetly, usually putting her kitten or baby to sleep. Since money was limited and she started from a young age, she can sew pretty well, if ever should she want to, she could sew a store full of clothes. Her advice and listening skills tend to draw depress people into a more happier place.
♦
BACKGROUND
♦
Relationship Status:
Single
Family:
Father-Alen Wiles
Mother-Dalila Henderville
Adoptive Father- Henry Granger
Adoptive Mother- Molly Granger
Personal History:
On a very hot May night Sylvia was conceived Alen Wiles and Dalila Henderville. Both were the leader, like king and queen, in their pack. Everything seemed to fit just right. It was a shock when they found out that the popular Alen and Dalila would mess up the perfect life they seemed to have. On that night, Sylvia was seemed to be fault of the downfall of her parent's social life. Why didn't they get an abortion? No one ever knew.
On January 24 Sylvia arrived healthy and happy, not really knowing that life wouldn't be easy. Three years later her father would leave and her mother would start to drink heavily, and the beatings began. Sylvia would go to school with bruises and teachers would be worried, but she would try her best to say it was from playing carelessly outside or that she fell. It would only get worse from there, money was getting scarce and she would have to rummage through old clothes just so she could have something to wear. Going from preteen to teenager would be the hay that broke the camel's back. Sylvia would receive her curves and other lovely things that her mother was shockingly jealous of. And on August 14th she would welcome the scars that would show the hardships of a broken family.
Somehow, maybe someone was looking after her; a stranger would walk by her house and see her lying on the ground fighting to stay alive. She was taken home by the man and lived with him until she was eighteen. She loves her adoptive parents more than anything in the world. On mother's day she would visit her biological mom, even if it was at a bar room.
♦
OTHER:
♦
She works at a bakery as a cashier, making her living like that. She lives in the apartment above and loves it. The day after she moved out, she ran into her father, who somehow turned out to be a wealthy man. After telling him the life she had with her biological mother, he tries to make it up to her by having tea with her every Saturday afternoon.