A private school located on the island got a devastating blow after massive tsunami got them, leaving a certain amount of students fight for their survival.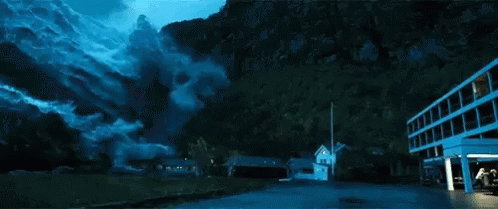 On the last week before final exams the last students were anxious and excited at the same time. The test they were required to take to actually get to come back in the autumn and continue their studies in the majors they had chosen for themselves. It always happened right before grabbing their belongings, that were paitently waiting beside their feet while writing down all the necessary knowledge that had been asked from them, but as soon as it was done - young women and men of the future hurried over to their ship and left to enjoy their summer. Before all that could happen, there was this annual party they took part of as if it was the last peakon to leave behind, with all of their dramas, struggles and social hierarchies that has been set since the beginning of Farali University, which was named after the very island itself.

Farali Island used to be a spot of one of the most active volcanos centuries ago, but after it had finally erupted, the volcanic soil was rich and the Islanders came back, creating new life for themselves, becoming quite rich in the process. Located on the edge of Bermuda, Florida being closest point for them. The volcano left behind many unique caves and hallways in the jungle that now has overtaken most of the location, apart of the places, which has asphalt and human-built buildings, beside the buildings that belonged under University, including the dorms - there were a small town with shops and even with shopping center on the other side of the island. As Farali had always been sunny, hot and with occasional rainy-seasons, it was a pleasant place to be at. Famous for their magical sunsets and famous for their private University, strange things started happening couple of days after the other students had left with their ship. The radio-signal to connect with mainland was silent, people started to get worried about their families and friends. Uneasiness settled in, as the workers left, yet never came back although it was promised so.

They had no idea of what had happened with the rest of the world, and thus with their intuitions alarming deep within, the last students went on with their party that evening. It had happened, for everyone else - the Apocalypse, that massive storm swallowing everything up on its path, and it was swallowing up Farali just as much. The dark, several stories high wave swallowed most of the lower lands of this island, and everything else on its path. It was the tsunami, last wave hitting the last spot on Earth - Farali.

This storm opened something up within the island itself, and possibly as the last humans left on the Earth, their main objective was to get out of this place and go home - to a place, which wasn't the same anymore.
xxx
xxx
xxx
ADRIAN LEONARDO PARK
| Played by
SofiUnnie
|
Seonghwa
/ATEEZ
Criminal Justice
Twin brother to Arianna E. ParkBest friend to Waylon Thomas
A very curious and fit young man, who happens to be one of the top students in his department.
Tends to be quiet and shy, but around the people he knows - he is all smiles.
Bullied by Genevive and her gang on daily basis.
Has been in a secret relationship with Robert Cooper for about a year and is being manipulated and controlled by the other man.
Sometimes can be found playing ION aka In Odin's Name with Waylon.
xxx
ARIANNA ENSLEY PARK
| Played by
SleepingInGarden
|
Lee Joo Young
Enviormental Science
Twin sister to Adrian L. Park.Best friend to Bryanna Thomas.
Small, but mighty.
Residential diminish, who dislikes any resing of the male species aside from her brother and his best friend, Waylon.
A lot of the guys have placed bets on who can 'get' her first, but she always outsmarts them all.
xxx
xxx
BASIL CHOI
Played by
SofiUnnie
|
Hoshi
/SEVENTEEN
Public Relations
Man of Knowledge.
The class and university' clown, literally and in any sense.
He is also rumored to be a huge scaredy-cat, although Basil tells otherwise.
Has a lot of dirt and secrets about every single student in the school, and many go to him to get some information out.
Also a social butterfly and gets along with pretty much everyone, even Genevive seems to tolerate him... kinda.
xxx
xxx
xxx
WAYLON THOMAS
| Played by
Beccaberry
|
Blake Steven
Forensic Science
Twin brother to Bryanna Thomas.Best friend to Adrian L. Park.Future husband of Hollan Nour.
Generally a quiet man, who tries his best to not to stand out, because he knows that standing out has hurt his sister, Bryanna in the past.
One of the top students of his major.
Spends a lot of his free time playing his favorate online game, ION aka In Odin's Name, where he is able to talk to his online crush.
xxx
xxx
xxx
BRYANNA THOMAS
| Played by
Beccaberry
|
Emma Dumont
Psychology
Twin sister to Waylon Thomas.Best friend to Arianna E. Park.
Top student in Psychology department.
Used to try hard to live up on her parents expectations, but has given up and has truly become someone who loves herself.
Likes only four people: her twin brother, Adrian, Ari and Basil.
Uses random psychology tricks to get to people for them either not to talk to her or tell her their secrets. Sometimes uses these tricks to just mess with people for fun.
xxx
xxx
HOLLAND NOUR
| Played by
SleepingInGarden
|
Laurence Coke
Criminology
Resident playboy.Boyfriend to Sarah Clark.
A well known name in all of the circles around the University, making him one of the most popular people, well known for both being at the top of the food chain as a football player as well as his reputation of being a cold-hearted player.
Cheats on his girlfriend, Sarah, with Serena and Chris, plus some occasional one night stands.
Secretly plays ION aka In Odin's Name.
These characters will eventually die.
xxx
xxx
SERENA LAMBERTI
| The Italian |
Danna Paola
Journalism
Muscle in Genevive' gang.Fiance to some Italian Lord, who lives in Europe.
One of the most popular girls around.
Always has the latest fashion items, loves mostly Gucci and LV.
Loathes Genevive with all of her guts, but plays the game along and has been planning to get rid of her in one way or the other.
Has been giving dirt and information on Genevive to Sarah Clark.
xxx
xxx
CHRISTINA RAMOS
| The Party Girl |
Madison Beer
Computer Science
Resident drug-dealer.
Chis is generally one of those, that doesn't belong to any gang or clique, often staying on her own or just going from one to another.
If someone needs drugs, booze or anything regarding any party favors, she is the one that people turn to. University knows some of it, but due to her parents investing the University, they let her be.
She doesn't hesitate to sleep around, and doesn't care if someone is in relationship or not.
xxx
xxx
xxx
ROBERT 'BOBBY' COOPER
| The Jock |
Charles Melton
Business
Secret boyfriend to Adrian L. Park.A friend of Holland Nour.
Another one of the most popular guys around here.
He is closeted homosexual and has found himself taking liking to Adrian Park, with whom they have been dating quite a while.
He has been using Adrian for his own sexual needs and some study materials, home work etc and bragging about this to his friends.
Bullies Adrian in front of others, and cheats on him a lot. Also has something going on with Genevive and has taken liking to sleep with the local girls and boys alike.
xxx
xxx
xxx
SARAH CLARK
| Just another girl. |
Sarah Jeffery
Music Management
Girlfriend to Holland Nour.Resident dramaqueen.
In opposing gang of Genevive, they are often seen as rivals, whom Sarah has no liking towards what so ever.
She is extremely fake and does everything opposite of Genevive, so people would prefer and 'like' her more than her rival. Takes a lot of enjoyement pissing her rival off as much as possible.
Selena has been feeding her information about the rival gang and their leader.
xxx
xxx
xxx
xxx
GENEVIVE FELICITY GRUGER
| The resident bully. |
IU
Journalism
Resident bully.Ex-girlfriend to Holland Nour.
Font:
#B43104
Bullies people openly and takes great enjoyment in that.
Cold, manipulative and goes for what she wants or whom she wants.
Has her own agenda, that she keeps as a secret, which also drives her. It has something to do with her mother.
Is scared of dark and small spaces due to childhood trauma.
Used to be in relationship with Holland Nour, but eventually played with him and broke his heart. Has a thing going on with Bobby, whom she has taking liking to.
Taking place in...
5 posts here • Page 1 of 1
5 posts here • Page 1 of 1
Arcs are bundles of posts that you can organize on your own. They're useful for telling a story that might span long periods of time or space.
There are no arcs in this roleplay.
There are no quests in this roleplay.
Here's the current leaderboard.
There are no groups in this roleplay!
Welcome home, Promethean. Here, you can manage your universe.
Arcs are bundles of posts from any location, allowing you to easily capture sub-plots which might be spread out across multiple locations.
You can create Quests with various rewards, encouraging your players to engage with specific plot lines.
Settings are the backdrop for the characters in your universe, giving meaning and context to their existence. By creating a number of well-written locations, you can organize your universe into areas and regions.
Navigation
While not required, locations can be organized onto a map. More information soon!
There are no groups in this roleplay!
By creating Collectibles, you can reward your players with unique items that accentuate their character sheets.
Once an Item has been created, it can be spawned in the IC using /spawn Item Name (case-sensitive, as usual) — this can be followed with /take Item Name to retrieve the item into the current character's inventory.
Give your Universe life by adding a Mob, which are auto-replenishing NPCs your players can interact with. Useful for some quick hack-and-slash fun!
Mobs can be automated spawns, like rats and bats, or full-on NPCs complete with conversation menus. Use them to enhance your player experience!
Current Mobs
No mobs have been created yet.
Locations where Mobs and Items might appear.
You can schedule events for your players to create notifications and schedule times for everyone to plan around.
Add and remove other people from your Universe.
The Forge
Use your INK to craft new artifacts in Offworlders. Once created, Items cannot be changed, but they can be bought and sold in the marketplace.
Notable Items
No items have been created yet!
The Market
Buy, sell, and even craft your own items in this universe.
Market Data

Market conditions are unknown. Use caution when trading.

Quick Buy (Items Most Recently Listed for Sale)
None
Discussions
Topics

Replies
Views

Last post
Most recent OOC posts in Offworlders
There have been no posts in the OOC topic for this roleplay!