"You got a problem with me? I'm just telling you the truth, it's not my problem if you can't handle it."
---
---
| Name |
Kay Wrong
| Age |
17 years old
| Gender |
Female
| Grade |
11th
| Sexuality |
Heterosexual
| Love Interest |
TBA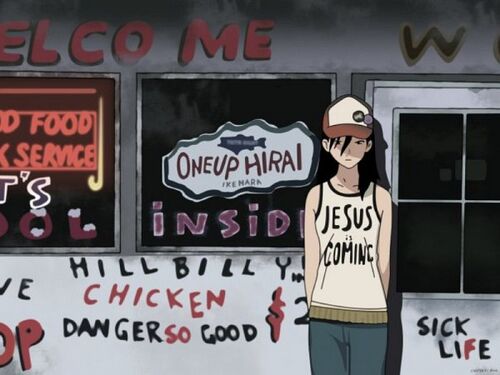 | Sports |
> Swimming
> Track and Field
> Basketball
| Clubs |
> Music Club
> Kendo Club
> Photography Club
> Art Club
| Schedule |
Schedule 3:
07:00-07:05-Homeroom
07:10-08:15-History
08:20-09:35-Mathmatics
09:40-10:55-Elective Class
11:00-12:15-English/Language Class
12:20-13:35 Gym
13:40-14:55-Lunch/Free Period
14:55-Dismissal
| Personality |
Kay is what you would call hard to get along with if your overly sensitive. She is no nonsence and will never lie, giving you the cold, brutal, hard facts whether it will hurt you or not doesn't really bother her.
If you don't want to know the truthful answer than don't ask.
She is very opinionated about most facts and has no problem speaking her mind about her views on anything and everything, even if it can gain her enemies in the process.
She loves being creative and being active as they are both way for her to get let off some energy. Kay loves to express herself though her art and music, finding it an easy why to get out all her pent up frustration on how "Unfair and bogus" the world is. She does all type of sport to work off her aggression towards idiots in the world who doesnt care about anyone but themselves and finds swimming for 3 hours and improving her lung capacity is much more productive than trying to murder one of the worlds many, many selfish human beings.
Kay is a feminist and an eco-fighter and does try often to get her points across to everyone, never really taking into account that there are other things in life than equality and a green planet. She can be quite hypocritical though she doesnt often realise it, as well as being stubborn and defensive it will take a lot for one to be able to get close to her heart.
| Bio |
Born into a small family she was the older of the two children, with her kid sister being 5 years younger than her and her exact opposite. As Kay grew up to be a strong fighter for justice and judged all who did not feel the same way, her younger sister grew girly and popular, always wearing frilly clothing and hair extension. obviously, the two girls hated each other with a passion.
When their mother died, their father had enough of their constant bickering and sent them both to different school. He also brought Kay her own flat so that she and her sister was have as little contact as possible and their father would be able to mourn in peace.