POPPY KRASS

"there are worse things
than being alone
but it often takes
decades to realize this
and most often when you do
it's too late
and there's nothing worse
than too late"
― Charles Bukowski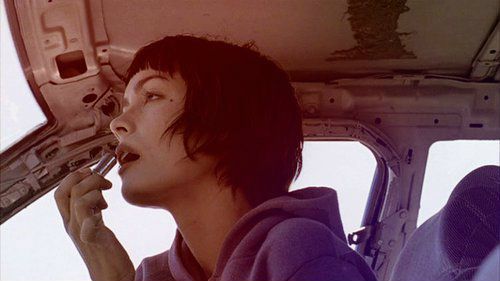 The Basics



Full Name:
Papaver Benedict Krass

Age:
24




Favorites



Food:
She's a vegetarian (was a vegan for a while before it became too costly) but she's a sucker for southern food. She's got a special love for Jambalaya and she also really loves Indian food. She feels fancy whenever she gets to use chop sticks.

Drink:
Vodka, please and thank you. She can take it straight without batting an eye by now. Of course, that's not school appropriate, so she substitutes with lemonade.

Music:
She listens to a lot of music from a time much before her own. The Smiths, Elvis, The Beatles, Wayne Newton, and The Dead Milkmen seem to be most prevalent, but her range is pretty eclectic.




Personality



It's hard to pin a description to Poppy because she's notoriously volatile, entirely too hard to predict - and that's exactly how she likes it. It's always interesting, whether good or bad, when you're around Poppy. She simply won't accept anything less. It's her goal in life to have died knowing she'd lived the most extraordinarily bizarre and colorful life she could. Yet she achieves this through subtlety - loud and proud is simply not her style. She may be an oddity but she rarely smacks you outside the face with it, all small smiles and hard-to-notice eye squints that convey what she's thinking - it's often that the only way you can get a hint at what's going on in her brain is through these tiny signals. She's insanely intelligent but in a way that's somehow gotten kind of out of hand, and sometimes seems impractical. She grows bored incredibly easy and therefore manipulates either herself or her environment to spice things up, though she is very careful to not fuck with other people's brains. She used to do it a lot as a kid - manipulate people, that is (she was very good at it, too) - but she realized with maturity that it was neither morally right nor enjoyable. She sees beauty in rotted things and twisted people and grows terribly uninterested in those who are content with clinging to manners and normative behaviors. She assumes that if you're okay with being dull, you're probably very, very dumb. The only time she's every critical of another person is if they've managed to let themselves stagnate into a bland, lifeless husk of a person but she otherwise regards mostly everyone - whether they dislike her or not - with a certain fondness. Furthermore, she tires of relationships if they stay the same for too long, the type of woman to simply drop a person after a long and intense connection, almost acting like nothing had ever happened at all. She's broken a lot of hearts in her lifetime, but she's not sadistic, simply flakey.

It's hard to say if this is worse or better, but she's also extremely self aware of how messed up she is; she's the first to tell you she's full of shit, but she accepts herself for who she is. She presents herself honestly and unabashedly - you'll find no tearing seam in her composure, no gap in her self assurance. Somehow through all of this, she can be very, very charming. If she says something to you, she definitely means it, and is actually pretty generous with her compliments. She's a good conversationalist as well as a phenomenal story teller- she's got a certain magic about the way she orates, perhaps because she's completely unconcerned with seeming strange. She's got this husky yet smooth voice that's come from all the years of smoking that enhance the things she says. She also sings quite a bit, but mostly only to herself. She rarely lies, as she has no interest in spinning out falsities when she can already stir things up with a pre-existing truth, though it's not rare that she'll hold back a comment. Some might argue this is a way of lying, but she'd tell you that that's a stupid thing to argue about.

She's very, as she would call it, liberated. This entails the promotion of substance abuse, promiscuity, and indulgences, believing in an end of slut shaming and judging other people for having human urges. Naturally, she can't do this very strongly towards her students or else she'd get fired lickity split, but she would if she could... and she may or may not make passing jokes here or there. She smokes cigarettes like a chimney whenever she's out of class. She proves to be a very unconventional teacher, the type to stop class out of nowhere and demand that everyone speak in gibberish for the rest of the period or demand that a giant duck duck goose game be played for a grade, just to prove a point. She's got a passion for science, but she finds a way to intermingle philosophy into psychics. In her mind, that's really the only right way there is to teach.

Similarites to Their Godly Parent:
Poppy's an insomniac, but has the power to put other people to sleep. How ironic. She also has an incredibly high tolerance to pain and can see pretty well in the dark (talk about some kinky sex). While some of her dreams have occasionally come true, she doesn't sleep enough for it to be useful and the premonitions have always been very, very, very vague.




History



First Memory:
Poppy's first memory involved swinging too high on the playground and then leaping off under the pretense of flying, as children often do. She landed wrong and her leg snapped, breaking, but she couldn't really feel it and went to hop back on the swing due to her godly inherited pain tolerance. She only really realized something was wrong when her mother started screaming and she was swooped away to the hospital. What she pulls mostly from this is that having a cast and getting it signed by all your friends is really quite fun.

Relationship with Mortal Parent:
Certainly not a good one. Her mom was a stripper, which isn't so bad. All the other kids at school were complete assholes about the whole thing, and they'd taunt her by stuffing money in her clothes or telling her what her mom's tits looked like. Naturally, Poppy didn't just stand for that kind of stuff, as she was always very confident, even as a kid, and would spit in people's faces or glue their books together. This got her in a lot of trouble in school, which only meant that her mom nagged at her (she was always insistent of Poppy living a "better life" than she had), and their relationship became a splintered and strained one. Poppy didn't see her mother's life as a series of mistakes leading to one big failure, but rather a flavorful existence that beat the other adult's easily. She'd never seen another with a smile as bright as her mom's, nor anyone with a laugh so true. She just wished that her mom could understand this mentality for her daughter as well. When Poppy got into drugs and the such (only very soft ones, but it all meant the same to her mom who'd been in AA and clean for years) she was kicked out of her house for a period of time. Of course, she was let back in because he mother still loved her. She had only done it to "help her out" and give her consequences for her actions, but Poppy still kind of holds a grudge over that.

During that time when she was couch hopping from friend's place to friend's place in her youth, she did quite a bit of partying. Somewhere along the lines, she was molested by one of her friend's older brothers. She came home sobbing like a child after years upon years of acting like an adult. Her mom brought her inside and made her cookies, but didn't ask a word. Poppy has a feeling her mom knows what happened and that's why she never inquired, but still isn't sure. Not a single soul (spare the possibility of Hypnos having been watching from afar) know about this encounter and she doubts anyone will ever find out because she certainly doesn't plan on opening up and pouring out her heart any time soon. If she were to be brutally honest, this is what caused her to become as back-off-ish as she is when it comes to relationships.

Her mom told her that night about her heritage and she went off to Olympus happily. It was a rebirth of sorts for her and she marveled at the adventure. She went off for a couple years afterwards to explore the world and went to Iran, France, Ethiopia, Cuba, and Russia before she returned back to Olympus and asked to teach. And so she did. She really loves her job, but doubts she'll stay very long. Poppy Krass doesn't hold still for anything.