Truly great madness cannot be achieved without significant intelligence. -Henrik Tikkanen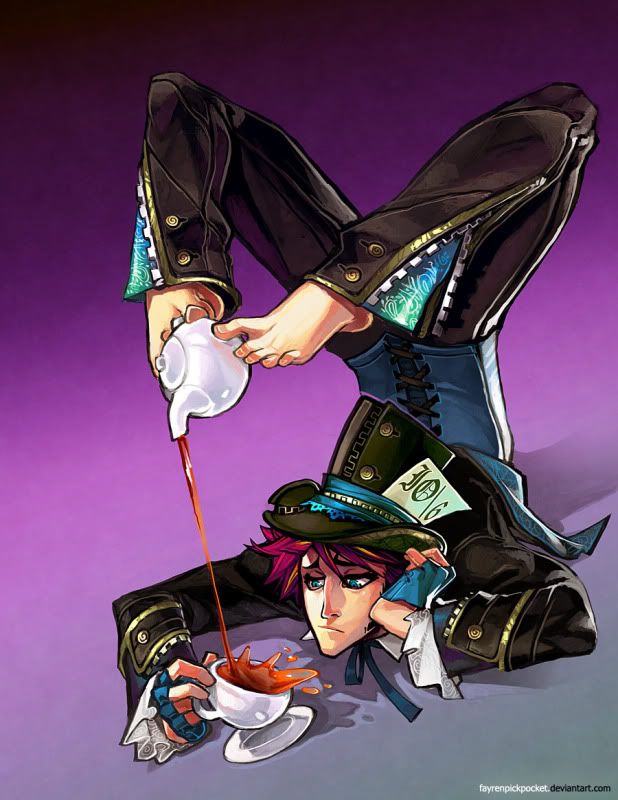 Full Name
: Andrew Christian O'Donnell
Role:
The Mad Hatter
Apparent Age:
19
Actual Age:
Honestly can't remember
Gender
: Male
Personality
: The Mad Hatter has always been viewed as a bit "eccentric." Even before Wonderland, he was known to be a bit off his rocker. Most of his movements would seem very animated like being able to twist his head around 360 degrees. He's a joker and loves to ask riddles that he may not even know the answer to. He's lively and full of energy. He can get a bit snobby when he feels that what he said is something a perfectly sane person would get, but the other is just not using their brain to figure out what he said.
Hair Colour
: Purple-ish red
Eye Colour
: turquois-ish blue
Quirks
:
● The only person he really makes sense to is his contractor.
● He feels that no time is a bad time to stop for tea. He can pull his hot teapot, cup, and saucer out of thin air.
● He's an animated fellow.
Appearance Description
:
The man stands about 5'9" with a tall and gangly build.
Quotes
:
"One lump or two?"
Likes
:
● Tea
● Unbirthdays
● Hats
● Celebrating
● Alice
Dislikes
:
● Fighting
● Rude guests
● People not understanding him when he made himself perfectly clear the first time.
● The Queen of Hearts (she frightens him)
● People interrupting his tea time
Powers
: The Mad Hatter has the power of distorting other chains' reality. Sometimes, the chains see peaceful images and feelings, which might lead them into a disastrous situation, such as they feel tired, forgetting about the battle and they see a shady tree to lie under, but really they end up falling off a cliff while trying to reach the desired image. But, most of the time, there aren't any cliffs around to lead them over, so instead, the Hatter makes them visualize horrifying images, such as melting faces and trees that turn into giant snakes. He can also have the chain hear voices urging them to kill themselves or exert themselves too much to hurt their contractor. The only thing is that the Mad Hatter is really a very peaceful chain, and will only use his powers if him and his contractor are in mortal danger.
Contractor:
None. He's still searching for Alice.
Weapons/ Things They Are Carrying:
Nothing, unless you count his tea cup and tea pot.
Back Story:
: To be updated