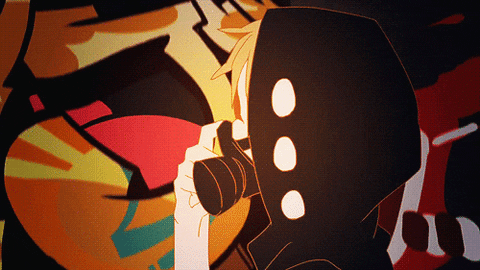 ---
---
"I do not suffer from insanity, I enjoy every minute of it."
---
---

Name:
Kirio Gensou

Nickname
Kiri || Gen


Age:
17


Alignment:
Evil || He wants to have fun, and by that means, he wants to win, even if it involves some blood spill.


Sexual Orientation:
Demisexual || Kirio doesn't experience sexual attraction for someone unless he forms an emotional bond with them which is incredibly rare


Character Type:
Hybrid - Kitsune || Literally translates to fox demon, they are well known to control illusions and fire, thus they earn the nicknames of "tricksters" or "Jokers" of the demon world. These traits explain his mischievous personality well.

Abilities:
- Acting/manipulation skills - Being a kitsune, he is a natural trickster, always pulling pranks by acting, and fooling people with his asserting words. This may be influenced by his illusion ability or his very origin. With this ability he can lower the sanity and maybe even will stats.
- TBA
- Intelligent || Fast to Learn, and uses this intelligence in battle by find the phobias of his target. Used more to buff his magic capabilities, because the more he knows the more effective he can be.
- Illusions || He can create, shape and manipulate illusions, causing targets to see, hear, touch, smell and/or taste things which do not actually exist or cause them to perceive things differently from what they truly are. He can create complex and detailed worlds, and alter the way they or the target are perceived. What he can do is create mazes, or show the illusion of continuous death. The more information he has on the subject, the better. Mana varies depending on the type of illusion he creates, the larger, the more concrete the more he needs.


---
---
""I could never find two people who are perfectly equal: one will always be more valuable than the other and many people, as a matter of fact, simply have no value."
---
---

personality: Mischievous || Clever || Coy || Twisted || Child-like || Bi-Polar || Seemingly Ignorant || Secretive || Cool-headed

Brief History:
Kirio only remembered being alienated behind closed walls, he knew little of his family- the only window to reality and life was a tiny hole in the wall, otherwise everything was dark. Suddenly a women of unknown origin entered the room- seemingly familiar face, and he only assumed that she was the reason of his entrapment. She constantly did the same things, asked these simple questions, "Are you ready yet?" or "Can you do it" her face cold as ice.. Sometimes, on rare events, she'll hit him, smiling kindly, saying loving things. This messed his idea of love.. and due to alienation where all he did was sit, and stare into the darkness, his mind full and empty of thoughts. This eventually resulted him having a mixed mentality, very child like, but at the same time oddly intelligent and twisted. The women seemed pleased with this, and this resulted in more "love", eventually Kirio... began to love her. He grew used to the abuse, and expected her everyday- his love growing...

One day, he blacked out, and when he woke up he was surrounded in blood and near him was the women- smiling manically during her death. Slightly disappointed due to the loneliness, he sat there, not sure what to do, where to go, eventually other people entered the room.. they seemed relieved, they said something about being his family. He wasnt sure how to feel, he felt.. nothing, he thought nothing, but eventually he came to a smart conclusion, "If I am supposed to love them, I will show them, just like the women showed me." Days later, they all died. He doesnt remember who did it, but he was surprisingly happy. Now introduced to the world, he grew quick to adapt among the humans, realizing the discrimination and easily hid- causing some trouble here and there.
He learned to "love" in his own way, and despite his intellect, he never fixed his twisted ways of thinking.
After a while, he grew bored of isolation, wanting to be surrounded by others. He learned of the highschool and entered, easily merging with the humans. On a strange day, maybe fate, he felt drawn to the horror club.. he felt like he could show a bit of horror and something told him it would be fun~
He'll have the best fun in his life.

Dark Secret:

He killed his own loved ones and believed thats the way to cherish them.
He breaks many of his favorite people "toys" with illusions, so they will love him forever.
Twisted Mentality
Child like mentality despite his intelligence
---
---
"He loved the people just as much as he feared and detested persons."
---
---

HP/HP: 85/85
Due to his alienation as a child, he didn't get the usual nourishment one normally is required to get.

MP/MP: 90/90
Being a kitsune, he has a rather well developed mana points, he is careful with his spending.

Strength: 4 (+10) || 14
He was never the strongest, and he wouldnt have been if he was a human, but being a hybrid helps him genetically adding strength, and with his sudden outburst, he often gains hidden strength.

Defense: 9 (+3) || 12
He was never one to dodge pain, especially as a child, so he isnt the best at it today either- he learns quickly however.

Magic: 15
Results from his kitsune blood, and his intellect, he learned how to use his illusions rather well.

M. Defense: 9
Again never the one to dodge from pain when he was younger, including magic, he somehow enjoys it.

Agility: 15 (+3) || 18
Being rather lanky and being part demon, he is genetically fast, but also very agile. He often sneaks up on people to scare them for their pleasing reaction.

Evasion: 13 (+3) || 16
Loving to anger people, he sees a great way to do that is constantly dodging someones attempt to hit him close up. Its delicious to watch frustration.

Will: 7
The only force keeping him alive mainly, is the desire for fun! Plus he hates to lose the game.

Sanity: 6 (+10) || 16
Simply put, he was never sane as a child, and thats how he grew up.