---
---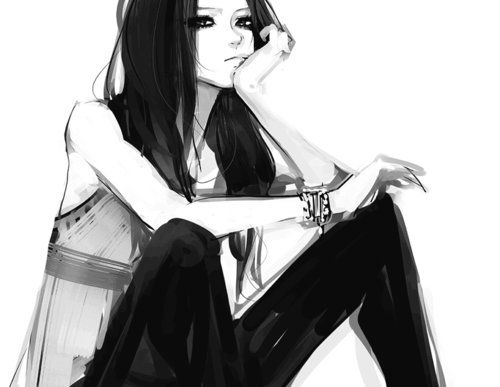 ---
---
---
---
"I'm not that much of a conversationalist."
---
---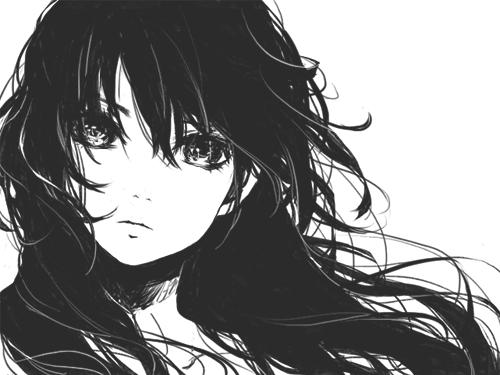 ╰☆╮Name╰☆╮
"My name is Zoey... don't ask what else cause I don't know.... nor do I really give a damn."
╰☆╮Age╰☆╮
"I'm seventeen... hooray."
╰☆╮Handler or Cyborg?╰☆╮
"Guess what... I'm a cyborg... yeah no shit thats fucked up."
╰☆╮Gender╰☆╮
"I have boobs... sort of... does it matter? Yeah female.... what made you guess?"
╰☆╮Sexuality╰☆╮
"Does this question really have a point.... I don't really think about sex in general and you know the whole being a killing machine puts a hell of a monkey wrench in dinner conversation. Straight I guess, but honestly I don't care.
---
---
╰☆╮Physical Appearance╰☆╮
"I don't know around 5'5 and really skinny, my hairs long and black... and usually messy cause I really don't care what I look like when I'm putting a bullet between someone's eyes from long distances."
╰☆╮Distinct Markings╰☆╮
"People tell me I look pissed or about to break down and cry all the time... does that count? I have scars all over my body, my hands, my back, cuts mostly, most I don't know where they came from so don't expect me to explain every single one that's just tedious and redundant. What do you care what I look like anyway?
╰☆╮Weapons or Special Abilities╰☆╮
"I like guns... guns are my friend... especially sniper rifles. Would you like to find out why?"
╰☆╮Personality╰☆╮
♒Distant♒Quiet♒Sarcastic♒Organized♒Precise♒
"I think allot of people think I'm depressed, full of self loathing and spite for the world that made me what I am... well you're wrong. I'm really just a bitch that doesn't give a damn. Why should I, if you had no memory of your life before becoming part robot, would you worry too much about it? I don't know maybe you would... I guess I should add lazy to that list too cause I really don't have time to go searching through my past... they keep me kind of busy you know.. killing and stuff."
---
---
╰☆╮Likes╰☆╮
▲
Green tea
▲
Cats
▲
Reading
▲
Origami
▲
Sniper rifles
╰☆╮Dislikes╰☆╮
▼
Missing the first shot.
▼
Mud
▼
Disorganization
▼
Overly obnoxious people.
▼
Mushrooms
╰☆╮Fears╰☆╮
☠
Spiders
☠
Germs
☠
Regaining her memories.
---
---
╰☆╮Biography╰☆╮
"Basically I don't remember much about my past, I was taken in by the program at the age of seven. I was found lying in an alley under a crude shelter made out of a soiled mattress. I was on the verge of starving to death, could barely, move or talk and was suffering from severe head trauma. My handler says my file states they suspected some sort of abuse by a caregiver and then abandonment. They were surprised I was able to survive as long as I did with the huge gash on my head. I was taken to the hospital, put into a drug induced coma and went through several surgeries to repair the damage to my skull and due to budget reasons I was turned over to the government and ultimately the cybernetics program. And thats my life in a nutshell...."
---
---
╰☆╮Crushes?╰☆╮
"Don't know... don't care really."
╰☆╮Friends?╰☆╮
"I talk to people sometimes, but I don't think I can really consider anyone my friends, and I don't think anyone really considers me their friend either. I'm here I do my job and I keep to myself pretty much.
╰☆╮Enemies?╰☆╮
"Who ever is on my list for the day, basically who my handler tells me I'm offing. Other than that, I really don't have anything against anyone."
╰☆╮Who is your Handler/Cyborg?╰☆╮
(TBA)
╰☆╮How is your relationship with your Handler/Cyborg╰☆╮
(TBA)