In the 41st Millenium, Mankind is beset by War.
The Imperium of Man stretches across the stars, bloated by thousands of years of conquest, and crippled from within and without.

Deadly bands of innumerable Orks plague worlds across space, looting, pillaging, and destroying all in their wake.

Enigmatic and cunning Eldar make precision strikes against Imperial worlds for their own unknowable designs.

The horrifying Tyranid Hive-Fleets, from beyond the known Galaxy, descend upon and consume entire worlds with no purpose but to feed.

Chief among the enemies of Man are the legions of Chaos; Seeding worlds with foul purpose and turning man against itself.
Forming the front line against the myriad threats that threaten to ruin Imperial life within the galaxy are the Imperial Guard; numbering in the trillions of regiments, each with thousands of soldiers, armed with potent weaponry and with the full support of the Imperium, these soldiers face every threat against the Imperium with stoic faith.
In Only War you will not be one mere soldier facing the innumerable enemies of Man alone; instead, you will be among many, forming a squad that is only one of hundreds that form up the Regiment as a whole. Your squad will fight alongside the mighty war machines of the Adeptus Mechanicus, charge into the fray with Imperial Clerics, and be supported by the arcane ministrations of Sanctioned Psykers.

Your enemies will be strong, fast, cunning, and endless. You will die. But in your death you will find solace in the light of the God Emperor, and know that your Regiment will carry on.
Here will be chronicled the story of the 501st Hendrisi Deadland Regiment; called Death Jumpers or Drop Troops, such regiments are rare and often considered mad by their compatriots from other Regiments. After all, what sane mind would willingly jump from a speeding aircraft, into hostile fire, with naught but their arms and armor, comrades, and a grav-chute to fight the enemies of man?
This will be a character-driven story with a focus on the soldiers and support elements of the 501st Imperial Guard Regiment. One amongst untold billions, each man and woman will have a part to play; even if it is short lived.
[Placeholder regiment insignia]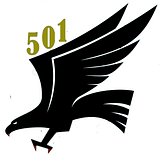 1. This Roleplay is based in the established lore of Warhammer 40k. As such there are certain things that must be observed; The basics being adherence to the "Imperial Cult" and the like.

2. Characters made for this roleplay will follow specific distinctions; your capabilities will be limited to what would be expected of your specialization. Supernatural abilities, out-of-character knowledge, and other such things will not be allowed.

3. Character death can and will happen. In most cases I will not be 'forcing' such things to happen, but there may be times where something catastrophic occurs, either by my direction or simply by the flow of the story. As such multiple characters are encouraged, and the resulting deaths should not be contested unless a very good case can be made (i.e surviving a building collapse and hoping to be found in a pile of rubble.)

4. While this Roleplay is based on Warhammer 40k and will feature mostly existing situations (Orks, Tyranids, Chaos, etc.) there will be lots of 'new' content, namely a custom-built sub-sector and potentially some other Xenos species that are minor enough to not be considered a major threat by the Imperium as a whole.
Arcs are bundles of posts that you can organize on your own. They're useful for telling a story that might span long periods of time or space.
There are no arcs in this roleplay.
There are no quests in this roleplay.
Here's the current leaderboard.
There are no groups in this roleplay!
Welcome home, Promethean. Here, you can manage your universe.
Arcs are bundles of posts from any location, allowing you to easily capture sub-plots which might be spread out across multiple locations.
You can create Quests with various rewards, encouraging your players to engage with specific plot lines.
Settings are the backdrop for the characters in your universe, giving meaning and context to their existence. By creating a number of well-written locations, you can organize your universe into areas and regions.
Navigation
While not required, locations can be organized onto a map. More information soon!
There are no groups in this roleplay!
By creating Collectibles, you can reward your players with unique items that accentuate their character sheets.
Once an Item has been created, it can be spawned in the IC using /spawn Item Name (case-sensitive, as usual) — this can be followed with /take Item Name to retrieve the item into the current character's inventory.
Give your Universe life by adding a Mob, which are auto-replenishing NPCs your players can interact with. Useful for some quick hack-and-slash fun!
Mobs can be automated spawns, like rats and bats, or full-on NPCs complete with conversation menus. Use them to enhance your player experience!
Current Mobs
No mobs have been created yet.
Locations where Mobs and Items might appear.
You can schedule events for your players to create notifications and schedule times for everyone to plan around.
Add and remove other people from your Universe.
Orphanage
By marking a character as abandoned, you can offer them to your players as pre-made character sheets.
"Let's see if I can fire all eight bolts before you turn around."
"For God-Emperor, State, and Victory!"
The Forge
Use your INK to craft new artifacts in Only War: 501st Hendrisi Deadland Regiment. Once created, Items cannot be changed, but they can be bought and sold in the marketplace.
Notable Items
No items have been created yet!
The Market
Buy, sell, and even craft your own items in this universe.
Market Data

Market conditions are unknown. Use caution when trading.

Quick Buy (Items Most Recently Listed for Sale)
None
Planet Arawath is a mining world within the Reike Expanse that has been under Ork assault for three years. Local regiments of the 319th Imperial Legionnaires, 420th Cannabisian Regiment, and 19th Reiker Defense Force are all engaged.
Sub-Sector Reike, one of many located within the Imperium of Man.
Discussions
Topics

Replies
Views

Last post
Most recent OOC posts in Only War: 501st Hendrisi Deadland Regiment
There have been no posts in the OOC topic for this roleplay!