In the city Kataku there are two secret organazations. One for women called 'Scarlet Ammo .Co' and one for Men called 'Otaka Socity .Co' Each of them both have the same objective. Elimante all threats to there national Secuirty. Yet there known to hate each other. They arn't enemies, yet they arn't ally's ethier. Some of these Assasin's are cold hearted and have a dark past and will kill without a second thought. Others are all fake smiles hiding the truth deep down. Do you think you have what it takes to be a heart-less killer? Or mabye a phsyco happy killer? It's up to you....
Map of the 'Scarlet AMMO .Co' & 'Otaka .Co' Underground Base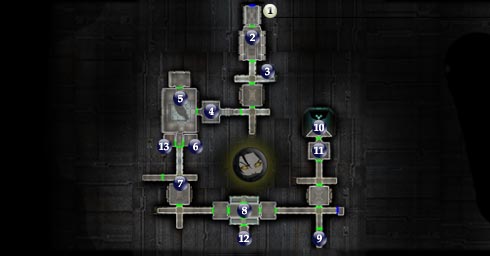 What the numbers are for 'Scarlet AMMO .Co' (The base set up is the same for the 'Otaka .Co' secret base')
1. Exit (Elevator)
2. Offices/Misson boards (Were you get missions or you can choose little missions to take.)
3. Main office to Higher up's (You go there only if you are summoned there.)
4. Target practice for Fire Arms (Guns)
5. Dorms For Rank B Assasins
6. Targets/dummies for Blade practice
7. Workout room (Yes, they ARE assasins xD)
8. Cafe/food area
9. Interagation room (Where they bring the enemies for information using tourture/mid control)
10. Dorms for ranked A Assasins
11. Poisons/weapon shop/room (Where you can drop off you weapons to get the fixed, upgraded, polished, or get new weapons.)
12. Another exit (Elevator)
13. Continuation of #6 (Targets/dummies for Blade practice.)
------------------------------------------------------------------------------------------------------------------------------------------------------------
Whole Name:
Image: (Anime picture only)
Age:
Gender:
Weapon of choice:
Appearance:
Personality:
Likes:
Dislikes:
Which society:
History:
Anything Else?:
[url=THEME SONG LINK HERE]Theme song name here[/url][/size][/b]
1: ADHERE TO RPG SITE RULES AND ROMANCE POLICY

2:ROLE PLAY

3: HAVE FUN

4. NEED CHARACTER PICTURE

5. ONLY TWO PARAGRAPHS EACH
Arcs are bundles of posts that you can organize on your own. They're useful for telling a story that might span long periods of time or space.
There are no arcs in this roleplay.
There are no quests in this roleplay.
Here's the current leaderboard.
There are no groups in this roleplay!
Welcome home, Promethean. Here, you can manage your universe.
Arcs are bundles of posts from any location, allowing you to easily capture sub-plots which might be spread out across multiple locations.
You can create Quests with various rewards, encouraging your players to engage with specific plot lines.
Settings are the backdrop for the characters in your universe, giving meaning and context to their existence. By creating a number of well-written locations, you can organize your universe into areas and regions.
Navigation
While not required, locations can be organized onto a map. More information soon!
There are no groups in this roleplay!
By creating Collectibles, you can reward your players with unique items that accentuate their character sheets.
Once an Item has been created, it can be spawned in the IC using /spawn Item Name (case-sensitive, as usual) — this can be followed with /take Item Name to retrieve the item into the current character's inventory.
Give your Universe life by adding a Mob, which are auto-replenishing NPCs your players can interact with. Useful for some quick hack-and-slash fun!
Mobs can be automated spawns, like rats and bats, or full-on NPCs complete with conversation menus. Use them to enhance your player experience!
Current Mobs
No mobs have been created yet.
Locations where Mobs and Items might appear.
You can schedule events for your players to create notifications and schedule times for everyone to plan around.
Add and remove other people from your Universe.
Orphanage
By marking a character as abandoned, you can offer them to your players as pre-made character sheets.
"You can defeat anything if you can out-thinking it. That is how Lizzy the Man-Eater gets her meals!"
The Forge
Use your INK to craft new artifacts in Operation: Assasination. Once created, Items cannot be changed, but they can be bought and sold in the marketplace.
Notable Items
No items have been created yet!
The Market
Buy, sell, and even craft your own items in this universe.
Market Data

Market conditions are unknown. Use caution when trading.

Quick Buy (Items Most Recently Listed for Sale)
Newest
"Like the elegant, silent, patient killer; Feline, I will maul you swiftly. Patience is a virtue..."
"Everyone will die eventually. I just help to speed up the process"
"Lurking in the shadows i silently fall in yours, Cutting you; within and without, I lye in every shadow, My blade in every wind..."
'Welcome~'
'Welcome to 'Otaka .Co guys'
'Welcome To S.A .Co Ladies'
Discussions
Most recent OOC posts in Operation: Assasination