♠ Iyana Marie Liadon ♣

♥

Ciel Lee Liadon

♦
---
❝Sync? No. Just awesome.❞
---
---
---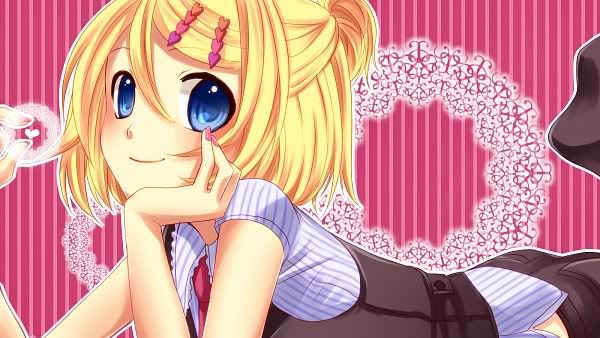 | Full name |
"It's easy to remember 'cause it's pretty."
Iyana Marie Liadon
| Gender |
"Well, isn't it rather obvious?" Female
| Age |
"I may look younger ..." 16
---
---
| Eye Color |
"I think they are amazing!" Deep Sea Blue
| Hair Color |
"It can be all sorts of lengths!" Bright Blonde
| Height |
"I'm not short, I'm fun-sized." 5'0''
| Weight |
"As light as a feather." 105 lbs
| Skin Tone |
"It is what is unfortunately." Pale
| Distinct Markings |
"I don't remember how I got 'em..."
Iyana has a few scars here and there, but there are somewhat faint.
| Physical Description |
"This is the way I am."
Iyana has long blonde hair, about to the small of her back, but she likes to where it in a way that looks as if it is cut off right above her shoulders. It may be very rare that you catch the young looking girl in the same outfit more than once. As mentioned before, Iyana looks rather young for her age, much like her twin brother, Ciel. She has fair skin, deep blue eyes and blonde hair, almost making her look angel-like. She tries her hardest to be absolutely adorable and ... doll-like. Iyana is petite and had few noticeable scars on her person.
---
---
| Catch or See |
"All Pokémon are easy to catch when you're as innocent looking as me."
Catcher
| Pokémon |
"She is the cu-u-u-utest thing ever!"
Purrloin
| Pokémon Nickname |
"Never thought about that."
None
---
---
| Special Skills |
"Other than Physical Talents, I am able to do mostly everything else."
✔ Instruments & Singing
✔ Dancing
✔ Painting
✔ Academics
| Likes |
♥ Catching Pokémon
♥ Dressing up
♥ Playing with Pokémon
♥ Swimming & Climbing
♥ Having Tea Parties
| Dislikes |
✖ Hot Weather
✖ Being Locked Inside
✖ Fighting
✖ Fire
---
---
| Personality |
Iyana is maybe one of the kindest and most caring people you could ever
meet. Being very non-judgmental, she will accept anyone without a
second thought. This leaves her to be very open for hurt and
disappointment. The only two people who can sense when she is down
are her siblings. It is a rather difficult task, since telling whether or not
the girl is wearing a façade is simply impossible. Iyana also loves to
make friends, and with a smile. It seems to come easily to her, most
could sense her warmth and kindness. She never cries unless she is
alone, worried that it would only burden her siblings and friends. Even
when someone is completely rude to her, Iyana never is rude back.
She is as sweet as possible to everyone she knows, even the ones that
hate her. Iyana can act like a little girl most of the time, as in hiding
behind her siblings when she gets scared or carrying around one of her
many stuffed animals.
| Theme Song |
Stand in the Rain-Superchick

| Equipment |
Iyana has some potions on her, along with Pokemon treats. She also
carries around hair pins, one of her many stuffed animals and a hair
brush.
---
---
---
| Full name |

"It's my name ..." Ciel Lee Liadon
| Gender |
"If you even think I'm a girl ..." Male
| Age |
"I may look younger ..." 16
---
---
| Eye Color |
"Just like my sister's." Deep Sea Blue
| Hair Color |
"It can get rather messy, too." Bright Blonde
| Height |
"Don't know why ... just happened." 5'2''
| Weight |
"All muscle." 110 lbs
| Skin Tone |
"I'm in the sun all the time, so it isn't my fault." Pale
| Distinct Markings |
"I'm clean." Ciel has no visible markings on his body.
| Physical Description |
"This is the way I am." Ciel sometimes has his hair back in a ponytail,
but if he wakes up late, he leaves it down. Ciel is much like his sister,
with fair skin and somewhat petite features. He could be easily
mistaken for a girl from behind. But if you are a few feet away, it is
easy to see he is a boy, indeed. His eyes are lighter than his sisters,
and often earn the term 'beautiful' from anyone who gazes into them.
Ciel's hair is the same exact color as Iyana's, often having the two
mistaken for each other. Standing at 5'4", he looks only boyish if he
tries. He often likes to wear gothic clothes, if he isn't dressing up to
match Iyana.
---
---
| Catch or See |
"Seeing is less of a hastle." Seer

| Pokémon |
"He has a bit of an attitude problem … " Electrike

| Pokémon Nickname |
"I just like the name is all." Finnie
---
---
| Special Skills |
"Does dressing up count? Not as bad as it sounds … But other
than that, fighting, drawing and cooking is all."
✔ Drawing
✔ Fighting
✔Cooking

| Likes |
♥ Fighting
♥ Drawing Pokémon
♥ Matching Iyana
♥ Rain or Sunny weather
♥ Making New Foods
| Dislikes |
✖ His Father
✖ Cold Weather
✖ Drama
✖ Annoying People
---
---
| Personality |
Ciel likes to stay rather silent, not big with the idea of friends. The
only ones who may ever see him smile are his siblings, Iyana more
so than Songrose. Being the only boy, he grew up used to girls. So
he gets along more with them than anything. But he tries his hardest
not to befriend anyone, in hopes it would leave out the drama most
bring. All in all, Ciel is rather apathetic, not completely through though.
He is also extreamly blunt, sometimes coming off as rude. Ciel doesn't
like men being around his sisters, due to his father, and gets rather
protective. He is wiling to fight with anyone, Pokemon or not, to settle
anything. He loves to cook all the time, usually the one to prepare foods
for Iyana's tea parties.
| Theme Song |
Still Swingin'-Papa Roach

| Equipment |
Ciel always has a small pocket knife on him, ear phones, and some
Pokemon food. If he ever has his black book bag on him, he usually
has his sketch book and drawing utensils/supplies.
---
---
| History |
Not too long after Iyana and Ciel were born, their mother died of a disease,
leaving them and their older sister Songrose with their abusive father. It was a horrible
experiense for Iyana, who was always to weak or sick to go outside. She never blamed her
father. On the other hand, her twin brother Ciel hated the man, always remaining outside.
Years later, Songrose left to the school, but the twins were still to young to attend. Ciel still
remained mostly outside, but after a horrible accident that left Iyana in the hospital for weeks,
he remained inside, trying his hardest to protect her. After they became old enough to attend
the school, they left as soon as they could. Once they arrived, they wre excited to be reunited
with their older sister.
---