---
---
"I'll be the shield that should have stopped my sword before."
---
|| Theme Songs ||
Normal||I'm a Beginner at Love||
Fighting||Link
Emotional||Broken Hearts
---

|| Full Name ||
Kazunari Seo


|| Age ||
22


|| Gender ||
Male


|| Sexuality ||
Heterosexual


|| Origin ||
Kagoshima, Japan


|| Role ||
The latest member of Silver Lyre


|| Face Claim ||
Takashi Komuro


---
---

|| Hair Color ||
Blue


|| Eye Color ||
Blue


|| Skin Tone ||
Caucasian


|| Height ||
Just under 6'0"


|| Level:||
153


|| Weapon of choice: ||
Bastard Sword


|| Secondary Weapon:||
n/a


|| Equipment:||
Head Gear: None
Armor: Grey/blue carbon chest plate + matching arm pads.
Leg Armor: Battle boots


|| Battle Stats: ||
Attack: 25
Defense: 600
Agility: 25


|| Sense Stats ||:
Detection: 700
Hearing: 200
Hiding: 0


|| Additional Skill: ||
Dowsing: 100
Cooking: 100
Black Smithing: 1150
Sewing: 100
Alchemy: 100

|| Guild ||:
Silver Lyre


|| @Home ||:
Dol Dona


|| Contact Book ||:
Raijin
Emma
Crimson
Cielo
Akuma_kei

|| Face Claim ||
Saito Hiraga


---
---



|| Personality ||

Korpal harbours a lot of guilt over his previous actions, this doesn't eradicate his abundant lethargy or vast self interest but he tries. As much as he hates to admit it Korpal is becoming quite accustomed to his new reality but that may be due to significant resignation after his previous guild met its fate. Kazunari was never really himself in reality, shy and evasive, complete with a stutter when approached by girls; in game his inhibitions were broken and Korpal portrays confidence the real him never possessed.



---
---


|| Reason why playing ||

Kazunari has always been a huge otaku, and couldn't wait to get his hands on the latest interactive release much to his detriment. When he was cut off from the real world Kazunari played to win the tournament but after his previous guild was crushed, he escaped seeking other means of escape and a way to redeem himself from his previous actions.


|| Biography ||

On the outside Kazunari was quite average, working in part-time in a book store and being quite the closet otaku, he was hoping eventually to move onto university, whilst his parents jest about him never having success with girls. He had no friends due to his awkward nature, and only ever looked at girls from afar; there was a brunette girl he bumped into once, Kazunari didn't manage many words and fled after pushing her fallen books back into her hands.
The first month trapped, Korpal joined like minds to battle and conquer, but the guild "Cath Injurne", didn't even make it to the tournament before confronting a guild leagues above their own. The guild was decimated and it was arguable that Korpal survived, his wounds were extensive and it took considerable time before he could participate let alone fight outside the remnants of his guild's former hall in Dol Dona.
[WIP history between Cath Injurne and Silver Lyre]
Korpal is now the newest recruit in the Silver Lyre and its evident there are still cohesion issues between them.

Games gave Kazunari a new lease on life, now he's stuck within.
---
---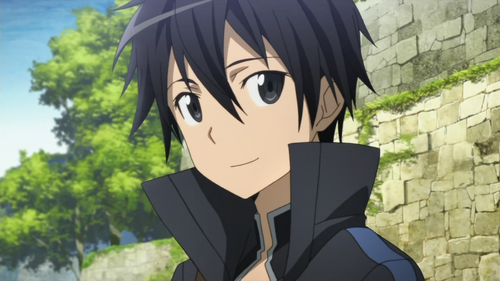 "I don't think I have a right, but I'm stepping in."