(IMAGES COMING SOON.
After a cyber-nuclear war that lasted almost 50 years, the land that was America was destroyed, and what was left of its people were enslaved by the victor, a nation called Rensen. Claiming to be the saviors of the world, Rensen crushed everyone that stood in its path to total world domination. The rule of Rensen is a rule of iron. Thoughs who survived the attack on America, and had enough money to pay them, live in luxury. While those who didn't were forced into slavery or killed.
Jews, Muslim's, gays, lesbians woman, children. No one was safe from the "Justice of Rensen". Considered a threat to the rule of Rensen, they were sentenced to death or slavery, or sent to medical physicality for tests to "cure" them. One of them, a young girl known as Red 3.

For 60 years, we have lived like this. Until one day, something cracked inside Red 3. No one knows how, but she escaped the clutches of Rensen. After escaping, she met others who wanted to be free of the tyranny of Rensen. Here, she created the Red's.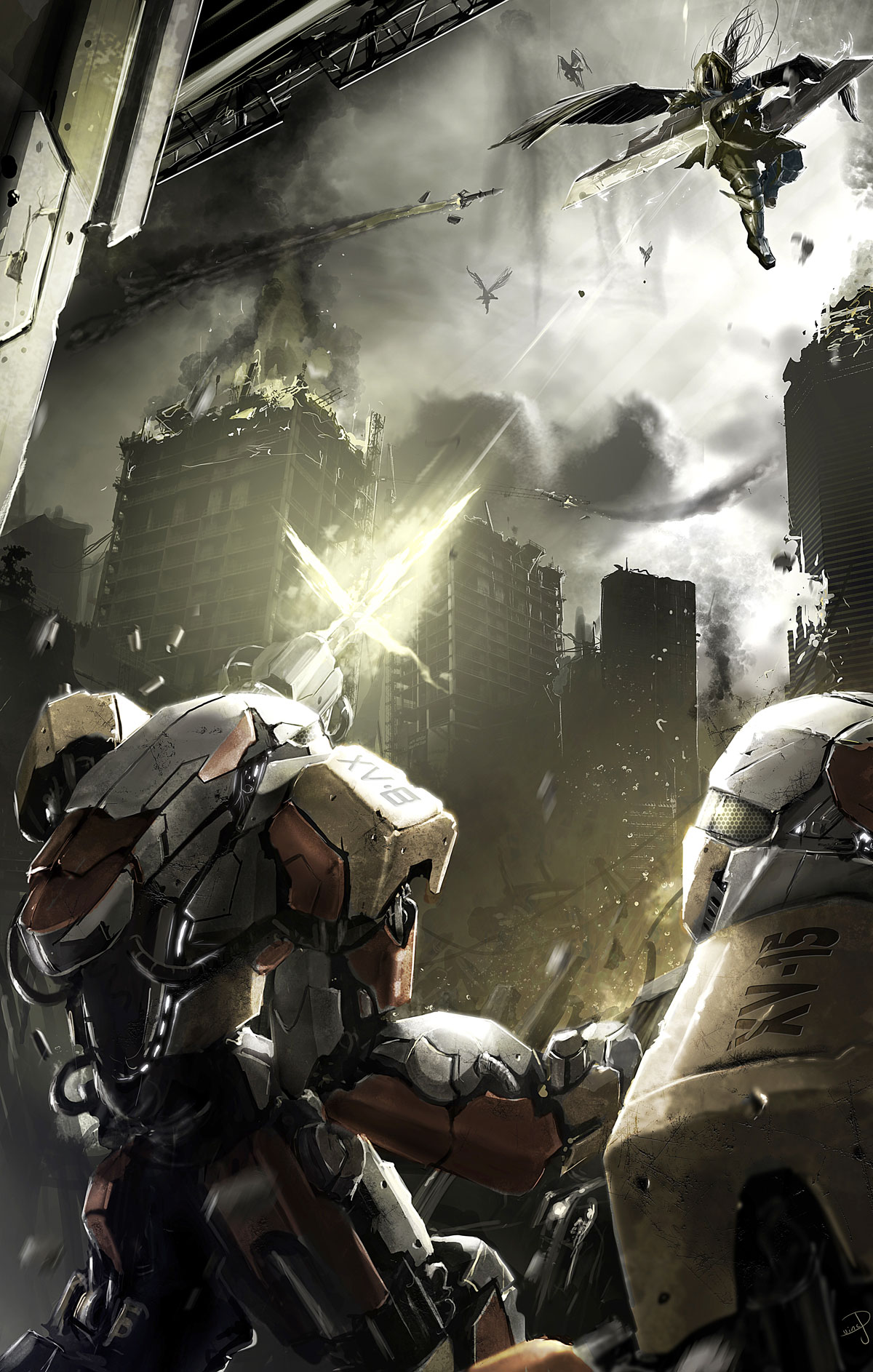 For 2 years, the Red's fought against Rensen. Out maned and out gunned, the Red's were pressed deep into hiding, but not defeat. After a year of silence, the Reds rose again with greater numbers and more powerful weapons. In a bold front, the Red's rushed to the capital city, Tymere. With the element of surprise, they swiftly crushed the Rensen forces and drove them from there capital.
Now, the Red's use the city of Tymere as a base camp to gather there forces and strike back against the tyranny of Rensen.
Welcome to the Red's, solider.
Classes:
Soldier:
10 spots open.
The main force of the Reds. Soldiers put themselves on the front lines to fight against Rensen. Most soldiers dress in light armor, and use pistols and rifles.
Super Soldiers:
5 spots open.
Super soldiers are incredibly strong juggernauts. There super strength mixed with there inability to feel pain make them a force to fear. Luckily, there on our side. What they gain in strength, they slightly lack in brain power. Most of the time, instead of using weapons they simply crush there foes with there bare hands.
Spec. Ops Unit:
3 spots open.
The Special Operations Unit specializes in killing clean, with leaving no witnesses. When ever there is a mission where someone needs to die, and it needs to be done quietly, the Spec Ops guys are who you call. Mostly using sniper rifles, stealth-camo stolen from Rensen forces, and drones, the Spec Ops boys are the best we have.
Mech Pilots:
3 spots open.
Mechs are giant robots we pilot in order to carry out big jobs. Invading, destroying, and keeping our boys behind cover is what they do best.
Angel Unit:
1 spot open.
The Angels are a unit of flying mechs that take care of targets ground forces cant. Using grenade launchers, rockets, snipe rifles, and even a railgun, they guard over the ground forces. Without them, we wouldn't be having this conversation.
Villans:
I WILL be accsepting villians, but before sending in a character app, message me and talk to me. I will only take 2-3 villains. ok? Ok.
Skelly:
Appearance-
Name:
Age:
Sex:
Gender:

Appearance:
(picture works best)
Armor:
Head:
Chest:
Legs:
Personality-
Sexual Orientation:
Likes: 1-5
Dislikes: 1-5
Equipment-
Weapons:
Other:
History-
Story:
(IF YOU READ THIS. PUT "yes please" WHERE IT SAYS SEX YO PROVE YOU READ THIS C:)
*This is an ADULT RP. There is going to be blood, cussing, awesomeness, and SEX! >:D (jk. No sex. But if you WANNA have sex, PM each other.)

*NO powerplaying, godmoding, autoplaying, onelineing, or any other ing's i can think of!

*Me and Noxzie are the LAWS. We call the shots, we make the rules, we are the rulers! >:I

*IF you ever have a problem with someones post, simply talk to him. If it escelates, talk to ME. If i cant do anything, then ill talk to Noxzie. We are the kind of Good cop Bad cop GM's. Ill give you a warning, she will punish you.

Known Noxzie punishments:

1 Offence: Spleen shall be eaten.

2 Offences: A kidny shall be eaten.

3 offences: Your liver shall be eaten. And im PRETTY sure you need that.
Arcs are bundles of posts that you can organize on your own. They're useful for telling a story that might span long periods of time or space.
There are no arcs in this roleplay.
There are no quests in this roleplay.
Here's the current leaderboard.
There are no groups in this roleplay!
Welcome home, Promethean. Here, you can manage your universe.
Arcs are bundles of posts from any location, allowing you to easily capture sub-plots which might be spread out across multiple locations.
You can create Quests with various rewards, encouraging your players to engage with specific plot lines.
Settings are the backdrop for the characters in your universe, giving meaning and context to their existence. By creating a number of well-written locations, you can organize your universe into areas and regions.
Navigation
While not required, locations can be organized onto a map. More information soon!
There are no groups in this roleplay!
By creating Collectibles, you can reward your players with unique items that accentuate their character sheets.
Once an Item has been created, it can be spawned in the IC using /spawn Item Name (case-sensitive, as usual) — this can be followed with /take Item Name to retrieve the item into the current character's inventory.
Give your Universe life by adding a Mob, which are auto-replenishing NPCs your players can interact with. Useful for some quick hack-and-slash fun!
Mobs can be automated spawns, like rats and bats, or full-on NPCs complete with conversation menus. Use them to enhance your player experience!
Current Mobs
No mobs have been created yet.
Locations where Mobs and Items might appear.
You can schedule events for your players to create notifications and schedule times for everyone to plan around.
Add and remove other people from your Universe.
Orphanage
By marking a character as abandoned, you can offer them to your players as pre-made character sheets.
Parkour, Stealth, double hand guns, hijack your mecha!.. spec ops unit
I'm not just a satellite
The Forge
Use your INK to craft new artifacts in Operation Snowfall. Once created, Items cannot be changed, but they can be bought and sold in the marketplace.
Notable Items
No items have been created yet!
The Market
Buy, sell, and even craft your own items in this universe.
Market Data

Market conditions are unknown. Use caution when trading.

Quick Buy (Items Most Recently Listed for Sale)
None
The War Room. A massive room in the center of Tymere used by teh Red's for planing.
Discussions
Most recent OOC posts in Operation Snowfall