(OOC: So, I've been obsessed with Pacific Rim, and decided that since no-one had made an RP of it, then I shall make one instead.)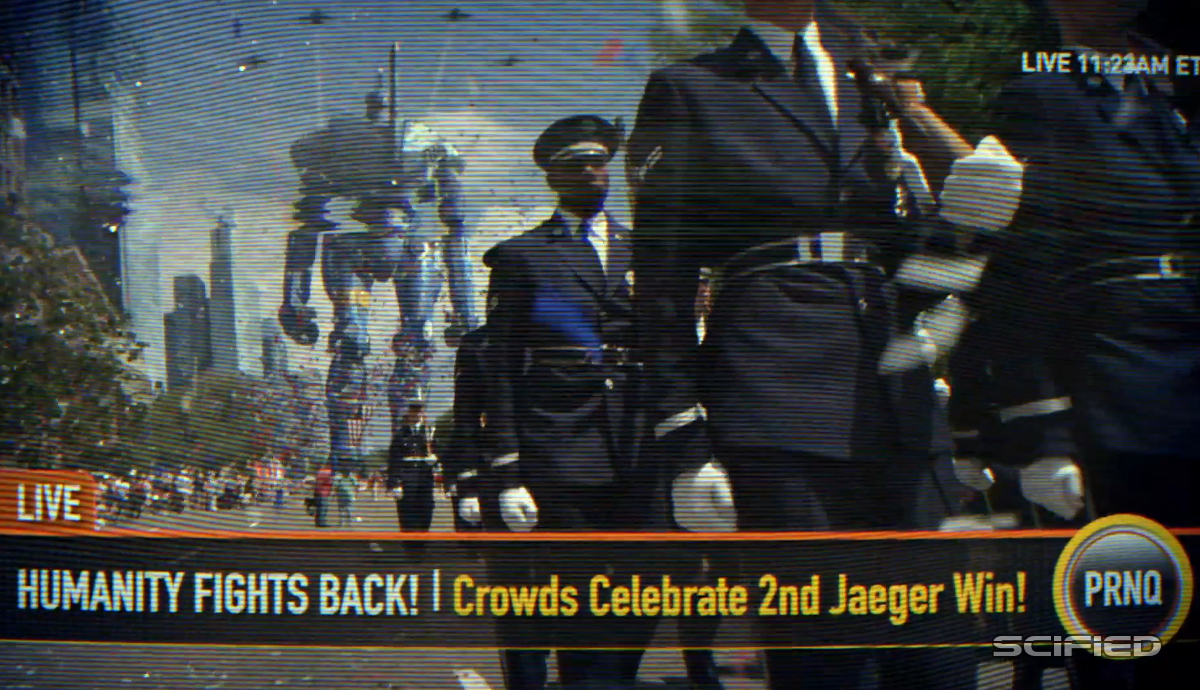 It is the beginning of 2019. Humanity has been at war with the Kaiju for the past 6 years, ever since K-Day on August 10 of 2013. A lot has changed since that day. For one, the Jaeger Program has never been more successful. With at least 20 deployed Jaegers, and a new one from Australia on the way, it finally looks like we have a chance.
So what's your part? Are you a new recruit for the Jaeger Academy? Perhaps you're already in training and awaiting "graduation"? Or maybe you're already a Ranger and fighting Kaiju? Of course, maybe you're a scientist of K-science (Kaiju science) or an engineer. The choice is yours. Have fun.
(OOC Note: Clearly, this rp is still a WIP, but this is mainly an interest call. If a lot of people are interested, I will post more information and the character skeleton [and hopefully it won't be nearly 5 in the morning when I do so]. Feel free to ask questions in OOC, etc. It'd be great to have at least 6 characters to kick it off.)
1. Please only original characters! This takes place sometime in the middle, so there is wiggle room for original characters because not all of them have been defined. Althought there were 21 Jaegers created in canon, if you go through the trouble of creating your own Jaeger on the Pan-Pacific Defense Corps website, and I like it, then I will permit you to play your own Jaeger. If not, the PR wiki has a list of all the Jaegers created, so I would go take a look at that. Please stay away from piloting a Jaeger with canon and/or specified pilots (again, check the wiki). You can refer to canon characters if they are alive (the year we will be playing in will be 2019. Because Striker Eureka didn't come out until November, chances are it won't be in commission, but news of it will probably be around.)

2. Speaking of the year, 2019 was considered the 'peak' of the Jaeger program, with 21 commissioned at once. That being said, although many of you will have successful fights, you're not going to win every single one, either. In the timeline on the wiki, only the main Jaegers, really, are outlined, so there's a lot of freedom in terms of what each unspecified Jaeger does.

3. I dunno how many of you have seen the movie, but you need two people to successfully pilot a Jaeger. The integral part of controlling the Jaeger is via the Drift, which is where the two pilots share memories and sync up as a result. Obviously, the stronger the bond between the two people, the stronger the drift. For this reason, siblings, long-time friends, romantic couples, and family make for the strongest bonds. Take this into consideration when making your character. Depending on how many people show interest, I may or may not let you make 2 characters, but even if you have 2 characters, they will NOT be partnered up with each other. Talk to the other people interested in this rp to figure out connections and possible partners. I'd encourage submitting an early draft of your character profile as soon as you can, and maybe pasting a link on the ooc (all the characters you ever create show up on your profile unless you delete them) so that others can see and message you if necessary.

Also, not all the characters have to be related or romantically involved. If you want your struggle to be drifting successfully with someone, that's also great.

4. Regarding age: Keep in mind that if you are going to have a character associated with the Jaeger Academy, I am setting the age limit at minimum 20 (MAYBE younger, if you can make a case for it) even if your character is a new recruit. If you want to play a completely trained and commissioned pilot, I'm setting the minimum age at 24, simply because of all the training you'd have to do to get to that level (and this is only if you are exceptional. Mako Mori, the girl from the film, is 22 when commissioned, but it was under dire circumstances and she had been enlisted in the program at the age of 14, again under exceptional circumstances. Everyone else was around the age of 20 when enlisted. You will not be playing Mako and please do not try to.) Don't make your character some 13 year old wiz-kid who's piloting Jaegers at the age of 16. I will not accept you, no matter how many reasons you give.

5. Do your research! I would highly recommend just browsing the Pacific Rim Wiki. It's there, and it's awesome, and if you're interested in this rp, then chances are you'll find the wiki interesting. Respect the canon.
Taking place in...
0 posts here • Page 1 of 1
0 posts here • Page 1 of 1
Arcs are bundles of posts that you can organize on your own. They're useful for telling a story that might span long periods of time or space.
There are no arcs in this roleplay.
There are no quests in this roleplay.
Here's the current leaderboard.
There are no groups in this roleplay!
Welcome home, Promethean. Here, you can manage your universe.
Arcs are bundles of posts from any location, allowing you to easily capture sub-plots which might be spread out across multiple locations.
You can create Quests with various rewards, encouraging your players to engage with specific plot lines.
Settings are the backdrop for the characters in your universe, giving meaning and context to their existence. By creating a number of well-written locations, you can organize your universe into areas and regions.
Navigation
While not required, locations can be organized onto a map. More information soon!
There are no groups in this roleplay!
By creating Collectibles, you can reward your players with unique items that accentuate their character sheets.
Once an Item has been created, it can be spawned in the IC using /spawn Item Name (case-sensitive, as usual) — this can be followed with /take Item Name to retrieve the item into the current character's inventory.
Give your Universe life by adding a Mob, which are auto-replenishing NPCs your players can interact with. Useful for some quick hack-and-slash fun!
Mobs can be automated spawns, like rats and bats, or full-on NPCs complete with conversation menus. Use them to enhance your player experience!
Current Mobs
No mobs have been created yet.
Locations where Mobs and Items might appear.
You can schedule events for your players to create notifications and schedule times for everyone to plan around.
Add and remove other people from your Universe.
The Forge
Use your INK to craft new artifacts in Pacific Rim: In the Heat of the Battle. Once created, Items cannot be changed, but they can be bought and sold in the marketplace.
Notable Items
No items have been created yet!
The Market
Buy, sell, and even craft your own items in this universe.
Market Data

Market conditions are unknown. Use caution when trading.

Quick Buy (Items Most Recently Listed for Sale)
Newest
Trending
Most Followed
None
Discussions
Topics

Replies
Views

Last post
Most recent OOC posts in Pacific Rim: In the Heat of the Battle
Loved the movie, very interested. Created my own Jaeger as well. Let me know if this gets going!
Edit: