Alastor Marius Raguel
(Manus Bellum)
---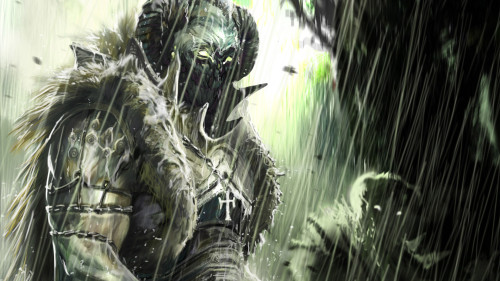 ---
Gender:
Male
Age:
34
Height:
6' 6"
Race
: Demon
Skills:
Alastor possess the famed physical strength of a demon, but still maintains a surprising Flexibility with animalistic speed. The main skill of his and the key to his unofficial title lies in the fact he is expert of unarmed combat. Combined with the spell craft technique he knows, Alastor may burst of energy during strikes or blocks to further increase the effectiveness of the technique. Alastor also has a strong grasp of tactics and large scale combat
Faction:
Demon forces
Equipment:
Despite preferring unarmed combat Alastor does carry a small war axe for emergencies and a couple of throwing knives to try and cover his range disadvantage. Adorned round his body and limbs are various inscribed chains which aid his spell craft.
Weakness(es):
Range is a key disadvantage and his over confident, nigh fearless behavior means he can underestimate opponents and concede blows, The lack of killing intent can also hinder him at times, as he much prefers the thrill of the fight rather than the kill.

Description:
Alastor is a broad, tall, imposing demon, especially with 290lbs of weight behind him. He possess pale grey skin, discoloured fangs and messy, shoulder length ashen hair, stained from pandemonium. He prefers to wear a simple demonic chest plate, trimmed with fur at the edges of the shoulders and draping down his back. Plated armor legs, and sabatons adorn his lower half. He also prefers to wear a demon skull helmet.
Personality: Alastor comes across as an imposing presence and not just because he is a demon. An over bearing confidence exudes from him, At times its this stern nature that he tries to reinforce, at other times it becomes clouded in an almost playful demeanor. In war and in politics he seeks only two things, Money or a fight. If you can promise both he will fulfill any request.
History:
Alastor was of course born beyond the gate, in a foul land of war, carnage and blood, within in this realm Alastor perfected his unarmed combat techniques against any hellish fool who fought him, gaining enoungh infamy to earn his title of Manus Bellum (Hands of war). Fighting was his joy, not killing, and now he needed a new challenge. As soon as the gate opened Alastor made his way through, sensing battle, lusting for a challenge and an opponent to satiate the hunger.
---
Anything Else:-