---
---
MONSTER |.:.| DotEXE Dubstep Remix
---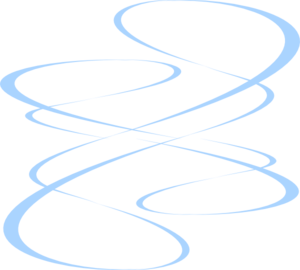 Name:
Molkrii
Nicknames/Aliases/Titles:
Deepfreeze, Frostbite, Code Ice
Race:
Cyborg of Sorts
Gender:
Robot, no technical gender,
but seems very feminine, so Female.
Age:
Ageless
Appearance:
A twist between Winter and Technology, Molkrii is an insanely high-tech being whose 'armor' is practically part of her. Her icy-cold demeanor isn't just an act- she's freezing cold, and if she's stationary for a while and there's any humidity, she'll start to grow icicles. She has long bleach-blonde hair, always braided down her back, and soul-chilling glowing blue eyes that are usually covered by a visor. Her skin is a pale blue, and could be casually mistaken for Caucasian- except for her arms. They're a brilliant cobalt shade, with semi-transparent icy particles coating her skin. The particles can instantly grow into pieces that interlock into shields, reflexively in battle and sometimes when she's nervous. Her armor is black with silver designs and a splash of blue here and there.
Weapons:
Glacier's End
---
Wires, Ice, and Blades that Slice- That's what I'm made of...
---
Personality:
|| Perceptive || Ruthless || Emotionless || Blunt || Slightly Sadistic at Times ||
Likes
Killing
Cold
Outsmarting People
Dislikes
Fire
Emotional People
Weakness [herself and others]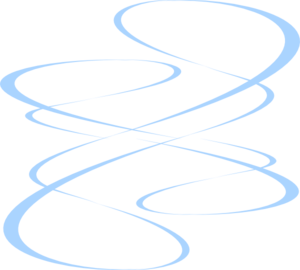 ---
Flesh freezes so easily...
---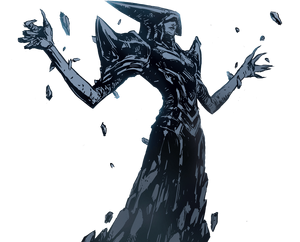 Abilities:
.: Ice Mold :.
Can control, create, and otherwise mold ice to her needs as long as there is some source of water, be it water vapor or others' bodies.
.: Coding :.
Can easily perform any fighting action she observes as it is analyzed and downloaded into her files.
.: Mind Control :.
Can 'override' a person's mind and control them briefly, also absorbing all information in their mind- not good for secretive people.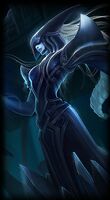 Strengths
Fighting [and Killing...]
'Reading' People [Emotions, Greatest Desire, stuff like that...but usually doesn't care unless she is manipulating them.]
Technology
Weaknesses
Fire/Heat
Emotional... anything
Trusting People
---
At 50 degrees Celsius the complexion of everything changes- snow freezes until it becomes almost as hard as metal. Intimidating, hmm?
---
History:
A failed science experiment of sorts, Molkrii was once a gorgeous young Winterborn- until she agreed to participate in a science experiment. She was suited up with armor and given a microchip that granted her amazing abilities. She was ecstatic, and her emotions flooded the chip, unleashing all of her power at once- annihilating her immediate surroundings and almost wiping out the whole facility. However, the scientists calmed her down and were forced to put her into a cryogenic deepfreeze until they figured out the system entirely. She agreed reluctantly, undergoing the freeze for about thirteen years before the scientists melted her out.
The freeze didn't work well with her new chip, though, and her magic battled the technology until she became so powerful that they both melted together. The scientists had to completely refresh her memory, as she was panicked and was randomly destroying things. They replaced parts of her corrupted brain with A.I., and she became a sort of robotic mage. Her power battled the new technology as well, and in a huge blowout of her power she lost both of her arms. They were remade with metal, but the ice reacted negatively and coated the arms. The scientists were getting frustrated, so frustrated that they made a slip-up and left everything in the lab unlocked.
Molkrii was insanely unstable and fairly naive, even with her new A.I., and she explored the laboratory, scanning everything and learning much more than she should have. When she was nearing the Heat Room, her arms shattered and she fell backwards into a huge glass tank of water. It had some sort of solution inside, tiny particles that fled to a wound. They repaired her arms, but now they were insane shades of blue. Molkrii decided she could live with it, and as soon as she sat up again, her hands started gathering the water, turning it instantly to snow. She panicked again, trying to get rid of the snow but instead shooting it everywhere. The lab started to crumble, and Molkrii's emergency system in her A.I. activated. However, her magic side couldn't handle it, and she was electrocuted.
As she woke up, her memory full of only the most intense emotion- fear. It was the only one that technology couldn't erase. She wandered around the town after being released from the institute, but was so afraid of everything that she attacked it instinctively. Her emotions were cut off as soon as the researchers discovered that her fear had led her to massacre the whole city- every man, woman, and child. After every single emotion was removed, her mind was completely replaced with an A.I. system, this one reshaping her into a new human being. She took on the name Deepfreeze, and became sort of a human weapon. She was deposited in enemy territory, and her systems kicked in [these being magic-cohesive] and led her to practically assassinate all of the enemy soldiers. She was kept mostly quiet, the government explaining the enemy losses one way or another.
After a short time, she grew tired of being the army's weapon and revolted. Her power ravaged the whole continent, setting the lands into a new Ice Age. the oceans even froze over, and Molkrii's rage was satisfied. However, after being such a proficient killer, her personality was shaped into the ruthless killer we know and love today.
---