we've got a big mess on our hands - the academy is... the kill - thirty seconds to mars. use me (feat. 070 Shake)- pvris.
______________________________
N

x

A

x

M

x

E→ James Simon Day

N

x

I

x

C

x

K

x

N

x

A

x

M

x

E

x

S → Jamie (preferred)

A

x

G

x

E → 26

S

x

E

x

X

x

U

x

A

x

L

x

I

x

T

x

Y

x

→ pansexual

S

x

P

x

E

x

C

x

I

x

E

x

S

x

→ dhampir

H

x

E

x

X →

#800000



______________________________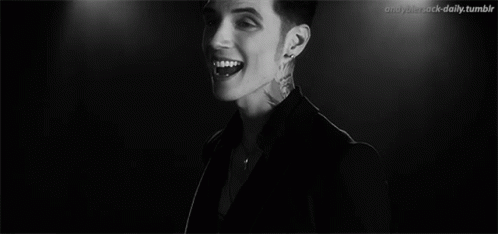 D

x

H

x

A

x

M

x

P

x

I

x

R
For the most part, Jamie takes more so after his human mother than his vampire father. He has a human diet, even if he does have more or a taste for FauxFizz than most humans do. He has elongated canine teeth, but they're not quite the full fangs vampires sport. He is slightly more tolerance to the sunlight than full vampires, but it still brings him out in an itchy rash with too much exposure. He's a touch stronger and a touch faster than normal humans, but Jamie hardly notices it. He can practice blood magic but always struggled with it and felt as if he was struggling in vain.
______________________________
A

x

P

x

P

x

E

x

A

x

R

x

A

x

N

x

C

x

E
Jamie looks every inch the stereotypical creature of the night he is: tall, thin, and impossibly pale. Factor in several piercings and even more tattoos, and he's certainly a distinctive figure. For someone like him, the permanent dark circles under his eyes and how thin and scrawny he is just adds to the "look". He dresses almost strictly in black, almost always in ripped jeans and leather jackets, covering up as much skin as possible to minimise the sun damage. He's often found wearing jewelry, especially chains and rings that he can toy with when he's bored or irritable.
______________________________
P

x

E

x

R

x

S

x

O

x

N

x

A
Jamie's a man of many, many sides. On the surface, he's pleasant, a little on the quiet and reserved side perhaps, but easy to work with, and seemingly easy to befriend. Of course, it doesn't take long to find out that the friendship, and Jamie's pleasant demeanor, are limited to being only skin deep. It isn't that he's unfriendly, but there's an emptiness there, a complete disengagement. He's perfectly happy to be friendly, but he doesn't want to be friends, that much is evident. It's also clear that it isn't personal; Jamie is so disengaged with life that he just doesn't want friends.

When you've had a continual run of bad luck and you can't tell if it's your fault, it's not surprising to not want to make friends. It's easier to just stick with the status quo and stick with a vaguely unhappy and empty life. Every time Jamie tries to get his life together, it fails horribly and sometimes makes things worse... so what's the point? He goes to work, he goes home, he sleeps the day away. And that's a good day. On bad days, he slips into self-destruction. Drugs to numb the pain and make the world seem a little brighter, alcohol to wipe his mind and to feel free for once. And as time goes on, the bad days seem to come more and more.

Once upon a time, Jamie was a brighter person, someone who was open and friendly and popular. He was full of hope that one day, things would change, that the next chance would work out, or the chance after that. He was constantly striving for something better, constantly hoping for something better. Something of the old Jamie still lingers under the surface, still keeping an eye out for that chance that will bring everything together and makes everything okay again. But now he feels that the chance is gone, that this is all his life is and will ever be.
______________________________
H

x

I

x

S

x

T

x

O

x

R

x

I

x

A
It wasn't some great or tragic romance that lead to Jamie's birth. It was a series of foolish decisions on a fateful night with a tall, dark stranger. But Marie had always wanted a kid and so, when she found out she was pregnant, she wasn't as distraught as she could have been. The pregnancy wasn't straightforward, and neither was the birth. But Jamie survived, and was a happy child.

From the get-go, he was almost unnaturally unlucky, and it seemed to spread to his mother. Every time Marie got a new job, something would happen and the company would close or have to let her go. It was never her fault, and she always seemed to find another job with ease. But money was tight, and there were times when she was picking up double shifts just to keep the lights on. They kept their heads down and stayed hopeful. Jamie scraped by in school, and college was never really on the table. But a local photographer took him on and took him under his wing, and for once, things looked up. And then they took the most tragic turn of all.

Marie was killed in an accident, the whole thing sending Jamie into a spiral. He got wrapped up in the wrong circles, got wrapped up in blood magic and drugs and god knows what else. It didn't even last for six months before Jamie managed to pull himself out of it and get his life back on track. Or, well, as on track as it was ever going to get. He seemed to be cursed with the same curse his mother had been, constantly being hired and then let go. This sent him into the next spiral. Then he picked himself up and started freelancing, turning to social media and building himself a presence. Then came the next crash, and he picked himself up, And the cycle began, repeating over and over again.

And then, eventually, he realised that he couldn't keep doing this. What was the point in picking himself up every time if he was just going to crash again and again? So when he fell back into his bad habits, he decided against trying to pick himself back up properly. As long as he kept the lights on and semi-healthy food in the fridge, that was all that mattered. If hallucinogens and other drugs made it easier to function, then so be it. Besides, all the parties looked really, really good on his social media.