Name: Edna Wytrix

Goddess of: Life, Longevity and Prosperity

Elemental Affinity: Water and Earth

Alignment: Neutral Good

Apperance:


Physical Description: Edna takes the Apperance of a young woman with blue, waist length hair and blue colored eyes. She also prefers to wear a long but elegant red and white dress, with the lower part of the dress having a layer of red on top on another layer of white. The upper part of her dress has the left side colored red and the left side colored white. She wears no sleevs and instead wears wooden bands that cover parts of her arms. She also wears a special flower known as "Life's Embrace" in her hair and around her hip.

Preferred Gender: Female

Means Of Godhood: Child born from two dieties

Personality: Loving, caring, nice, friendly, those are just part of Edna's feelings for nearly everyone she meets. Being a Goddess of life, she enjoys every second in forests, tending to gardens or watching mortals playing around and having fun. She also enjoys caring for her own personal garden located in her realm, and she also raises birds since she believes them to be wonderful creatures. Edna however dislikes death and war, and the Gods and Goddesses who love the sort of thing.

Worshiped By: Farmers, gardeners, builders, good leaders, parents, ranchers, doctors and just about anyone who has good intentions

Symbol:


Divine Weapon:

Khleb Nasushchnyy- Also known as the Staff Of Life, Edna uses this primarily to cast her blessings and curses. This is be used to guide her champions or those worthy enough to visit her realm. The staff also has the power to animate trees and grow whatever plant she desires.

Blessings: Touch Of Life- given to High priests or people who have gained her favor, they blessed with the ability to give life to plants, animals, and humans. They are capable of healing near fatal wounds, bringing a withered plant to life, and curing most diseases.

Bloom Of Plants- A more common blessing that can be given to a common mortal, they have the ability to grow flowers and plants with a thought and touch of their hand.

Treant Creation- For high priests and champions only, they can animate trees to fight for them. They can only control three at any given time and are not allowed to take them from the area they uprooted from.

Curses: Curse Of Thorns- A common curse for those who have committed a serious crime as one of her followers or has harmed some of her followers are cursed with this. Wherever they go, red roses with thorns so sharp that it can cut through any man made armor besides mithril will appear next to them and attempt to trap them until they repent their ways and beg for forgiveness. If they choose not to beg or repent, they will be hunted until they die or are captured by the thorns and slowly enveloped giving them a painful but quick death.

Blooming Flower- For one who has offended the Goddess or has done numerous crimes while under the Curse Of Thorns are cursed with this. A bud emerges from the persons heart. This is not painful, however this marks their eventual death. As time passes the flower begins to slowly grow sapping the power from the host.

The host will never feel any pain, however they would feel more tired and weak as the time passes. In two hours, the flower grows and on the final minute the host will fall asleep and die. A peaceful death. The host will also be unable to do any evil intentions.

Realm: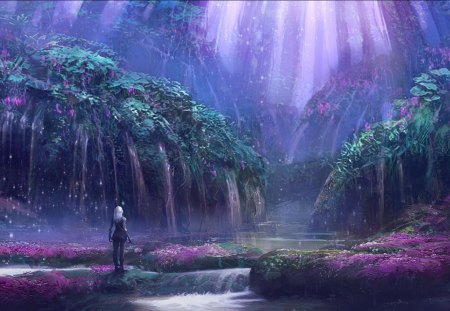 The Lush Lands- A place of beauty and life with birds singing and chirping, and trees as far as the eye can see. The trees themselves could be heard humming if you listen closely, and the sun and moon are always bright. There is a massive tree with pink leaves in the center of the realm which Edna resides at. She allows most Gods and Godessess to visit, but she will not allow anyone who kills the land around them, or has a history of being unfriendly to her. However if those that wish to make up to her she would let them in and those that rot the land around them, they can invite her over.

Notable Creations: a bird known as "The Song Of The Godess" which is known to sing, a special flower known as "Life's Embrace" which can be used to create powerful medicine, a plant known as "Grand Thorns" which is used as decorations for armor, or in some rare cases as the armor.

Preferred Form Of Worship: Prayers are the most preferred form of worship, but people who celebrate at gatherings or parties may hold it in Edna's name.