Name:
Karvana, more widely known to mortals as 'The Mother' to her followers or 'The Dark Lady' to the 'civilized' races.
God of:
Monsters
Elemental affinity:
Aether
Physical Description of Preferred Forms:
'True' Form -
Like most Goddesses, the true form of the Mother is divinely beautiful. She has dark, ebony hair that reaches all the way to her slim waist, framing a thin, pale face with arching delicate eyebrows, over haunting silver eyes. Her ruby red plump lips are often pulled into a half-smirk as if she is always finding something to be amused in.
Her body is curvy with wide hips and a large chest, befitting her sobriquet of Mother. Her limbs are long with long, thin fingers and small feet, she looks nothing like her reputation suggest... well, when she is not giving herself a more monstrous body, that is.
Other Forms -
Her physical form entirely depends on her mood. While her 'true' form is the one she was born with, her humanoid body, she will, more often than not, prefer to 'better' it by mutating her humanoid form to incorporate more bestial features such as a large spider body in place of her legs, akin to a Drider, or replace her legs with a long tail, either reptilian or fish. While her body is subject to change, it is rare for her to ever change her face. This does annoy, even anger, other gods due to her resemblance to the enchained Bestial Gods of old.
Preferred Gender:
Female
Means of Godhood:
Came into existence the moment the bestial gods were enchained.
Alignment:
Neutral Evil
Personality:
Proud, manipulative and fickle. Those are the words best used to describe the goddess. Karvana takes immense pride in her handiwork and her appearance and does not take well to insults or slights against herself as she is one whom can hold a grudge that last millennia and her bite is always worse than her bark, in fact, it is not unknown for the target of her retribution to not know of their transgressions. Seeking vengeance is one of the few times she will truly show patience as, just like a spider, she will set traps, stalk, or wait for the opportune moment to sink in her fangs and release her toxins into the prey before devouring it. A wise being does not anger the Mother.
Manipulation... it is an odd little quirk of hers. Karvana rarely manipulates for petty things like power, instead, she manipulates for her own amusement. Mortals, deities, it doesn't truly matter to her. She loves to... mettle in other's affairs, to nudge the events of the world and the realms to her whims, as fickle as those whims may be. Because of this, she loves a good game of intrigue between herself and the other deities of the 'cloak and dagger' mentality. Often, these are 'harmless' fun, well, at least to her, it is rare that she lets the outcome effect her because, win or lose, she is amused by the events which is, often, more than enough for her.
As most of her followers, and fellow deities, know, the Mother is renown for her.. fickle nature. Her interest in events and beings is fleeting, at the best of times, and holding her attention for an extended period of time is, truly, a heroic feat. Those that manage to do so tend to be the ones that get rewarded and favored by Karvana. This does work to the advantage of other deities though, those of 'order' and 'civilization'. Karvana's 'interest' and 'love' for her 'children' is a superficial one. Indeed, watching her own children fight and be slain by various 'heroes' and 'forces', to her, is just as amusing as if her forces had triumphed. This makes her... amendable as a deity compared to some of her fellows.
Worshiped By:
Beastmen, Sentient Monsters/Beast (often of her own creation), various cultist in 'civilized' realms looking for power.
Symbols:
Her symbols vary from 'child' to 'child', but the three most reoccuring are:
"The Mother's Kiss,"
most often appearing in cults, it is a blank canvas with red lips at the center. This will often be 'engraved' onto the cultist bodies as a sign of their devotion.
"Mother's Embrace,"
often used by the Gou'Toki (Goblins), the symbol varies in color and size, but it is always an empty spider's web.
"Mother's Wrath,"
often used as a war banner or tribal tattoos among the Vo'thong (Beastmen), it is a crude drawing of the 'world' within a mighty fanged mouth poised to devour it.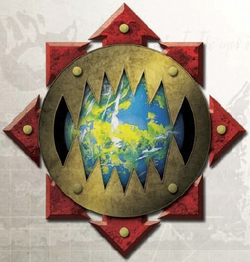 Divine Weapon:
Mother's Sting, a large adamant spear with an obsidian shaft that has long veins of adamant flowing through the enchanted stone.
Preferred Blessing:
She has no 'preferred' blessing she gives out as she is a very fickle Goddess giving whatever she desires at that moment in time, which isn't always a 'bonus' to the being receiving it, but her ultimate blessing given out only to her greatest followers is known as the Ascension.
Those that she grants the boon are pulled to her realm to live out 'immortality' at her side, acting as her greatest champions, enforcers and... well, pets. She will often send these ascended beings, known for their impressive stature or 'aura' around them, to carry out her will should the situation require it. The moment they are struck with a 'mortal' blow, they are pulled back to her realm for recuperation, as such, the only one slain, so far, has been at the hands of a fellow deity.
Ones who have been ascended are known as the Exalted. Their numbers are extraordinarily few as the Mother is a hard to please woman, they number twenty-three. There has been a total of twenty-four Exalted, but one was slain at the hands of a fellow deity.
Greatest of the Exalted:
- Selena, the Lady's/Mother's Herald. The Mother's Voice. She carries the Mother's will and messages to the mortal realms.
- Dora'Kham, Guardian of the Hall. The Mother's 'Captain of the Guard', the overseer of the Obsidian Palace.
- Vassa'Rem, the Mother's Silence. The Mother's assassin and personal executioner.
Preferred Curse:
The Mother's displeasure is as terrible as it is cruel, sometimes subtle, sometimes obvious, but her worshipers fear one punishment above all else, the removal of their sanity. The gift of sanity is a precious gift the Mother gave to her children, something that lets them rise beyond the bounds of mere 'beast', and so it is just as terrible when she removes it. Those struck down by this curse mutate uncontrollably until they are a massive blob of hideous appendages and various gaping maws, its sanity is seared from its mind and replaced with only the soul-consuming desire to feed and spread destruction in its wake. As it wanders, it screams only one thing, one sentence that it does not understand, but it is compelled to screech even as it gorges on the flesh of the living, "Mother, Forgive Me."
These hideous beast are known as the Mother's Spawn. They can vary wildly in shape, strength and size, but they are all massively powerful beast; something only large amounts of troops or truly powerful heroes can face and hope to overcome.
Holy City-State:
None. The Mother does not believe in having a 'holy' city-state, although many of her worshipers like to believe their world is her holy city. Her followers are diverse enough to tend to be spotted all around the world, often in villages or large masses within forest or mountains.
Notable Creations:
The Vo'thong (more commonly known as Beastmen), Gou'toki (more commonly known as Goblins), Chimera, Wyverns, Spiders, and various other monstrous species, large and small.
Preferred Worship:
Sacrifice. This is a very... loose form. A rich being may sacrifice gold or other riches (by destroying it, as she has no use for it), a warrior may dedicated their kills to her, a leader may sacrifice their very people to her and a beggar can offer her their very life.
The greater the sacrifice, the greater the odds that it will attract her attention, and in turn, earn a reward.