Quote
"I don't get close to anyone, one reason, when the full moon appears... I change..."
Nickname
Ally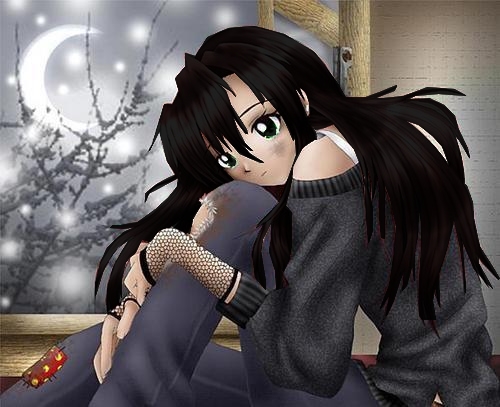 Gender
Girl
Age
appears 23 is 100
Race
Werewolf
Oddities
Winter turns every full moon
Sexuality
Straight
Eye color
Brown when human, gold when wolf
Hair color
Midnight black when human, brownie- golden when wolf
Height
5'4
Weight
120lbs
---
Skin color
Lightly tanned
Distinct Marking(s)
Winter has a tattoo shaped as a wolf paw on her lower back to mark what she is
Physical Description
Winter is a lean and athletic body, her midnight curly hair falls down to her mid back, her hair is usually up tied in a braid or hanging lose to cover up some of her scars. Winter has dark brown eyes with shades of gold from her wolf form; her face holds a lightly tanned completion and surprisingly clears of freckles and spots.
Winter weighs 120lbs and is 5'4, Winters is rather tall for her age and dramatically under weight, Winter has a few scars that run down her back and arms, bruises are basically all over her body but she hides them with her cloths and never wearing anything that shows her arms or legs.
As Winter try's to hide her scars and bruises she wears ripped black jeans, a white tee with a black jacket, under her shirt she wears a locket of her family before she was taken to Paranoia, other than that Winter wears no earrings or anything that can hold her down.
---
Likes
* Her little sister|| it's the only person Winter has fond memories off
* Being free|| Also a wolf thing, being kept in a cage isn't very fun.
* Sleeping|| It's the only time she gets peace and quiets; it's the only time she can escape
* Being with others|| it's a pack thing, Winter enjoys being with people and bonding.
Dislikes
- Being alone|| Being alone means Winter is alone with her boyfriend, not a good thing.
- Being controlled- As a wolf, Winter hates being tolled what to.
- Her boyfriend|| what's not to hate?
- Her monster|| Winter hates the thought of what she is.
Skills
+ Sneaking around
+ Fighting
+ Lying
Flaws
- Hiding her emotions
- Controlling her wolf
- Talking about her past
Weakness
- Her wolf
- Her emotions
- Mentions of her past
Phobia(s)
- Death
- Her boyfriend
- Afraid of hurting someone she loves
Strength(s)
+ Using swords
+ Thoughts that one day she might escape
+ Protecting people
+ Defending herself
---
Abilities/ Powers
Winter has quite a special power, Winter can heal anything or anyone, the wound can be deep or as minor as a cut Winter can heal it, however her wolf has to have a bond with them, so she cant go up to a stranger and heal them, it has to be someone she trusts. Thanks to her wolf self, Winter has inhuman sense of smell and hearing, another wolf thing, anyone Winter has a bond with, she has a invisible cord that can always tell her where they are.
Fighting Style
Winter is one girl you wouldn't want to get in a fight with, apart from her wolf which she barley has any control off, Winter is skilled with a sword and knifes, she can throw her knife 25ft in front of her and always hit their heart, watching Winter with a sword is magic, she has had the same sword since she was little, so she knows how to use it.
Personality
Winter has two personalities, when you first meet her she can be protective of her feelings, hard to read, purely because she doesn't want to let her guard down, Winter is quite quiet but enjoys helping people. Winter hates being locked up and is trying to find a way out of the prison, Winter changes dramatically when you she trust you, she will be the one who you cry on and she enjoys listening to people, partly because they remind her of home.
Winter is known for her bravery, Winter is often put down because she is a girl, but wise people stay clear of her, its only when Winter is alone you see her true side. Winter is a young girl who just wants to go home, Winter can be sweet and caring when she wants but hardly anyone see's that side to her as her boyfriend makes her feel unsafe, in fact he is half the reason she wants to escape and doesn't trust anyone.
Romantic Interest
Winter doesn't like getting close to anyone, plus she doesn't know that many guys
History
Winter grew up in the woods as her father was trying to protect Winter's mother from their own kind as she was human, they were on the run for 4 years, by than Winter was 18. Their Alpha found them and tortured Winters parents, her mother only being human died, but her father being a werewolf managed to hang in they're, Winter watched her father die and lost it, she turned into a wolf and killed everyone that had helped their Alpha.
By than everyone was worried and heard that a werewolf was wondering the streets, Winter and her two siblings were forced to leave the city, and they ran for a quiet country town and settled down. Winter and her older brother, Tristan, were werewolves so they could manage and hardly got sick, but their sister, Autumn, was human and got sick quickly. Autumn was close to death and still is, everything was ok, that's when people came to take Winter and her brother away to Paranoia, her brother killed a few and Winter killed a few too, but they knocked her out and when Winter woke up she was in a prison with her brother close but her sister so close to death back home.
Winter became Second in charge of the Beta's, Tristan is an outcast but hardly anyone picks on him, Winter also became the girlfriend of Charlie, he thinks Winter is nothing but a speck of dust and treats her so, the only reason she puts up with him is because he has 'friends' that are looking after he sister and once she leaves him they kill her.
Family
Father, werewolf, dead
Mother, human, dead
Little sister, Human, alive
Elder brother, werewolf, alive
Theme songArtist
: MIKA
Title
: Your Sympathy
http://www.youtube.com/watch?v=nvLK6e5XSHo&list=RD02ijGLP7rATtk
Committed crime
Winter lost control of her wolf when her own kind tortured and killed her parents, that was the first time Winter turned, Winter's little sister is nearly dead because of them. Winter also killed the cops and some people that tried to get her to the prison.
Years of sentence
700 years
Years already served
Winter is new
Number of identification
12*1*8*3*6*2 W*I*N*T*E*R
Gang
Beta
Rank
Second in charge