The Vampire King's
personal servant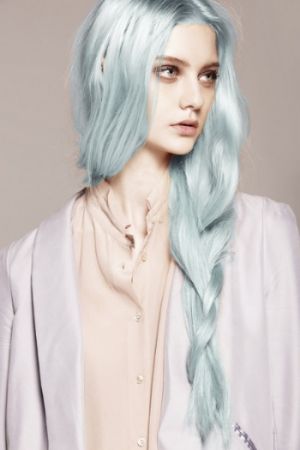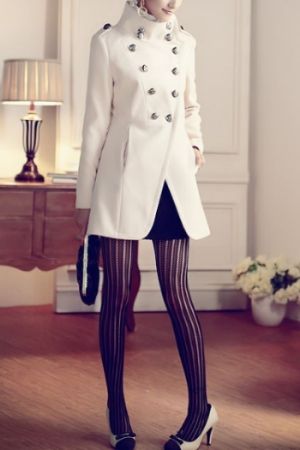 Name
Brigitte Savon Lebelle
Nickname
Others seem to call her by her surname rather than her first.
Age
21 (Approximately 2 millenniums)
Gender
Female
Appearance
Due to her structure and coloring Brigitte is what one may consider a living ghost. She has extremely fair, porcelain skin, a slender but sharp frame and face, and silvery blue hair that falls down to just below the middle of her back (when upbraided) however her eyes are a stark contrast. Though her eyes are wide she always has her lids slightly lowered, as if she's just waking from a dream. Her iris's are hazel, leaning more towards brown with a scattering of gray flakes. Without shoes she stands at 5'3" and weighs an appropriate amount to go with it. Her sense of fashion tends to lead to more simple and elegant attire that is easy to move about in whilst still retaining a mature look that accents her body. Though small she always maintains a rigid and upright stance.
Occupation
Brigitte is the Vampire King's personal servant and was created to be such.
Skills/Equipment
Brigitte is actually quiet strong and agile. She can lift a little over half her weight and has notable records when it comes to speed. She knows the basics of hand to hand combat as well as how to properly and effectively use throwing knives (three of which she always has on hand).
Personality
If ever there was a model for the perfect servant it would be Brigitte. She speaks only when spoken to or when told to, performs all tasks on time and in a mannerly fashion, and is loyal to the point of death. If asked to do even the most gruesome or scarring things she will do so because whatever her Master says is law. She keeps an indifferent attitude to all races as she sees them all as just "lower forms compared to His Highness". Many have referred to her as a puppet as she only acts and speaks as directed by her Master. Despite this, she does just so happen to have her own personality.

If ever one is disrespectful to her Master or her Master's daughter she will become as cold as ice to that person. Due to her rather pale skin it is easy to see her ears and cheeks flush when she is angered or embarrassed though she will never verbalize or truly act upon these emotions. She has no sense of humor so jokes and sarcasm are lost on her. Although she never smiles, when feeling content or "happy" she will unknowingly emit a barely audible sigh. Romance means little to her as she was trained to only ever love her Master. In fact, she would most likely become an "empty" shell if she had no master-- her existence relying solely on the purpose of serving.

On the occasion that she does speak she uses a soft, gentle voice that a mother might use to comfort their child however in contrast her words are normally quite blunt and too the point. Although she has a large vocabulary she never expresses it, sticking to basic replies such as yes and no. Brigitte is in general like a shadow. She is seen when she needs to be, but works behind the scenes for everything else. Sometimes one can hear her muttering to herself and she seems to have a noticeable dislike of forests and small spaces. She is also extremely loyal to the princess but not as much as she is to Alexander.
History
Brigitte comes from a long line of Humans turned Vampire all of whom became the personal servants of the Vampire King. It is tradition that after each King has lived for 2 millenniums that the current child of the Lebelle family will be taken and turned into said King's servant. So when it was time to pick the new servant for Alexander II Gabriel Kaiseren Chartés, it just so happened to be that Brigitte was the current child of the Lebelle family.

When she was born her parents knew she would be given this role and so from birth they raised her to be the most obedient and loyal servant they could. Day and night she was taught to listen to whatever her master told her no matter what. The King was built up as a kind of God in her head, and the belief that none were as great as he were drilled into her brain. Two days before she was to be turned and brought to the Castle something snapped in Brigitte. No one truly understands how or why it happened but she suddenly left during the middle of her training and did not return until much later that night. When she did her back was patterned with stars and her hair was dyed from it's original light brown to the color of mercury; however there was nothing that could be done about it.

Instead of physically punishing her Brigitte's parents locked her in a cupboard for the remainder of her days, tied up and gagged while they sat outside and read texts to her about how to be a perfect servant. On the day of her turning she was let out of the cupboard, cleaned, then turned. Those who were witness during that time swear that a ghost walked out of the closet that day. She took to Vampirism with scary ease, almost treating it as if it were an a minor rock in the road. For 2 millenniums now she has served the Vampire King and not once during it all has she ever contacted the Lebelle family.
Other
On the rarest of occasions one may see her reading a book and upon inspection one will find that is in fact a book about astrology. The pages of this book are worn and bent, indicating that she reads it often.
Post

It shouldn't have happened. I'm sorry. Please don't be mad. I'm sorry. These thoughts cried in Brigitte's mind as she wrung her hands together. The closet was dank and dark, a small space that had only dust bunnies and cobwebs to keep her company. It had been perhaps a day...no...an hour? since her parents had thrown her in here in a rage. Her silver hair hung down her back and chest like a river of mercury. Even in her isolation it shown like the stars she had so come to love. "The stars..." she breathed aloud. Looking up into the shadowy ceiling of the closet Brigitte could almost see them.
Close your eyes the man had whispered to her. Take these stars and imprint them in your mind, for they shall always be hear to guide you. Brigitte did as the man in her mind instructed, instantly being transported back to her special place, her secret place. Above her was a black sky glimmering with millions of tiny pinpricks of light. So badly she wanted to cup them in her hands and press them into her pocket for later. She sat on a moss covered rock in front of a placid pond, the weeping willows around her not moving an inch. Everything here was still and calm. She breathed in deeply then exhaled a white puff of air.
"Ah, so you've returned have you?" Said a raspy male voice from behind. Brigitte did not turn or acknowledge the comment, rather she took another deep breath. A brown, weathered hand dropped gently on her shoulder, still not startling the girl. "My dear, it doesn't matter how many times you come here. You are not destined to have the thing you desire so." At this Brigitte finally turned her head, coming face to face with an old man. He was like the opposite of her. Where Brigitte had brown hair and eyes and white skin this man had brown skin and gray eyes and hair. The corners of the mans mouth were turned up ever so slightly however a sad gaze filled his eyes. His hand patted her shoulder then dropped to the side as he turned to look up at the sky too. Brigitte continued to stare at him, noticing how his wrinkled face made him look like a wizard.
"Someday." She whispered to him. The mans mouth only smiled more and his eyes got sadder still.
"What is it about the stars that you adore so?" He asked. Brigette lifted her head back up and wrinkled her nose ever so slightly. The man chuckled without humor. "No. I know already. They are ownerless things, completely and utterly free." He gazed at her out of the corner of his eye. "But you are not a star my dear. You are like a tree that was planted for the purpose of being cut down." Brigette suddenly jumped off the rock and landed on the dew covered grass with a soft thud. She spun around to stare at the old man, her face bright red.
"I am not a tree." She croaked, her throat tight. The man shook his head and looked back up at the stars.
"No, you are. Planted to be used for so many things and eventually forget you once were a tree."
Brigitte's fists shook. She took in a deep lungful of air then spun on her heel. She did not stomp as she walked but her gait was hard and quick. I am not a tree. I am not..... Nails dug into the flesh of her palm and she lashed out, punching her fist into the rough bark of a willow. I am a star. I cannot be owned...even if they claim to own me they cannot.
These thoughts shook her to the very core. Brigitte didn't know when they began...perhaps it was the day she meet him, that mysterious man. It had been an accident...she hadn't meant to get lost in the willows and stumble into him by the pond. If she hadn't met that man, surely she would be as calm as the night air. Brigitte began walking again, this time knowing in which direction she must go. Eventually the trees cleared and a small village appeared. It was not her home village but rather one of the other side of the Willow Woods. Here no one knew that she was too soon become the servant of the Vampire King.
Warm yellow light flickered in the windows and faint laughter could be heard. Brigitte kept up her pace and finally arrived in front of her goal-- a small wooden shack. Beside its door was a metal sign that had a shooting star etched into it. Brigitte brought her hands up to her face, starring at the red crescents that now decorated them. If she was destined to forget....then she would do so on her own terms.
Brigitte climbed the shack steps and pushed open the door, ringing a small brass bell as she did so. The inside of the shack was filled with an odd odor and a variety of odder looking objects. At a table draped with red velvet sat a woman cloaked in a black hood and cape. A vermilion smile showed from under the hoods hem up at Brigitte.
"What may I do for you my pet?" Requested a sultry voice. Brigitte opened her mouth only to close it again.
Her body trembled slightly as she finally said "I want to be a star."
The woman laughed and beckoned Brigitte closer with a finger. "What will you pay with then?"
Now standing in-front of the table Brigitte let out a long sigh and closed her eyes. "I will give up my memory."
Again the hooded woman laughed. "If that is your wish...." She produced a small vile from her cloak and handed it to Brigitte. "Your memories for...your memories." The woman cackled this time. Brigitte flinched but nevertheless took the vile. It was small and shaped like a teardrop. The vile was filled with a thick, silver substance. "Drink that when you are ready. It will take a bit for your memories to be completely taken but you will become a star instantly."
Brigitte nodded and backed out of the shop quickly, the witch's cackles following her. As she fled back into the Willow Woods her hand clenched tightly around the vile. Eventually she arrived back at the pond however the old man was nowhere to be seen. Brigitte opened her hand and broke off the top of the vile. "I am not a tree..." she repeated as she poured the sweet substance down her throat. At first, nothing, and then--

Brigitte's hands stopped wringing. Her eyelids lowered slightly and she pursed her lips. Where was she? In the dark? Who was she? What was happening? Thoughts whizzed through her mind at an alarming rate but for some reason she couldn't move. Somewhere in the dark, a thud.
"Brigitte Savon Lebelle. You are a disgrace to your heritage. All we can do now is lock you in this cupboard and reiterate to you your purpose. You are the Vampire Kings servant. You belong to him and no one else. Now listen close and behave!" A gruff and cold voice shouted.
Brigitte blinked and slowly reached her hands out in front of her. Ah...a closet. She was indeed in a closet...The gruff voice from before began speaking, this time listing off rules and do's and don't's. Am I supposed to learn these? she wondered. This person has told me too....I believe I should. Brigitte closed her eyes and leaned against the back of the closet. Listen to your master. Do whatever he says. You are his property...the list continued and continued.

Two days later the door finally opened. Bright light exploded around her. Brigitte only blinked into it. "Alright. Its time Brigitte. Don't shame us." Said a man in the gruff voice from before. Brigitte was pulled out of the dank closet and into the light, her shining silver hair flowing out behind her.