The Lykae King's lead adviser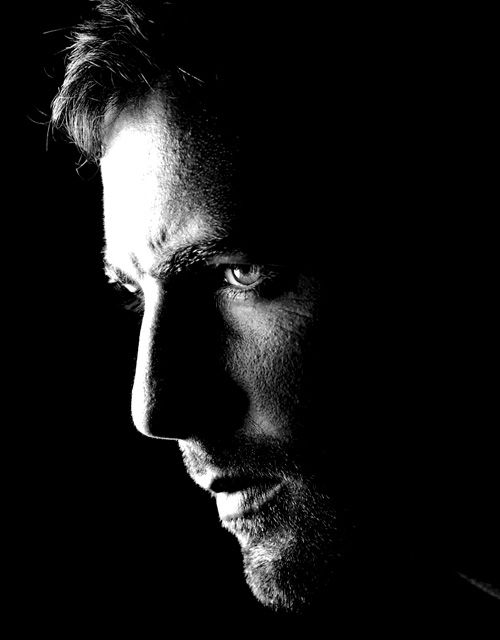 Name
Rhaun Dreamspeaker
Nickname
Some mistake his name to be Ron as the pronunciation is virtually the same
Age
32 (Approximately 4200)
Gender
Male
Appearance
Rhaun's human form is reasonably robust, though still not seeming much different from a regular human. His well-toned albeit scarred figure is frequently obscured by the simple loose-fitting clothing he favors. His amber eyes tend to regard his surroundings with a strange sort of dignified contemplation, perhaps stemming from what he is able to perceive. Whenever he focuses on a person, it might seem that he is almost peering through them and beyond into something known only to him. His slightly unkempt short hair is dark though tinged with gray rather amply for his apparent age. His short beard and his thick brows are comparatively more even in terms of the dark coloration. His height of 6'0" is below that of his king, but then again the effect of Rhaun's presence doesn't come from outward appearance…
Occupation
Lead adviser to the king and the spiritual guide of the Lykae
Skills/Equipment
Like all of his kind, Rhaun has a half-animal beast form that increases his body in size, muscle mass and grants him the claws and teeth fit for a legendary beast. He is a strong hunter and powerful combatant. Furthermore he boasts a level of understanding of his inner beast that is so great one could say he's in "full agreement" with his dual nature. Rhaun remains in full control of himself regardless of form, making for a beast in which strong mind and feral instinct become one. As dangerous as this monster with a black and gray pelt is, many find imposing the fact that Rhaun favors besting his opponents without transforming. He expertly uses a simple but sturdy staff and is known to have incapacitated even some of his brethren in their battle forms with it.

Such is his strength in combat, for it is a requirement in the society of the Lykae. But what determines his position is a more subtle and strange gift granted to him by the spirits. He was chosen to be the one to hear them and blessed to be able to contact nature itself for aid and wisdom so that he might provide aid to his kind and help maintain balance. With great knowledge of lore, the purpose and uses of various plants, the many rites of his kind – he is a man whose existence is steeped in ritual which he, in turn, passes to his kind in general. Even his sleep is at times replaced by a meditative state in which some say he vacates his own body and wanders in the dreams of others to guide them.
Personality
There is something inherently strange about Rhaun. Sure, most Lykae make an impression of there being something "else" about them, something animalistic, feral. But in Rhaun's case this strange aura has a much different undertone and it's hard to tell which exact feature of his (if any at all) is responsible for making that impression. Facing him is like standing in front of a noble, benevolent beast. He looks upon others with eyes one could consider tired if it weren't for an incredible strength felt somewhere deep in them. He moves without haste unless absolutely necessary but can spring into action like a patient predator that has been stalking its prey. Still, though he certainly can kill – he won't without reason and his very presence seems to speak of it.

He is an almost eerily calm and contemplative man who stands with a firm hold on his simple staff. When he speaks up he does so in a tone that manages to be both strong and strangely soothing, inviting to heed his advice. It's no wonder that to Garreth this man is one of the few he would be wary of. However, much like the spirits whose voices he heeds, he has a tendency not to reveal more than is absolutely necessary. Few have the courage (or impertinence) to demand more explanation. Rhaun believes that in time all shall play their roles regardless of species, gender, age or experience. He does not oppose the customs of his kind, but is still less likely to segregate than his brethren.
History
The trials that Rhaun had gone through are all recorded upon his body and his features. His transition to the status of an agent of spirits among his kind occurred without his consent. The touch of the spirits that chose him caused the young Lykae to age at an accelerated rate, lending him a less youthful appearance than he could've had. Some were insulted by the spirits' choice and fought him in defiance. Scars from those times still mark his chest and arms, refusing to fade with time like grim reminders of past challenges. Still he remained, fighting when necessary to remind that the spirits make no mistakes. He survived to witness his kind gain a new king. The strength of the Lykae who took the throne combined with advice from the spirit-chosen guide to their people served to help Garreth's rule progress.

In a time of strife drastic changes occur. A King who rose despite inheritance, an Adviser who had been chosen by the spirits, the prophecy that speaks of three sisters who shall come to bring peace to the three warring kings – Rhaun observes all unfold around him calmly, heeding advice from the spirits and doing what's necessary to keep his side in the conflict standing. "All shall play their part" He states, and just as the sisters, the kings and their kin shall play their part, Rhaun always stands ready to play his, whatever it may be.
Other
Rhaun has a trio of female Lykae serving him as priestesses, mostly responsible for aiding him in the rituals whenever one has to be performed, but also accompanying him when hunting. They are represented by the Waxing, Waning and Full Moon.
Post
The wounded were brought to him on that day again. They must have come from an outpost that had been raided. Some bore the insulting marks left by vampire fangs. The pain from such wounds was agonizing and those still able to make sounds made it plainly apparent with raspy howls. All of them lay on bedding spread on the very ground of the forest – there were none who could stand here, for those who could still stand weren't in need of his help or that of his priestesses. The forest's spirits were concerned, feeling the pain of the Lykae, wondering if any would join them tonight. Perhaps it would be so, but Rhaun and his priestesses moved forth to decrease the toll this tragic encounter would have on their people.

It was a difficult sight, but as the man set his staff aside and crouched before one of the wounded he kept his eerily calm expression. Amber eyes of the Lykae turned to the face of the one before him and it was almost as though he could see beneath the shut eyelids of the pained warrior. Although normally it would be his priestesses and other healers who would deal with such issues, with the King away and no orders given to the adviser, his presence was important to keep intact the morale and spirits of the warring kingdom. Behind his back two of his priestesses, the younger Kaya of the Waxing Moon and Lea of the Full Moon were tending to some of the wounded on their own. By his side stood Ida of the Waning Moon, the eldest of the sisters.

Rhaun glanced at her and nodded. Being the most experienced of the sisters, she knew what he was asking for and instantly reached into a small bag hanging off her shoulder, soon taking out a corked bottle that she opened with a single twisting motion of her hand. The smell of bitter herbs was a familiar thing, and the procedure of applying it to a "patient" was no less familiar. Having handed the male Lykae the bottle Ida sat by the side of the wounded warrior and placed a gentle hand upon his forehead, whispering to him soothingly to prepare for what was to come. He was one of those bitten by a vampire and the effects of it were causing him much pain. And unfortunately to be rid of it he would have to take his pain even further, if only for a moment.

With Ida providing some comfort to the wounded Lykae Rhaun finally tilted the bottle and the clear liquid poured down much like water onto the twin punctures left by their supernatural enemy's fangs. And as soon as the liquid touched upon the wounds it hissed and the body of the Lykae warrior writhed so strongly Ida had to hold him down. His veins pulsed, the muscles in his neck so tense they were like thick cords beneath the skin of the wounded male. He howled and thrashed, the clear liquid transforming to white hissing foam, bubbling as it mixed with contaminated blood and coated the wound. The Lykae's agony lasted a mere thirty seconds more, a small price for survival and becoming healed. Ida raised her eyes and briefly looked into the face of her mentor. Rhaun returned her glance for a moment, then gestured to the others.

"No time to rest. Next one." And thus they continued, so that perhaps today, some don't join the spirits of the dead.