Demon King's Advisor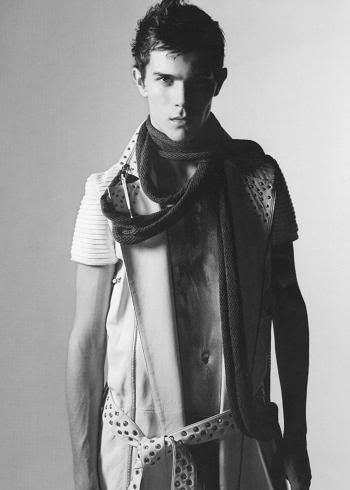 Nickname(s):
"I have none."
He is only known as Yeremy. Some have tried to attach a nick name to him but none ever seemed to stick.
Age (Real Age):
24 (2432)

Gender:
[size=90]Male
Looks (descriptive + must include height – anything not in, or not apparent in, the picture!)
"Well... I'm tall, dark and handsome..."
He's tall at six feet seven inches and quite sturdy at 180 pounds. Yeremy is very muscular but at the same time, becauuse of his height, he looksfairly skinny. Yeremy keeps his hair fairly short around his ears but not like a buzz cut or anything. It's usually ruffled and messy looking but in a clean way. His dark blue/black hair makes his ivory skin look white. He doesn't really tan much and when he does, it fades very quickly. His eyes are intense and mysterious, emerald green irisis are surrounded with thick black lashes.
Yeremy prefers to wear stylish clothing and tries to keep up with the latest trends. Living for so long has left him kind of bored with his appearance and Yeremy enjoys changing his look every couple of months. However, he will wear bright unique colors along with black and grays and such. He isn't very picky.

Occupation (mostly relevant to the sisters):
[size=90]Yeremy doesn'y really need a job. However, he is a man that gets bored easily and needs something to keep him occupied. At present, Yeremy is working as a high ranking attorney in the same law firm as Alara.
Skills/Equipment (meaning martial-arts training, favorite weapon and so on. Not relevant to the sisters)
Yeremy has many thowing knives that he hides all over his body. He likes them because they are fast and light. Swords weight him down, guns are too loud and daggers are too slow for his liking. He can also use chains and has mastered tae kwon do and karate. A skill that he is very proud of is learning over twenty different languages.

Personality/History:
He's charming, confident and very, very charismatic. He knows how to humor people to his advantage and charm them onto his side. He's always been a good talker. Women adore him and men admire him. He's very loved and looked up to. Even when he gets impatient or annoyed, Yeremy will normally keep it in check and continue as if nothing is bothering him. There's something about him that gets people to trust and pour their heart out onto him. It is also a gift and a burden. Yeremy can almost get any information out of anyone but it's also annoying when he doesn't really care about people at all. He's manipulative and sneaky and very clever. He's always been a precocious boy. Though he doesn't show it, he thinks himself very superior than those around him.... maybe even the king....? His parents did not love each other but they doted on him for all he was worth. They got him everything he wanted and treated him specially.

Yeremy doesn't believe in love or in second chances. He may seem like a nice guy but he's very cold hearted and will not hesitate to kill or punish. Everyone is just a piece in his twisted mind games and if they get in the way... he will take them out.

Other:
[size=90]Most demons really like blondes... Yeremy finds himself finding the brunettes a lot more attractive.
Post (this is merely an example of how you would act your character):
It was just another day in this thing called life. Yeremy pulled the curtains open, letting in the warm morning sun. Better. That stupid servant girl kept shutting the drapes at night when he would go to sleep and it was infuriating. He liked waking up to the bright light streaming though his large rounded window. He would have to have a little... talk with her. If the servant didn't even do what they were supposed to do, what was the ppoint of having them? The demon advisor rolled his eyes in annoyancec and took a seat in a large red velvet armchair. Would they bring in his breakfast on time? Or would they screw that up too? Useless. Seriously useless. His piercing green eyes watched the clock dangerously. It was five minutes until that little wench should be coming in with his breakfast tray.

4.
3.
2.
1.
0.

"Good Morning, Master Yeremy!" He blinked in surprise at the new servant who hopped in with a tray. "I'll be taking over for a couple days. Will you need anything else?"
She was short, curvy and cute. It made the corners of his lips turn up. This would be sort of interesting. He likes having his food on time... but it was this little girl's first time here. Maybe she had a real excuse... like getting lost? Either way, this was interesting. It was always fun corrupting the innocent ones.